2014 North Carolina Fishing Reports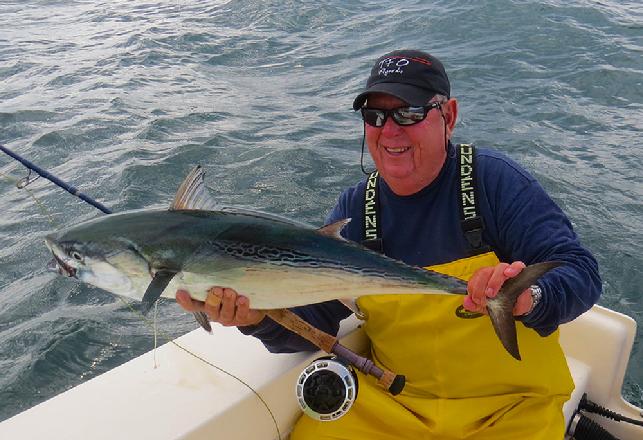 Buffalo Albie, 34 inches over 20 pounds, October 2014
Albie Fly Fishing Report
November 4, and 5, 2014
November, 4, 2014:
Today, Ed Matuzak, from Pittsburgh PA, fly fished for Albies with me for the first of his two day trip. I missed the last two days due to strong SW wind, and very rough seas. The forecast called for north wind at 5 to 15 knots with calm seas, as usual the forecast was wrong, the wind was south west at 15 to 20 with rough seas. That said, the east side of the shoal was calmer, the fishing was slow however there were some good Albies around on large baits, Ed caught several, and really enjoyed this awesome fishery.
November, 5, 2014:
Today we left the dock at 7:00 Am and headed straight to the shoal, crossed over, it was much calmer. We found lots of birds with plenty of Bluefish and a few scattered Albies, seems that they were up and down and hard to get the fly to them. We did find several schools of Redfish, got on them and Eddie made a great cast, i saw a good 30-40 pounder eat his large white Half and Half fly. I asked him to tighten the drag, and unfortunately he tightened it WAY too much, that big red surged and broke the end of the 450 grain fly line, the fish was gone. By the time I re-tied a new leader, the drum had moved on, while 6 were caught by the other boats in the area.
Ed had to be at the New Bern airport by 4:00 PM so when I got a call from Joe Shute, telling me of big Albies just to the west of the shipping channel, I decided to run the 50 minutes back to those fish. We passed a herd of wild horses, took a picture, and kept going.
We arrived at the spot where Joe had located the Albies, he and Don Butler had the best of it, when Ed and I got there it was over, we never got a shot. I searched up and down the western beaches, and both sides of the buoy chain, felt like we kept arriving just after the bite ended. Ed is a great guy to spend time fly fishing with, he has already reserved 3 days for next season, I am sure he will do a little better on the next trip. Stay tuned for more fly fishing reports from Albie World, I love my job, Wish you were here!
Regards: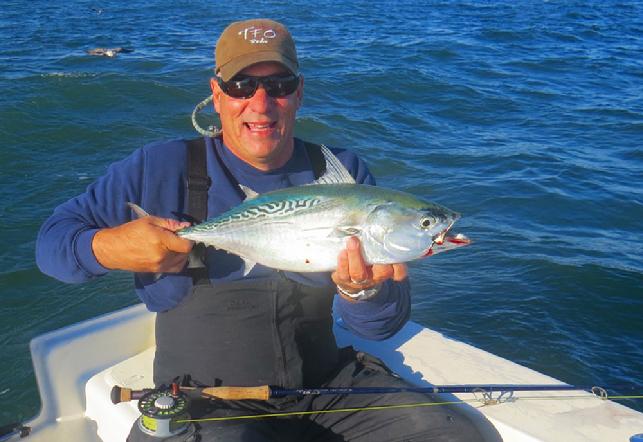 Ed Matuzak first Albie on Fly November 2014 aboard Fly Reel with Captain Jake Jordan
Albie Fly Fishing Report
October 29, 2014
October 29, 2014:
Today I fished as an angler with Captain Brian Horsley, and invited my friend Don Butler to join us as Danny Cline couldn't get here for personal reasons. We decided to go Buffalo hunting, only I forgot to bring my Buffalo gun, instead I used my Mako #9500 fly reel on an old TFO TICR-X fly rod with a RIO outbound short fly line and 15 pound Ande fluorocarbon leader. Don used a 10 weight Sage rod with a Tibor Reel along with a RIO fly line and 20 # tippet.
Brian put us on the FAT Albacore first thing in the morning, after don caught a couple of regular (10 pounders), we found the Big Fish on big bait. The rest is history, they stayed around all morning and into the early afternoon, WOW! Back at the dock after close to a dozen HOGS, by 3:00 PM it was choppy and hot out there today.
Tomorrow cooler with North Wind after rain showers in the morning, just me and Captain Brian. Guess we will look for more of those wonderful Fat Albacore. I love my job, wish you were here, more reports and pictures tomorrow. Thanks for the great day, Captain Brian Horsley!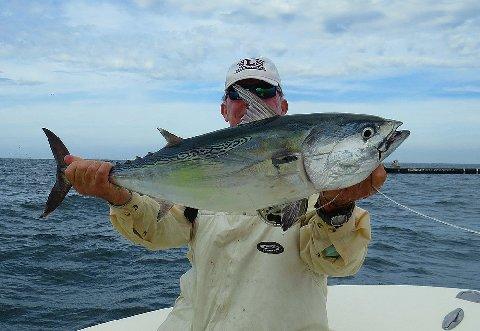 Don Butler releasing 20# Albacore October 29 2014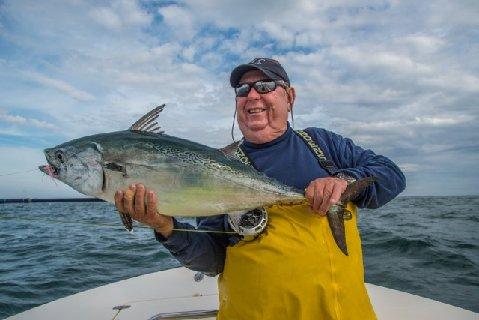 Another Buffalo Albacore October 29, 2014
Albie Fly Fishing Report
October 28, 2014
October 28, 2014:
My friend Danny Cline from WV comes down to Cape Lookout every year at this time to fish with me for Albies, we usually both fish as anglers with Captain Brian Horsley for a couple of days and then Danny fishes with me as his captain for a few days. On Sunday Danny's car was hit while he was in a restaurant with his family, so he is a day or two late getting here, (more fish for me, GRIN) so I showed up as a single angler to fish with Brian aboard Flat Out today.
We hit the water at 7:30, Brian put me on blitzing Albacore at 8:00, and I caught my first within 2 minutes after we arrived. Game on, we had good fishing in beautiful calm seas with clear skies and 72 degree water temperature. We caught a handful of Albies which were fat 8 to 12 pound fish and then it slowed for us.
We decided to head offshore to a spot where we heard that the Kingfish were biting, my friend John Langdon was fishing with Captain Joe Shute, they also headed out to the same area. Seas were dead calm, the Kingfish were where we thought that they would be, here is the results, Kingfish on fly!
As usual I had a great day of being a fly angler, having fun with my buddy captain Brian Horsley. I must tell you that the fishing was awesome in shore all day yesterday, there were many (BIG) 20 pound class Albies caught by several boats, Chuck Laughridge commented to me that he caught 5 Albies with a combined weight of over 100 pounds! Also Sarah and her team got into the big Redfish, What an awesome day of fly fishing here in eastern NC. Can't wait to get out with Brian again today, more reports tomorrow. I love my job, wish you were here.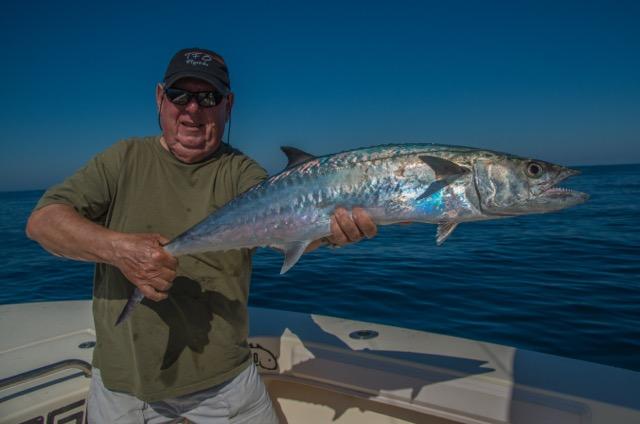 Kingfish on Fly October 28 2014 angler Jake Jordan captain Brian Horsley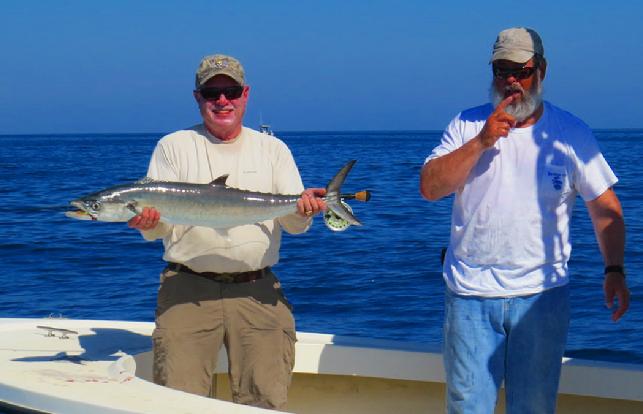 Angler John Langdon with Captain Joe Shute releasing fly caught Kingfish October 28 2014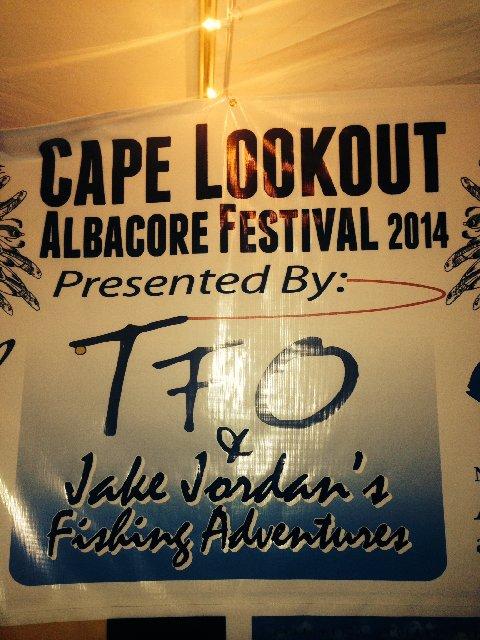 Cape Lookout Albacore Festival 2014
Fly Fishing / Cape Lookout Albacore Festival Report
October 22, 2014:
Today I met my client John Langdon from Pennsylvania and Morehead City NJ, at my marina at 7:30 AM, where we boarded "Fly Reel" and headed out of Beaufort inlet. The wind was blowing at 15 to 20 from the west, while the seas were choppy, with a water temperature of 73 degrees. We had a wonderful day on the water, where we saw lots of sipper Albies, they were up and down quickly, not many caught as it was imperative to be really quick, and the fish were over 100 yards away if the fly didn't hit the splash as the Albies caused the bait to jump. Very Hard fly fishing. I really enjoyed fishing with John, we will be fishing together more in the near future.
My old friends Gary and Wanda Taylor, from Georgia, arrived last night to participate in the "Cape Lookout Albacore Festival" and enjoy some "Carolina" hospitality. Today, Gary, Wanda, and I got a late start, heading out at about 8:00 AM in search of the elusive Albies, which were missing in action after a 5 day south and east blow. We now had a north wind for a couple of days and the Albies began to return to the area relatively close to shore. Fishing was hard however we did manage to release several fish today, it is just starting to get good fro out Festival.
October 24, 2014:
My client for the practice day along with the Cape Lookout albacore Festival Tournament was Ben Bowditch from Oriental NC. Today the conditions continued to improve, we had sunny, skies with 73 degree water temperature and light north west wind. Ben and I have fished together in the past and really enjoy spending time fly fishing together, with this the first Albacore Festival in about 7 years, this is a perfect venue to support the Project Healing Waters Program, while catching a few Albies on fly. Today ben caught and released four Albies of which the biggest one was 33 inches long, I estimated this fish at 15 to 17 pounds. Unfortunately, I took the pictures of this big fish with my I-Phone, so I could post it on face book, the lens was wet and dirty and the pictures were out of focus.
October 25, 2014:
"Cape Lookout Albacore Festival" Took Place today, last night was the sign up BBQ and fund raising auction, to raise money for my favorite charitable project " Project Healing Waters" at the sponsor's "Anchorage Marina" in Atlantic Beach NC. Many anglers, fly fishing celebrities, guides, and good citizens from eastern NC, and wounded warriors showed up to show there respect and support our heroes while enjoying our wonderful sport. There was a silent auction with awesome art treasures, rods and reels, guided fishing trips, and lots of other treasure auctioned off to support this cause.
My client and friend Ben Bowditch
joined me aboard "Fly Reel" where we changed to new 15 pound test class tippet on Ben's rod, and found the Albacore in 40 foot of water half way down Shackelford Bank. We used some 3 inch "Surf Candy" flies, tied on #4 Owner Hooks, in light brown and white, during both the practice day and tournament day. It took a couple of broken off leaders to realize that the material was rotten, then I broke out my Ande #15 pound test fluorocarbon leader material, and by 10:00 AM Ben had released 3 Albies from 6 hook-up's, and then we headed up into the "hook" at Cape Lookout. We found the Blitz and had it to our self's for 20 minutes and caught a couple more while in there, then back down to Beaufort Inlet where ben went one for two to bring his daily total for today to 11 Albies hooked up on fly, and six landed while using 15 pound class tippet.
The awards banquet at the "NC Aquarium" (Sponsor) in Atlantic Beach was great, the whole community showed up to support " Project Healing Waters" along with sharing the fellowship of an awesome day in our sport. Tommy Bennett, with son Thomas as his angler won the Overall fly division catching 18 Albacore on fly, Ben Bowditch was second releasing 6 Albies on fly. In the juvenile fly division, Jake Vie, won with his dad, Cary Vie running his boat "Natural Fly.
I would like to take a minute to recognize all of the sponsors who generously supported this event, it could not happen without their generosity. To John Snipes and his team of Volunteers, including Chris Thompson, John Mauser, Tommy Bennett, Chuck Laughridge, Gary Debiel, all of the people who donated there time on Thursday to take our Heroes fishing, and many more who I forgot to mention. Also, Rick Pope, Wanda and Gary Taylor, Bob Clouser, Beau Beasley, and the TFO team for being the event sponsor. A wonderful event, this is why I love my job! Stay tuned fro more fly fishing reports from Paradise!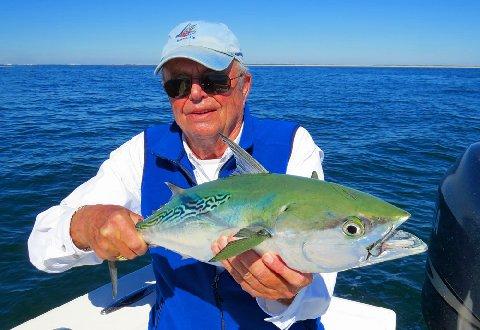 Ben Bowditch releasing his sixth Albacore of the tournament aboard Fly Reel with Captain Jake Jordan, this fish got him second place in the fly devision
Gary Taylor aboard Fly Reel releasing nice Albacore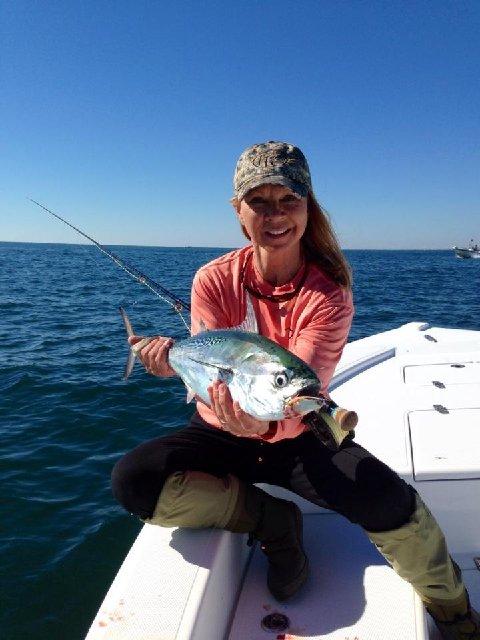 Wanda doing her magic aboard Fly Reel October 2014
Albie on Fly Report
October 20 & 21, 2014
Greetings from Cape Lookout, NC:
After 5 days of windy, rough, crappy, weather, the wind went to the north (good) and the inshore (near beach) got calm, although the ocean was still dirty. On October 19, my friend/client was captain David Edens from Saint Simons Island Georgia, a really good fly fishing guide in that area. The water temperature was 73 degrees while the air temperature was 65 degrees with a cold North wind and calm seas in close to shore. The dirty water had plenty of bait but we could not find any albacore. It was a pleasure to spend today with David, we will do better tomorrow.
October 20, 2014: Captain David Edens and I boarded "Fly Reel" at 7:15 and headed out of the Beaufort inlet in search of False Albacore on fly. We saw plenty of birds diving on tons of bait in the relatively calm seas, with a north wind blowing at less than 10 knots, all looked good. Most of the fish which we found around the inlet, out in the buoy chain, and along Shackelford Bank, were Bluefish in the one to two pound range, with a few Albies mixed in, so we headed to the Cape Lookout Shoal.
After we crossed the shoal there were more birds, and lots of bluefish with some Albies mixed in, hard to get to the Albies. We worked our way out with a couple of other boats, eventually about 40 miles from the dock we got into the Albies, it was pretty good but they were moving fast and would only eat the correct fly presented while they were "In The Splash". We saw lots of spinner sharks, and caught all of the 3 to 5 pound bluefish that we wanted, I did manage to get rid of a bunch of flies which would not catch anything else. David had a great time and a beautiful day, I enjoyed having him on my boat during these last couple of days, thanks to Brian and Hubert for the help in finding those Albies.
The weather looks good for at least the next week, the Albie fly fishing is about to turn back on and get real good.
Don't forget that the Cape Lookout Albacore Festival is this weekend, if possible come down and enjoy this awesome event to raise money for the Project Healing Waters program. I love my job, wish you were here, stay tuned for more Fly Fishing Reports!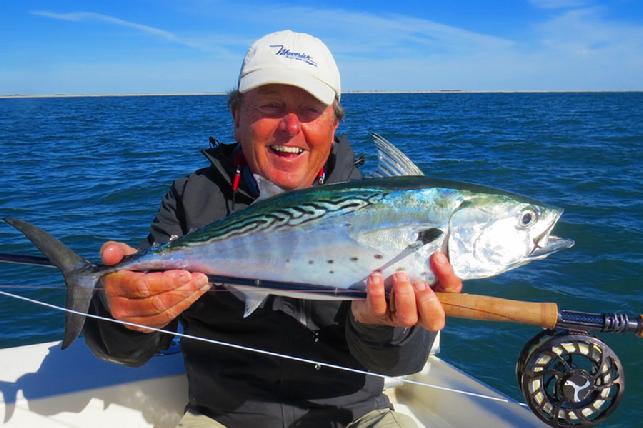 Captain David Edens, Albie on fly October 20 2014 aboard Fly Reel with Captain Jake Jordan
Greetings from Havelock NC,
Had some wind, rough seas, and hard conditions since last Tuesday, my friend Chuck Furimsky, (Fly Fishing Shows) left on Wednesday to drive home to NJ. Chuck will come back with his friend Harry from The Netherlands, later during early November. I cleaned my house, tied some flies, put new blinds up all through my house, took care of a bunch of Billfish reservations for December and the first 4 months of 2015, booked a bunch of Tarpon trips for April and May, then got bored with these 4 days off.
On Friday I decided that I have 2 vehicles, each of them seats a total of a driver and a passenger, which makes it awkward when I want to take guests (more than one) to any kind of event. My old 2004 ford F-150 had just turned a quarter of a million miles and although it was in perfect condition it didn't have enough seats. A friend had a low miles, like new, fully loaded, Ford Expedition (Eddie Bauer), and he needed a truck to pull his boat locally, I made the deal and drove my new truck home. When mu daughter comes to visit with my 3 grand children, we can all pile in and go to the movies without taking several cars.
Looks like the weather is improving and the southeast wind (15-20 knots) is dropping down and swinging to the North, (GOOD). Captain David Edens, (
www.flycastcharters.com
) from Saint Simons Island, Georgia, is my client for the next two days. Stay tuned for a good fly fishing, for Albies, report tomorrow night when we get in from fishing. I love my job, wish you were here. Don't forget that next Thursday through Saturday is the dates for "The Cape Lookout Albacore Festival" here in the Cape Lookout region of NC, check it out at
www.capelookoutalbacorefestival.com
and get down here to enjoy North Carolina as we raise money for the Project Healing Waters program.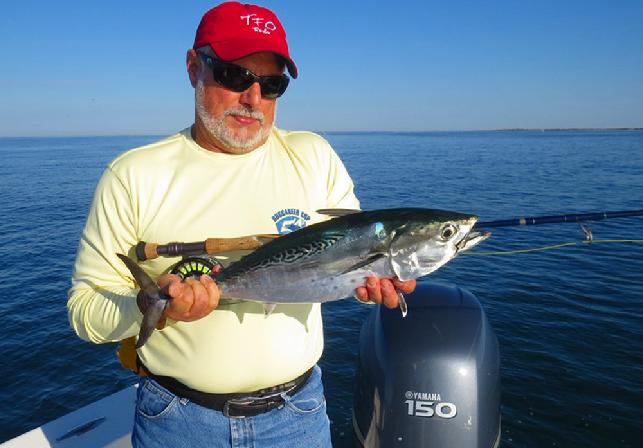 Gary Caputi Albie on fly October 10 2014 Jake Jordan Photo
Albie on Fly Report
October 9, & 10, 2014
Greetings from Cape Lookout, NC:
Today October 8, 2014, I picked up my boat at 10:00 AM, from the boat yard after having the "Black Box" for my Lenco, Trim Tabs replaced yesterday while the wind blew 20 knots. I picked up my buddy Albert Bruno and we headed out to hunt for the elusive "Little Tunny" (Albie). We found some sippers on the western beaches with a few eaters, then we headed east to the Cape. We found lots of fish, Albert caught a few Albies (on his 5 weight BVK rod) along with lots of Spanish Mackerel and Bluefish to 4 pounds. It was great fishing with Albert again, my pictures didn't come out because my I-phone was fogged over? We had fun!
Today, October 10, 2014: my buddy Gary Caputi (Offshore Editor of Salt Water Sportsman magazine, came down to spend last night at my house, on his way to cover a tournament sown in southern North Carolina. We had time to fly fish this morning for about 5 hours, caught some nice Albies, I caught a 22 pound Kingfish, we saw lots of Sharks, Amberjacks, Redfish, and lots of my good friends who were enjoying this awesome day on the water. Gary got enough good pictures to write several pieces about the great fly fishing here in the Cape Lookout region of eastern North Carolina. Below are a few of my pictures with a real camera instead of my I-phone, hope that you enjoy them. I love my job, wish you were here, I still have a few dates open, call tonight to book now.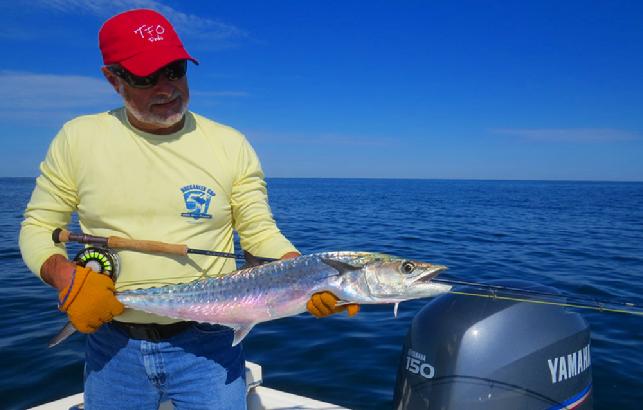 Gary Caputi releasing King on Fly, October 2014 aboard Fly Reel
Albie on Fly Report
October 6, 2014
Greetings from Cape Lookout, NC:
Today I met my client Fred David, from Reading CA, at my marina at 7:45 Am where we launched "Fly Reel" loaded our gear and headed out Beaufort inlet. On our way to Cape Lookout, we ran into some Pirates, no problem, we out ran them.
Calm seas, sunshine, 76 degree water temperature, lots of bait, with clean, clear water, is what we found when we crossed the shoal. We located birds diving between the shoal and the light and caught our first Albie in 9 foot of water. In the morning the fish were hard to catch (sippers), which would eat small white Clouser flies when presented properly, we also caught some Bluefish up to 4 pounds and some small Spanish Mackerel during our first couple of hours.
As the day continued we began to see lots of Spinner Sharks jumping out in deeper water, i ran out and found some awesome bottom marks. shortly after that Fred caught his first Redfish (Drum) on fly. Several of my friends showed up and they all caught some Redfish. Fred also caught a 12 pound Kingfish on fly while we were fishing the bait balls among dozens of sharks. Later Fred had another big Drum which got eaten by a big shark, and we also lost an Albie to a shark. The last hour and a half produced an Albie on almost every cast, these fish were eating big 3 inch surf candie flies. Got to the dock at 5:00 had a great day, Fred is cool, I love my job, going fishing now, more reports later.
Albie Fly Fishing Report
Cape Lookout North Carolina
October 5, 2014
Greetings from Coastal North Carolina:
Got home from my awesome vacation in Alaska, on October first at 2:00 PM, slept until October second at about noon. Took "Fly Reel" (my Jones Brothers 21 foot Cape Fisherman Boat) over to Radio Island marina for oil change, and service on October 3rd, and picked it up on Saturday October 4 and put it on my lift. Loaded the drink cooler, along with 8 fly rods and thousands of flies, and all of my safety gear just before dark.
At 7:00 AM on Sunday, October 5, I arrived at my dock, put on the Ice and lunches, met up with my client, "Fred Davis" from Reading CA. We left the dock at about 8:00 AM and headed out for Fred's first of a couple of days of fly fishing for Albies. We found a few "sippers" in the buoy chain, and then found several more down the beach to the west, the water was dirty, the air temperature was in the low 50's when we went out, it was sunny, with NW wind of 15 to 20 knots.
Later I ran about 25 miles to another location where we located Albies eating small anchovies, my surf candy flies worked well, when it got to an Albie, that fish ate it. Fred was using my TFO Axiom 8 weight with a TFO large arbor fly reel and a Rio 8 weight floating fly line.
All in all, Fred released more than a dozen Albies, average size 8 pounds, he also caught a bunch of 4 pound Bluefish and many Spanish Mackerel. I used a 30 pound bite tippet, which did not in any way impede the Albies from eating every fly which was presented properly. Late in the day I tied on one of Blane Chocklett's "Gummy Minnow flies", No Problem, the Albies were eating really good.
I heard that there were a few big Drum caught out there today, and several of my friends landed large sharks on fly. Tomorrow I will be equipped with a couple of Blue Water TFO Rods with Mako fly reels a sinking line, along with some Bunker flies and a few shark flies. Stay tuned for more fly fishing reports to follow, I love my job, still have a few available dates during October and November for Albie fly fishing, book today, don't miss this awesome fishery.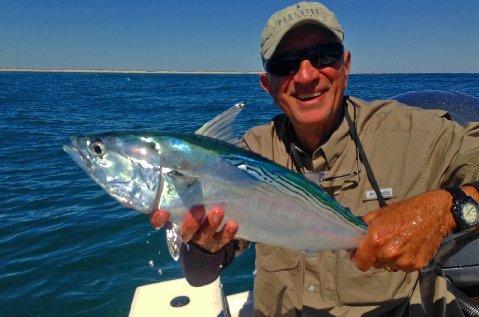 Fred David first Albie on Fly Cape lookout NC aboard vessel Fly Reel with Captain Jake Jordan
Contact: Captain Jake Jordan
Jake Jordan's Fishing Adventures
P O Box 309
Havelock, NC 28532
305-872-6060