2017 Keys Tarpon Fly Fishing Reports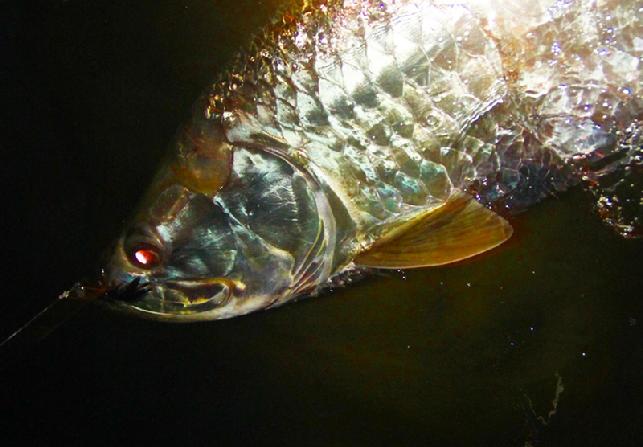 Tarpon on Fly, aboard vessel "Fly Reel" with Captain Jake Jordan, in "Tarpon World"
Greetings from my Florida Keys HQ:
Thursday, April 20, 2017: My long time friend John Butler with his daughter Meredith Butler, joined me and my mate Josh Hayes, for a night of fly fishing for large tarpon. Northeast wind at 20 knots, water temperature of 76.5 degrees, and lack of bait, made for a long slow night. Meredith did have a bite but the hook never set in that tarpon's mouth, we had a great time catching up and telling fish stories but had no luck with my Silver King.
Friday, April 21; was windy with rain all around us. After an awesome meal at "Barracuda Grill", we decided not to fish in the rain, so I rescheduled John and Meredith on an open day several weeks in the future. Can't wait to catch Meredith her 120 pound plus Tarpon on fly:)))
Saturday, April 22; Was raining but the wind died and the seas got calm, I fly fished for tarpon with Jeff Farnum from Maine along with my good friend Billy Coulliette, and my mate Josh Hayes, both from Alaska, off and on between 9:30 pm and midnight. We saw quite a few crabs and shrimp, between rain showers, and wound up jumping four big tarpon from 5 bites. Jeff ha never seen a Tarpon before, he wound up catching a nice fish of over 100 pounds, and never stopped smiling for the rest of the night. Hopefully this is the beginning of the Tarpon moving into Tarpon World. We shall see, I love my job, wish you were here. #tforods. Stay tuned for more reports from Tarpon World.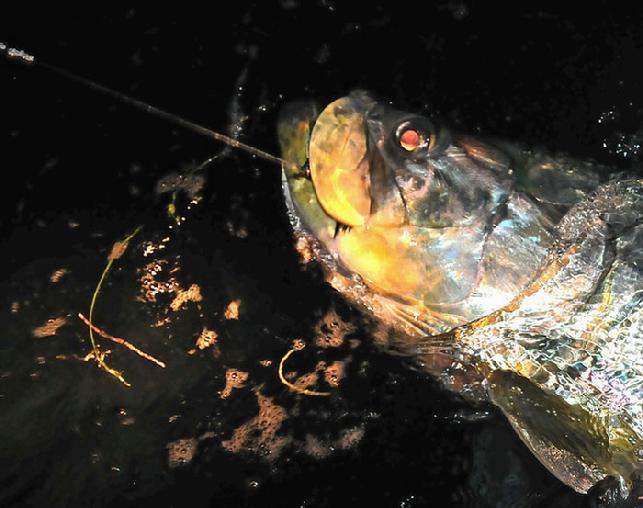 Big Tarpon on fly, ready for release, "Fly Reel", Tarpon World
Greetings from Marathon in the Florida Keys:
April 19, 2017, Billy Coulliette and Jeff and Jeff Farnum from Alaska joined Josh Hayes and I aboard "Fly Reel" to do some fly fishing for tarpon, in the world famous "Tarpon World. The water temperature was 77 degrees with 20 knot east wind blowing, there are not many fish in that area yet however we managed to get several bites with Billy, fighting a big female over 120 pounds for 7 minutes before that big Silver King chewed through the 100 pound test bite tippet after 7 awesome jumps. We saw one other friend of mine in a flats skiff hook, fight, and release another big tarpon on fly. Hopefully the wind will calm down and the water temperature will get above 80, then the fishing will get a lot more productive. I love my Job, wish you were here. #tforods #makoreels
Billy Coulliette Jumper, Vessel Fly Reel, Tarpon World, 2017
Tarpon Fly Report April 18, 2017
Greetings from the fabulous Florida Keys:
Caryl and Tom Donatucci fly fished in Tarpon World last night aboard "Fly Reel" with Josh Hayes (my mate) and I between 7:30 and 11:30 PM. The Donatucci's wound up with four weak tarpon bites, Caryl caught and released this fish which was between 100 and 110 pounds, her first big tarpon on fly. We all had fun, I love my Job, more reports to follow tonight.
Caryl Donatucci, Tarpon on fly aboard "Fly Reel", Tarpon World, Florida Keys.
Tarpon Report April 17, 2017
Greetings from Marathon, Florida Keys:
Tonight, April 17, 2017, Tom and Caryl Donatucci fly fished aboard my vessel "Fly Reel" with my mate, Josh Hayes and I in Tarpon World. We began fishing at 7:30 PM and by 8:15 we had seen half a dozen tarpon rolling, the first bite was on Caryl's fly, she struck the fish but missed the hookup. During the next hour we got a total of 4 bites, one 80 pound male was hooked up by Tom using his new TFO 12 weight TiCr-x fly rod with his new Mako #9550 fly reel. After 19 minutes Tom fought that awesome fish to the side of the boat where Josh grabbed the leader and released Tom's first big tarpon on fly. At 9:40 PM a rain storm chased us off of the water with a score of one caught from 5 bites. Wind is down under 15 and water has cleared up, I love my job, wish you were here. More reports tomorrow.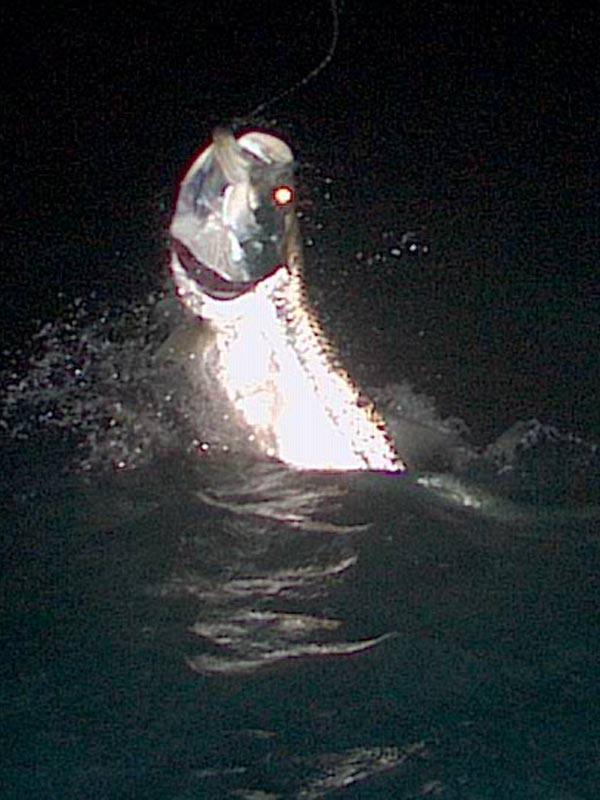 David Taylor, Tarpon on Fly, Vessel "Fly Reel" with Captain Jake Jordan
Tarpon World Fly Fishing Report
April 3 through 11, 2017
Greetings from Marathon, Florida Keys:
I arrived here in the Keys on April first, moved into my rental property and went grocery shopping, unpacked my truck, and parked the boat on trailer in my driveway. Woke up on April second, hooked up to my internet, set up my Florida office, then washed and got the "Fly Reel Ready to launch. After lunch I launched the "Fly Reel, and put it in the slip at my marina. Sunday night, I enjoyed a great dinner at the "Key Colony Inn" with my friend Forrest Young, then came home where I tied up a couple dozen flies with 20 pound class tippet and 100 pound test bite tippets.
On Monday I took a boat ride where I looked for Tarpon on the flats and in the channels, found quite a few fish. That night between 7:30 and 11:00 PM another guide and I practice fished in Tarpon World, We worked hard to get six Poons to bite our flies, My friend caught 2 from 3 bites, while I caught 3 from 3 bites, Water Temperature was 82 degrees with SE wind at 15 knots.
April 4, 2017: My old friend Paul Lombardi, from California, joined me aboard "Fly Reel" at 8:00 PM for an evening of fly fishing for the Silver King. Wind went to due south with 83 degree water temperature, Paul got three tarpon to bite his poon fly, and he caught one fish just over 100 pounds. We had lots of fun but fishing felt slow to me.
April 5, 6, 7, I fly fished in "Tarpon World" with Bob Cogan and Tom Coleman from the Charlotte area of NC.
The wind had turned north at 15 to 25 knots and we didn't see much bait in the water, we got 3 tarpon to bite our fly, however Tom and Bob were not able to land a fish, the first night. On the second and third night we never saw a fish and never got a bite, the water temperature dropped from 83 degrees to 75 degrees in 3 days, poor fishing.
April 8, 9, 10, my old friend David Taylor, a fishing lodge owner from Alaska, with a home in Hawaii came in for a visit to catch some Tarpon on fly. The first night with that north wind, and cold water, I managed to get two tarpon to bite David's fly. He did a great job and wound up catching both fish, one was 100 pounds and the other was just under 90 pounds.
On the second night the wind went to the NE at 20 knots, water temperature 76.5 degrees, David got one bite, and he caught a Tarpon bigger than the other two fish that he caught the night before.
April 10, David and I fished aboard "Fly Reel", in Tarpon world, from 1:00 AM to to 4 AM, with northeast wind at 25 knots and 75 degree water, we never saw a Tarpon, very hard fly fishing, David caught 3 tarpon from 3 bites all on IGFA 20 pound class tippet.
We had a great time and plan to fish together more in the future.
April 11, 2017: My old client from Toronto, Canada, "Bat Fish" Steve Wells, with his friend Linda, joined me aboard "Fly Reel" for a night of fly fishing for Silver King, out in "Tarpon World". The wind was blowing from the NNE at 20 to 25 knots, with scattered rain showers, and 76 degree water temperature while we fished from 1:30 AM to 5:30 AM. Again not many fish around and very little bait in the water, Linda hooked a big tarpon on fly, which took off really fast. This was Linda's first time fly fishing for Tarpon, she did great but that big fish ran off several hundred yards of backing, turned right and went through a bridge, the barnacles on the bridge piling cut the leader off just where it connects to the fly line. We never got another bite, hopefully th fish will move back into Tarpon World tonight, Steve and Linda have one more shot to catch some of these awesome fish.
We really need these trade winds
to go to the southeast under 15 knots for the water temperature to come back up, and the tarpon to move back into the bay at "Tarpon World". Sorry for the lack of fishing reports, my computer was broken and I just got it fixed today, I do love my Job, wish you were here. Stay tuned for more fly fishing reports from Tarpon World for the next 47 nights.
Paul Lombardi, Tarpon on Fly, vessel "Fly Reel" in Tarpon World, Captain Jake Jordan
Contact: Captain Jake Jordan
Jake Jordan's Fishing Adventures
P O Box 309
Havelock, NC 28532
252-444-3308 or 305-872-6060