Eighth Annual Jake Jordan, Invitational, Sailfish Fly Challenge
January, 6, 7, 8, , 2017,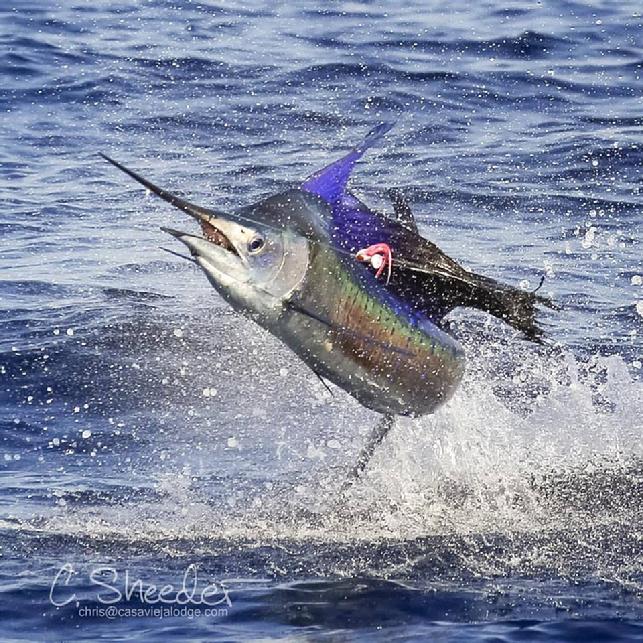 Targeted Species, Sailfish on Fly
"You are officially invited to join me at Casa Vieja Lodge in Guatemala at an event to celebrate the Best Fly Fishing for Sailfish in the World!"
Captain Jake Jordan



"Jake Jordan's Invitational, Sailfish, Fly Challenge"
Please mark your calendar to attend the eighth annual "Jake Jordan, Invitational, Sailfish Fly Challenge" to be held at the world class "Casa Vieja Lodge" in Puerto San Jose, Guatemala. Fishing will be on January, 6, 7, 8, 2017, with January 5 available for those who want to have a practice day. IGFA rules will apply with 20 pound class tippet supplied by the tournament Committee.
All of the Casa Vieja Lodge fleet vessels and captains are available on a first come basis, there will also be other vessels from the Guatemalan fleet competing for the trophy's in this team competition. This will be a

team

fly fishing for Billfish tournament, each team will be comprised of one or two fly anglers.

There will be awards for the first and second high point angler

,

the top three crews

,

along with the second and third place team and The Overall Team Tournament Champion

!

We now have 8 teams pre-regestered to fish in the tournament with several more vessels still available to choose from. This invitational tournament is limited so only 10 teams will participate in this world class event. THE COST TO ENTER THE TOURNAMENT IS: $9,600.00. per team! The extra practice day cost is $3,000 per Team. Private rooms add $275 per night per team. Private or Charter vessels fishing in the tournament and not staying at Casa Vieja Lodge have a team entry cost of $1,800 per team.
Tournament Package will include

:


All ground transfers between Guatemala City, Casa Vieja Lodge and Marina Pez Vela
4 nights at the Casa Vieja Lodge


3 full days of fishing aboard Casa Vieja fleet boats
All Flies and tackle
Beer, soda and lunches on the boat
Breakfast and dinner daily at the Casa Vieja Lodge


Open bar at Captain and Anglers meeting (kick off) and at awards Banquet(Local liquors and beer)


Hor d'oeuves
Kick-off and Awards Banquet
Lots of great awards with Tournament shirts and Hats!
NOT INCLUDED: Local Room Tax, Gratuity for Captain and Mates, Gratuity for Lodge staff, or Transportation from your home to and from Guatemala City airport.
Captain Jake Jordan
Jake Jordan's Fishing Adventures
PO Box 309
Havelock, NC 28532
252-444-3308 Home/Office
305-872-6060, Cell
www.jakejordan.com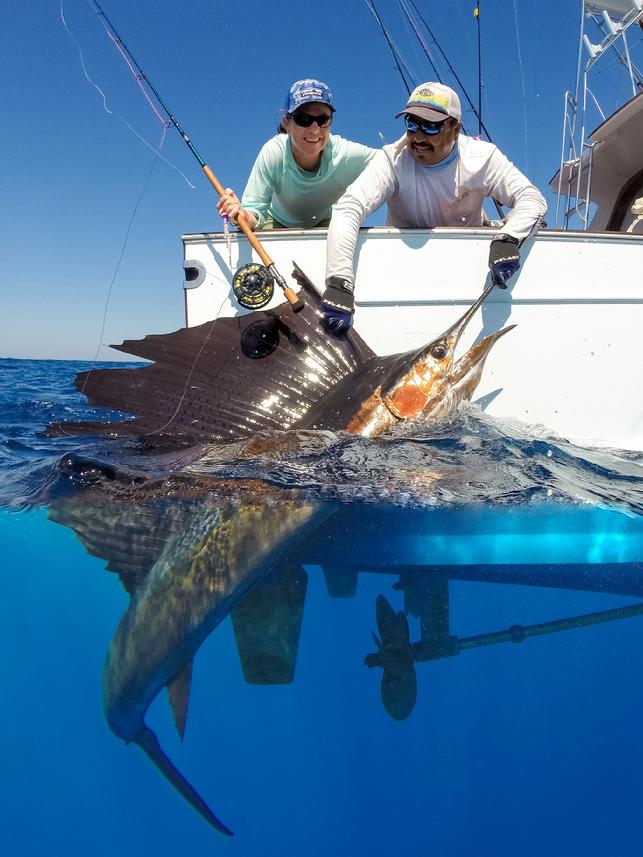 Sarah Gardner releaseing awesome Sailfish on practice day, aboard the "Rum Line" on last years practice day
Contact: Captain Jake Jordan
Jake Jordan's Fishing Adventures
P O Box 309
Havelock, NC 28532
305-872-6060