2016 Keys Fishing Reports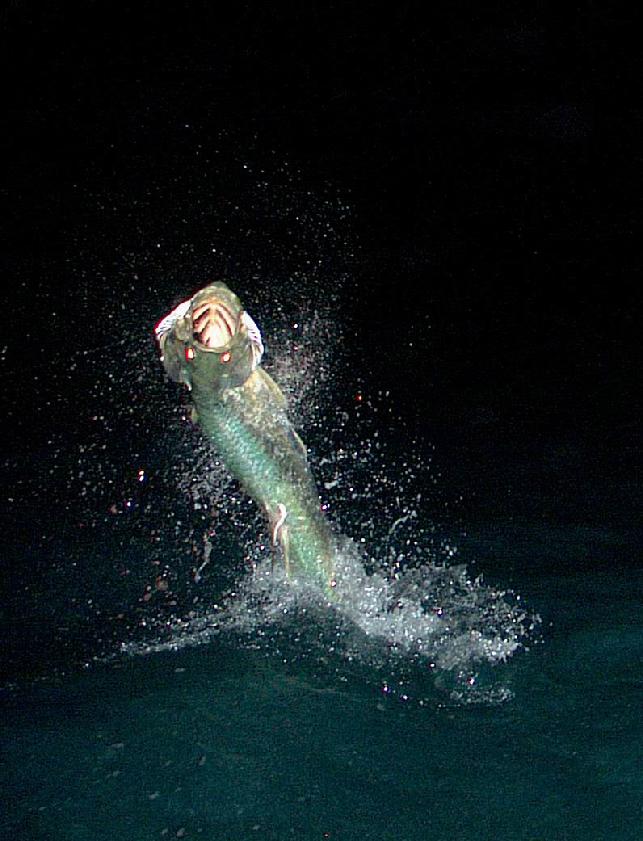 Keys Jumping Tarpon, Tarpon World, 2016
Tarpon World final Report April
, May, 2016
Greetings from The Fabulous Florida Keys:
As my Tarpon World season comes to a close on June 4, 2016, I am reflecting on this season, as compared to my past 10 seasons of fly fishing at night for big Tarpon. I began booking night time only, exclusive fly fishing tarpon trips between April and June, in 2005. I also fly fished the flats during the daytime until 2010, at which time I sold my flats boat and only fished the night shaft after that.
Between my 2005 season
and my 2015 season, I averaged fishing 59 trips per tarpon season. For that ten year period my anglers averaged, hooking and jumping, 11.6 Tarpon, on fly per four hour charter, while they averaged a total of 4.9 big Tarpon, caught and released during each four hour Fly Fishing for Tarpon adventure.
During my 2016 season, so far, with 4 nights to go, my clients and I fished a total of 46 four hour charters. In my opinion this was the worse year during my night fishing career, with the fewest Tarpon coming to the keys that I have ever seen. Maybe El Nino? Maybe Lake effect from big sugar? Maybe due to Everglades lack of fresh water? maybe too much pressure? I don't know, I am sure it is a cycle thing and will improve next season.
During my 2016 Tarpon, season, so far I fished 46 four hour Tarpon, fly fishing charters. My clients jumped 201 Tarpon, they caught and released a total of 71 big Tarpon on fly. Now remember that all of my clients are using IGFA approved 20 pound class tippet over fifteen inches in length, with a bite tippet of under 12 inches. We are using #TFO TiCr-X 12 weight fly rods, combined with #Mako #9550 and #9600 fly Reels, #Rio WF-12-F fly lines, and my "Poon Bug" flies, tied on Owner 4/0 hooks.
Our average during each four hour charter to "Tarpon World" this season is: 4.4 Tarpon hooked, jumped, and fought, with 1.5 big Tarpon caught and released per trip. Although this is way off in my total number of tarpon caught, it is still a pretty amazing record in a season where I think there was 60% less tarpon here than any year I have ever seen in the Florida Keys.
I want to thank all of my awesome clients, friends, BFF, family, fishing report people, and all of the companies which support my fishing adventures, you make this job one of the best. After a couple more days I am out of here on my way to my Costa Rica Blue Marlin Season, I really love my JOB!!
Tarpon Fly Fishing Report
May 27 & 28, 2016

May 28, 2016:

Saturday evening, Rex Mauer, from Seattle and KW, joined me aboard "Fly Reel" for a short three hour trip to Silver King Bank, which is located in the NW corner of "Tarpon World" where we cast flies to big Tarpon. There were lots of Poons in the area, they ate my flies real good considering the wind and seas were dead calm, with 85 degree water temperature. We jumped 6 nice big tarpon, while Rex managed to fight two females, both over 100 pounds, to the boat, on 16 pound class tippet. Only 7 more nights left during my Tarpon season, then home to North Carolina for a few days, Have a happy Memorial Day, I love my Job!!! Two weeks from today I will be relaxing while drinking some 25 year old Rum, while in my pool, at my condo, in Los Suenos resort, Costa Rica. Marlin season is almost here, Can't wait:)))

Happy Memorial Day from The Fabulous middle Florida Keys, Home of "Tarpon World". May 27, Friday evening, old friend Forrest Young, from Marathon, fly fished with me aboard "Fly Reel" between 8:00 PM and 10:00 PM, out in Tarpon World. He caught an 80 pound male Tarpon before dark, then jumped another big fish which came unhooked. As the current slowed, during our last drift, Forrest cast to, hooked, jumped, fought, and caught a big female Tarpon which I estimated between 150 and 180 pounds. Took him 24 minutes to land on my

‪

TFO‬

TiCr-x fly rod, # Mako 9600 Fly Reel, #Rio Tarpon Taper fly line, with 20 pound #Mason Hard Mono class tippet. Lots of fun, my biggest Silver King of the year, so far. I love my Job, wish you were here:)))

Contact me if you are interested in catching a Blue Marlin on fly this summer, at one of my "Costa Rica, Blue Marlin Fly Fishing Schools" one spot still available. Also I still have several openings for the Eighth Annual "Jake Jordan Invitational, Sailfish Fly Challenge" on January 5 through 8, 2017, at the world class "Casa Vieja Lodge". Come on, you know that you want to give it a try??? Thanks to all who helped me celebrate another awesome year of fly fishing here in Tarpon world.
Tarpon World Fly Fishing Report
May 17, 18, 19, 2016
Greetings from the fabulous Florida Keys:
What a difference a day makes! The water temperature reached 85 degrees on May 17, my old friends Bill and David Anderson with Cal Acord, from California are here for their annual fly fishing for tarpon vacation for a couple of days.
On May 17, the fish showed up and we got lots of bites between 10:30 at night and 2:30 in the morning. Each angler jumped and fought at least two big tarpon, and the final score was 8 Tarpon jumped with two caught, photographed, and released. Lots of fun hanging with my old friends on a beautiful night.
On May 18, at 11:00 PM when we were ready to head out into Tarpon world for another awesome adventure, a massive low pressure moved in from Cuba, rain, hail, lightning, and 50 knot wind, which lasted for about 10 hours. Of course I didn't allow the crew to go out in that nasty stuff, so we watched the Warriors kick butt and got a good nights sleep.
May 19, 2016, Bill, David, and Cal, arrived at "Fly Reel" for our last night of fly fishing in Tarpon World at Midnight. Beautiful moon lit night with 84 degree water and 10 knot east wind. I had all six of my TFO TiCr-X 12 weight rods rigged with Rio Floating Tarpon Taper fly lines, on my Mako #9550 and 9600 fly reels, with 20 pound mason hard class tippet, and my "Poon Bug" flies.
My anglers got dozens of bites, they hooked, jumped, and fought, twelve giant tarpon (up to 140 pounds) during our four hours of fly fishing. In the end we leadered 3 for the release with each of my team catching a 100+ pound tarpon. During their two nights, (8 hours), of fly fishing, These guys jumped and fought 20 big tarpon and caught a total of five Silver King. Tarpon Season Has Arrived!!!! I love my job, wish you were here, More reports to follow, only 14 more world class nights of fly fishing here in my 2016 tarpon season.
MAY 7 THROUGH 17, 2016

Greetings from Tarpon World:

Well, after Chuck Furimsky caught his 100 pound tarpon on fly on May 6, with the water temperature in the low 70's, the water got dirty and cold, with very cool North wind for the next week, I did fish with Dennis Jeter and his friend Doug from Tennessee, aboard "Fly Reel" on May 7 and 8, with horrible results. The wind was either dead calm or cold from the north, (the fish left Tarpon World, we only jumped 3 fish in two nights of fishing.

I decided to take a break and had to take care of some personal business during the next several days, and got a cancellation on May 12 and 13, so I decided on a Vacation while I waited for my Tarpon to return. So far this season the numbers of fish in these Florida Keys have been off by at least 50 percent. That said, as soon as the water temperature gets back up into the mid eighty degree range, they will come back in from the deep water and we will have a late Tarpon season.

This Vacation stuff is pretty cool, it has been a long time since I have taken time off to enjoy being in the Florida Keys during Tarpon Season. Toby and Sue Uppinghouse, our TFO sales rep from California came down to the Keys for a week to celibate their tenth anniversary, we got to spend some time with them and show them around.

TFO's ambassador, fellow advisory board member, and good friend, came down to Tarpon World for a few days of enjoying Tarpon World. We fished the ocean flats near "Happy Valley" saw several hundred tarpon swim right up to Fly Reel, do a daisy chain, and swim all around Wanda's perfectly placed fly. Wanda and I fished the flats with Captain Bob Jones out of Islamorada, lots of shots at cruising fish along with laid up, back country tarpon, all had lock jaw. We fished several short trips out near Silver King bank, just west of Pelican slew, in Tarpon world. Wanda jumped a few Poons, and leadered a 100 pound fish on May 15. Then the east wind came back, water temperature back up into the low eighties, the poons started to move back into the zone. Wanda (Team TFO) Hair Taylor, Jumped 4 tarpon, and caught a nice fish in the 100+ pound range, while Toby was the jinxed rod with only one bite.

Back off of vacation last night, fished old friends Bill Anderson, David Anderson, and Cal Acord, from southern California. Bill and I have been friends for over 30 years, David has been fishing with me since he was 6 years old, really good old friends. The Poon's are back, season is now hot, Cal, David and Bill each jumped and fought at least two or more tarpon on fly.
Looks like my tarpon are back, My team of Bill, Cal, and David, jumped and fought 8 tarpon on fly using 20 pound class tippet, we managed to get two of them to the boat for video and pictures, while bill had a really big fish on, which surged at the last minute and broke the class tippet.

I have 18 more trips here in Tarpon World, looks like the good fishing will be late this year for the first time in 9 years. Had a great vacation but really happy to be back doing what I do best, chasing big fish that jump, on very light line.

On June 5, I will be heading home to North Carolina, towing "Fly Reel", saying good by to "Tarpon World" until late March of 2017 when I will be back here catching these magic Silver King on fly.

On June 11, I will leave home again and head to Los Suenos to my condo, where on June 13, I begin spending time with clients, catching large Blue Marlin on fly. This season my "Costa Rica Blue Marlin Fly Fishing Schools" will run from June 13 through August 23, There is only one set of dates still available where every client catches at least one Blue Marlin of fly while using IGFA 20 pound class tippet. Give me a call if you think that you are good enough to do this awesome fishery!

Sorry about not keeping up with these reports, just real busy enjoying this job which I really love. Stay Tuned for more reports coming soon. Thanks to TFO, Mako Reels, Rio Fly Lines, Gamakatsu Hooks, Casa Vieja Lodge, Dragin Fly charters CR, and all of my clients, friends, family, and especially you for allowing me to pursue my passion!
Latest Fly Fishing Report from Tarpon World
April 28, 29, 30, May 1, 2
Greetings from The Fabulous Florid Keys:
The Tarpon fishing over the last 5 days has been pretty good, we had east wind between 10 and 20 knots, clear skies, and fast running water. The water temperature on April 28 was 78 degrees, and it now is 82 degrees, this is good news. There is more slimy weed, tumbling seaweed than I have ever seen, also less shrimp and crabs than in the past. Overall I think there are roughly half as many tarpon around as there was during April of 2015, as seen in my monthly score. This year during April, I fished 26 four hour trips, my fly anglers using TFO 12 weight fly Rods, Mako Fly Reels, and 20 pound IGFA class tippet, jumped 114 big tarpon, they caught and released 38 fish, which is 1.5 Tarpon caught on fly every 4 hours tat we fly fished. (Last year we Jumped 240 and caught 96 in the same 26 trips. A lot more fish showed up on May first, getting better!
April 28: I went out with a friend from BPK, he drove the boat and I caught 5 silver king up to 110 pounds.
April 29 and 30: fished with Paul and Scott McGarvie, East wind at 15 to 20 knots, early bite on Silver King Bank, then they moved to Cormorant Slew, where the big fish bit later in the night. On Friday the brothers jumped seven tarpon, and caught two. Then on Saturday night, we jumped eight and had a tough time staying connected, we released one big Tarpon. Paul and Scott are lots of fun to fish with, they will be back for more adventures in Tarpon World.
On May first My Alaska dudes started a couple days aboard "Fly Reel", Dave Caldwell and Matt Jones from Anchorage, Jumped 8 and caught 3 big fish on fly. These guys are good fly anglers and usually catch a bunch of Tarpon every year in Tarpon World.
May 2, Art Counts and Dave Caldwell from Anchorage joined me at 9:30 aboard "Fly Reel, fishing was slow in the east, but we jumped a nice fish over there before moving out to Jurassic Park. It was choppy out there, and the 3 more fish which we jumped were all big female tarpon over 120 pounds, At the end of the night we had jumped and fought 4 and caught one about 120 and another one over 130 pounds.
Halfway through Tarpon Season, I love my job, "Miss You" See you soon, More reports to follow shortly!
Tarpon World fly fishing Report
April !9, 20, 21, 22, 2016
April 19, 2016: Mike and Mark Turner fly fished in Tarpon world with me aboard "Fly Reel" tonight. Wind was east at 15 with good fishing conditions, we hooked, jumped, and fought a total of 7 big tarpon, each angler caught and released at least one fish over 110 pounds. These guys enjoyed their four nights here, during their 16 hours of fly fishing for Tarpon, they hooked and jumped 24 big tarpon, and released a total of 8 fish between 80 and 125 pounds, this was their first time fly fishing for big tarpon.
April 20 2016: Glen Palumbo and Brad Ghant

fly fished for tarpon aboard "Fly Reel" tonight between midnight and four AM, we had 87 degree water temperature with 18 knot east wind. Fishing was good with a total of 9 tarpon jumped and two brought to boat side and released. Nice night at the office!
April 21, 2016: Switched anglers tonight, Steve Henderson and Glen Palumbo fished for tarpon, on fly, aboard my vessel, Fly Reel.
Southeast wind at 15-20, made fishing fun, not much bait however there were some big fish around. When it was over at 5:00 AM we had jumped five silver king, and caught just one Tarpon on fly.
April 22, 2016: Tonight we had good fly fishing with Taylor Stephens and Brad Ghent, South wind at 3 knots, swinging to West at 10 knots, 77 degree water temperature, full moon, and a pretty good shrimp hatch for several hours. At 5:30 when we got into the marina, mu anglers had hooked, jumped, an fought sever really big tarpon, however we never got any of them to the boat for that magical release. Tomorrow night will be better, I love my Job, Wish you were here, More reports from Tarpon World to follow:)))
Greetings from Tarpon World:
Last couple of nights were pretty good aboard Fly Reel, last night Mike and Allie Turner Jumped a total of eight and released three Tarpon all fish over 110 pounds, all on 20 pound test tippet, all on fly. Oh, did I tell you they never saw a Tarpon until 3 nights ago;)))
Captain Timmy Richardson called me this morning, fishing for Blue Marlin and White Marlin is red hot NOW aboard "Chaser" at Casa de Campo DR. He has some open dates, great chance to get your Marlin on fly in the Atlantic. Call me for information.
Casa Vieja Lodge is still red hot for fly fishing for Sailfish and Blue Marlin, call and get there today to catch the hot bite?
I love my Job, More reports Later, wish you were here:)
Tarpon World Report
April 15 & 16, 2016
Greetings from the Fabulous Florida Keys:
Today, April 17, 2015, as I type this report, I just finished installing a new bow light on "Fly Reel", and drove home for my pre-fishing nap. The wind is blowing at 20-25 and gusty from the east, cloudy skies, dirty water, and whitecap waves everywhere you look, I can't wait to get back out to Tarpon World tonight. Last two nights the fishing improved, however the sharks moved in with the new tarpon, and were not much fun to deal with last night.
April 15, 2016: Ed Matuziak and Ed Sikora, fished their last of four nights with me tonight, fishing started slow for us but we wound up jumping three tarpon on fly. Both Eddie and Mark caught and released male tarpon between 80 and 100 pounds, on 20 pound test class tippet. They both loved fishing with my TFO Fly Rods, and Mako Fly Reels. During their four, nights, 16 hours of fly fishing, they jumped 11 big tarpon, they caught and released 5 fish up to 120 pounds, all on 20 pound IGFA class tippet.
April 16, 2016: Mike and his son Mark Turner, from Michigan, fished in Tarpon World with me aboard my Jones Brother's Cape Fisherman, "Fly Reel" for their first of four nights of fly fishing for Tarpon. We had slow fishing for the first couple of hours, however the second half of our four hour tour produced 6 big tarpon jumped, of which 2 broke off, two spit the hook, and two were leadered for a release, one fish was really close and then made a long run, came to the surface, stopped and got attacked by a 400 pound Bull Shark (I Hate Sharks!). This was the first Tarpon for each of these anglers, Quick learners, good anglers, #TFORods, I love my Job, Wish you were here, More reports to follow:-)
Tarpon World Report

April 11, 12, 13, 14, 2016

Greetings from the Fabulous Florida Keys.

April 11, 2016: Today, after I cleaned and fueled up "Fly Reel" I headed out front of the seven mile bridge on an old flat I used to fish a lot from my skiff before I turned 70. Pulled up at the change of the tide, and five minutes later spotted a school of happy Silver King slowly swimming on the surface heading west. As they approached within 90 feet from my anchored boat I made a cast to a spot about 5 feet in front of the lead fish. That Tarpon attacked my fly on the surface, and after 20 minutes I released a nice 90 pound Poon from an anchored boat. Thanks for my TFO 12 weight, Rio

WF-12-F fly line, Mako #9600 Fly Reel, and of course my secret (Fly)!

April 12, 2016: My friend/client, Eddie Matuziak, from Pittsburgh PA, is here to fly fish with me in Tarpon World for the next 4 nights. Tonight was our first solid east wind, with water temperature of 77 degrees, fishing was slow. During our four hours of fly fishing Eddie got 2 bites, both fish were big, over 100 pounds, Eddie caught a really nice 100+ pound Silver king on 20 pound test class tippet.

April 13, 2016: Fished from 7:45 to 11:45 this evening, the wind was east at under 10 knots, water temperature up to 79 degrees, not much bait. Eddie hooked and jumped 3 Tarpon on fly tonight, two of them were very big fish (over 120 pounds), one broke the 20 pound class tippet, one bit through the 100 pound bite tippet, and Ed caught and released one which was just under 100 pounds.

April 14, 2016: Tonight Ed Matuziak and his friend Mark Sikora, both from Pittsburgh PA joined me aboard "Fly Reel" for an evening of fly fishing for Tarpon. Five knot east wind, 80 degree water temperature, and more bait made for better fishing. Now, this was to be Mark's first time catching a big Poon on fly, so we put him on a prime spot, 3 minutes after we arrived, he made a good cast, and jumped a really big Tarpon, (raised rod tip) spit the hook on first jump. After almost two hours of fly fishing, Mark had jumped two nice fish then he caught and released a red hot 90 pound Silver King. He was grateful for that TFO TiCr-X fly rod, the Mako #9600 fly reel, and especially my Poon Bug fly tied on a 4/0 Owner hook! It was time for Ed to take over, he made a good cast, hooked, jumped, fought, and landed an 80 pound red hot male Tarpon, took him all of 6 minutes to land that bad ass Tarpon on 20 pound class tippet. Eddie is getting really good at fighting these big fish on light tippet.

Looking forward to fishing with Eddie and Mark again tonight, mean while I am here working in my office today. Just a reminder, if you are planning to fly fish with me, attend my Sailfish School, or want to fish at Casa Vieja Lodge between December of 2016 and April first of 2017, please contact me NOW to confirm your dates, I will be sold out of prime dates really soon!!! (Which is a good thing for me).

My Costa Rica Blue Marlin Fly Fishing Schools, out of my condo in Los Suenos, between June 10 and August 23 of 2016 are sold out except for possibly one FAD trip. This year again, I will be fishing aboard the awesome "Game Boat" Dragin Fly, with captain James Smith. If you want to experience the best fly fishing in the world for Blue Marlin, and think you would like to learn how it is done, Contact me right away, lets see if you are good enough to join this small family of fly anglers to catch Blue Marlin on Fly?

OK, enough of this computer stuff, I have to tie 18, twenty pound test class tippets with 11 inch 100 pound test bite tippets, to refill my stretcher box with "Poon Bugs". Back to work in "Tarpon World" tonight. Thanks to all of my awesome clients, friends, and family, for supporting this old man as he fly fishes his way through middle age. Also thank you to Donny Jones (Jones Brothers Boats), Yamaha, TFO Rods, Mako Fly Reels, Rio fly lines, Owner Hooks, Mason Hard Leader Material, and of course Thank God and my Tarpon, for making it all possible! I love my job, wish you were here:))) More reports to follow.

Regards

Jake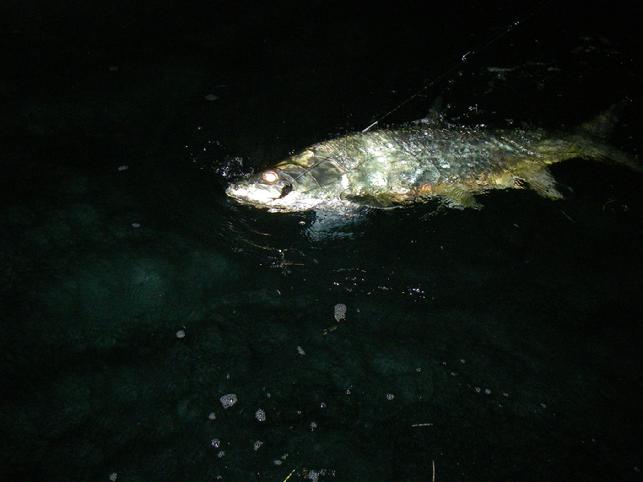 Chris O'Neill caught and released nice Tarpon World female aboard "Fly Reel" April 2016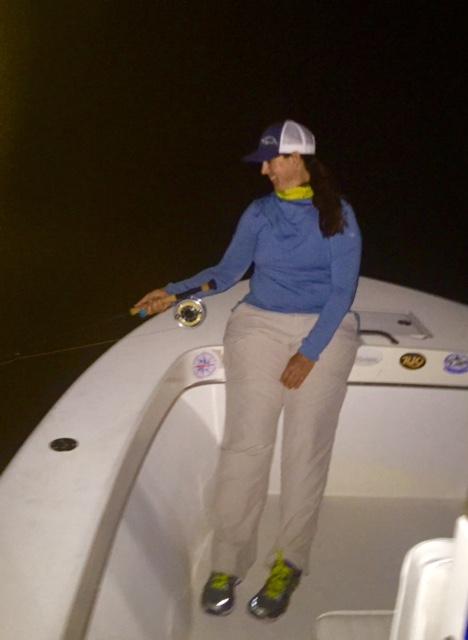 Diane O'Neill, Tarpon World, 2016
April 3 & 4, 2016
Greetings from the fabulous Florida Keys:

During the last two nights, I had the pleasure of taking Chris and Diane O'Neill fly fishing for Tarpon aboard my Jones Brothers vessel, "Fly Reel". After 4 long days of fishing in the everglades, where they jumped a total of 3 tarpon and landed one, we were hoping it would be a little better here in the Keys.

On Sunday night we fished from 10:00 PM to 2:00 AM, using my secret "poon bug" fly. Both Chris and Diane were using their new Mako #9500 Fly Reels, which performed perfectly. Our first fish was a 85 pound red hot tarpon, which Diane hooked just after her first cast. Fifteen minutes later she caught and released her first big "Silver King " on fly. She fought her second and third fish during the next couple of hours, catching a big female over 110 pounds.

Then at 12:30 Chris hooked, fought, jumped, and landed a great 100 plus pound monster tarpon. After the fish was next to the boat, and we took pictures, that fish surged, jumped, bounced off of my boat and motor, and broke Chris's Orvis Tarpon rod into many small pieces. I gave him a TFO Fly Rod to continue fishing the night with!

We finished the night with Dianne breaking off a really big fish which after a long follow, went under some structure and cut her off. Three Tarpon caught on fly from five bites in four hours, pretty good night.

On Monday night we fished from 11 PM to 3 AM, in cooler conditions with a north wind, fishing was definitely a little slow. Both anglers hooked and jumped a tarpon which weighted over 100 pounds, unfortunately both fish came off before we landed them. It had rained and blew hard all day, the water temperature dropped 4 degrees since the night before. After two four hour fly fishing trips, Diane and Chris jumped a total of 7 and landed 3 Tarpon on fly.

Heading out tonight around midnight with Warren Marshall, weather looks great, more reports to follow. I love my Job, wish you were here.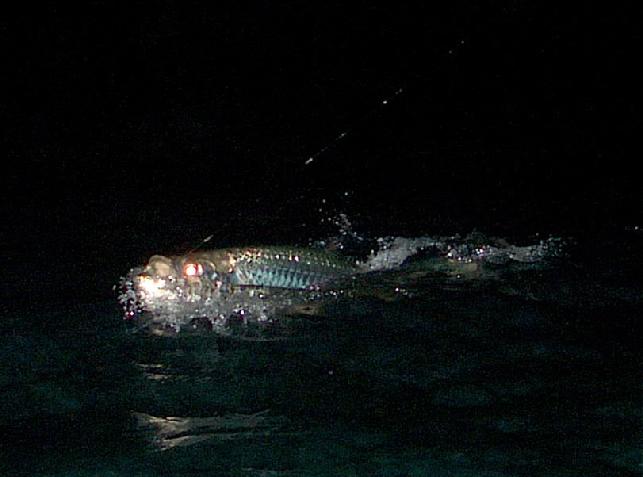 Tarpon on fly Michael Thompson, April 2016, aboard vessel "Fly Reel", Tarpon World.
Tarpon World report, April 1 & 2, 2016
During the last two nights I had the pleasure of taking my long time client Michael Thompson fly fishing here in the Florida Keys. April first was my first fishing night of the 2016 Tarpon season, we fished from 8:00 to midnight, in calm and clear conditions. Michel has been tarpon fishing with me since he was 26 years old back in 1994, and has caught some really nice fish over the years. Tonight he jumped two Tarpon and after a 20 minute battle we manage to catch and release a red hot 120 pound Tarpon,my first of the season.
April 2, 2016, Laura and Michael boarded "Fly Reel" at 8:50 PM, and we headed out to Pelican Bank where we started fishing at 9:00 PM. When we arrived the stars were bright and the wind was almost calm, coming from the south at less tan 5 knots, by the time we got in the wind was blowing 15, and it got real dark and cloudy. We managed to jump and fight 4 tarpon, and when it was all over Michael released a male Tarpon of 80 pounds.
Weather moved through early this morning, NE wind is blowing through Tarpon world. I am working on fixing my running lights and tying some 20 pound tippet leaders for tonight. Enjoying life here in the fabulous Florida Keys, stay tuned for more reports to follow, I love my Job.
Regards
Jake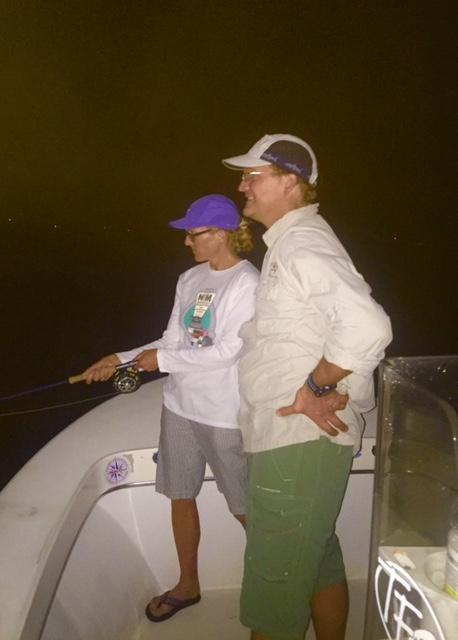 Michael and Laura, Tarpon World, 2016
Contact: Captain Jake Jordan
Jake Jordan's Fishing Adventures
P O Box 309
Havelock, NC 28532
305-872-6060