2012 North Carolina Fishing Reports
Chuck Furimsky Albie on Fly, Cape lookout region of North Carolina, Vessel Fly Reel, Captain Jake Jordan
North Carolina Fly Fishing Report
November 12, 25, and 26, 2012
End of Albie Season
Greetings from Coastal North Carolina:
November 12, 2012: Today was a beautiful day, I took John Mathews (former president of CLFF) out for a day of fly fishing for Albies, as a gift from the club for his service. The day was beautiful and the Albies were everywhere and eating Brown Bait from bait balls. It was a pleasure fro me to offer this trip to john and we had a fun time catching lots of nice Albies.
I missed quite a few good fishing days due to weather and then I went to Virginia to spend Thanksgiving with my Sister and brother in law. I finally returned home on November 24, and get the boat ready for Wally Miechowsky from Auburn PA. who had canceled his Albie trip from November 14 through 19 due to bad weather.
November 25, 2012:
Wally and I headed out on Sunday looking for Albies, the water temperature at my slip was 54 degrees, and the air temperature was 29 degrees. We headed to the trawler buoy, 55.5 degrees, no fish or bait, then to the NW places, 56.9 degrees, no bait and no fish. We then went to the Atlas tanker wreck, 55 degrees and muddy water, back into the shoal, no bait or fish muddy water, and when we got inside of cape point the water cleared up and was 57 degrees. I pulled up and anchored near the rock pile where my friend Chuck Laughridge was fishing with Albert Bruno and they were slamming the puppy drum. We finally got it figured out and Wally caught half a dozen fish up to 26 inches and a few sea trout. The air temperature never got above 49 degrees but we had a fun day on the water, and caught some fish.
November 26, Wally and I headed to the rock jetty to look fro Drum and Specks. we found them as we fished next to Chuck and the girls from the CLFF, they put on a show for us, catching a Drum on every cast. It took a while but Wally finally figured out the location and caught a bunch of Puppies. I made a few casts and caught a 6 pound plus trout which pulled the hook at the side of the boat. I also caught half a dozen Pups up to 26 inches, we had a nice day in the sunshine, the Albies, sadly are gone, the water is too cold for them. Wally left and will fish with me in April for Tarpon in the Keys.
This was a fun Albie season here in the Cape Lookout region of eastern North Carolina, today I put my boat away for the winter, I will tow it to the Keys for Tarpon season beginning the first of April 2013. I am in the office for the next week, taking reservations to fly fish for Tarpon with me between April 1 and June 10, give me a call if you are interested in booking a trip.
My 2012 - 2013 Sailfish School season begins next week, I will be in Guatemala at the world class Casa Vieja Lodge between December 5 and 20 fishing aboard intensity while conducting Sailfish Schools. I plan to be back home between December 21 and January 3 and then back to Guatemala for 11 days.
I still have space available for clients (students) who want to fish with me or join me for the worlds best fly fishing for Sailfish. Available dates are January 4, 5, 6, aboard Intensity with captain Mike Sheeder, also there are 4 boats available fro my tournament with a practice day January 7, along with January 8, 9, 10, 2013. Feel free to contact me if you have the desire to share the worlds best fly fishing for billfish in December 2012 or early 2013. Fishing has been good in Guatemala and it looks like we will have a very productive season, Call me now and reserve your awesome trip.
I love my job, stay tuned for more exciting fly fishing reports coming soon. I look forward to another good season at Casa Vieja Lodge in Guatemala. PS, there was just a last minute cancellation for 3 days during December, 2 weeks from now, call me if you have any interest?
John Mathews Donated CLFF Trip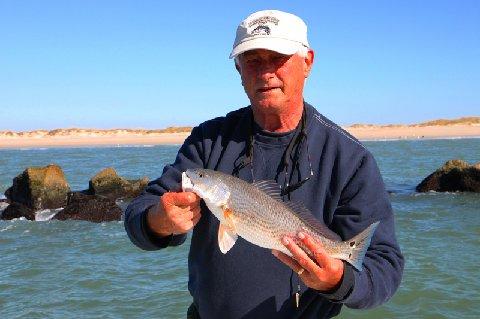 Wally's first Pup, Fly Reel, Captain Jake Jordan
November 4 through 10, 2012
Greetings from Albie World:
Steve and Jeska Gotch from White Horse, Yukon, Canada, are here for a week vacation, during which they will fly fish for Albies with me.
November 4, we headed out the buoy chain, the wind was blowing from the north at 15 to 25 knots, water temperature was between 59 and 63 degrees. At 10:00 AM, south and west of the trawler buoy, we found birds working on Albies which were eating spearing, they were up and down and it was cold and rough, however when the fly got to the fish they ate. Jeska caught the first Albie of the trip, her first ever. Steve caught a couple and Jeska broke one off due to bad leader material. We had lots of fun fishing on a cold wet, rough day.
November 5, 2012; Jeska Steve and I had a good day fishing in the deep ,(65 foot of water) west of Cape Lookout. Scattered Albies eating spearing in very rough water. Steve caught 3 Albies while Jeska caught two after lots of hard fishing. In the afternoon we found one big Albie chasing a school of bait near the beach, after several hours of chasing that fish in 1 to 3 foot of water Steve finally caught that Fat Albert.
November 6, 7, 8, we had a northeaster with 40 knot winds and some rain, we did not fish.
November 9, 2012: Steve and Jeska joined me for a day of fishing in calmer water, the water temperature was 57 degrees when we headed out of the inlet. By 10 :15 the water temp was up to 62 and the fish showed up down off of the western beaches, it was game on with brown bait in bait balls. Both Steve and Jeska caught quite a few Albies to end a great warm weather fly fishing Vacation. I enjoyed fishing with these fly anglers from the north country.
November 10, 2012: Today it was calm with sunny skies and lots of Albies feeding on bait balls. Gary Fellows from the Raleigh area purchased a donated fly fishing trip from the Triangle fly fishers club. Garry is a good angler who had no experience fly fishing the salt in North Carolina, however he was about to have one of those special days. Fish were in 50 foot of water off the western beaches, once Gary got the hang of it, and I cracked the fly code, after missing several fish, he started catching an Albie on every cast. We had a fun day of fishing and I am sure that Gary will be doing this again next year.
Stay tuned for more fishing reports coming shortly, I think that the Albie, Trout, and Puppy Drum fishing is about to get very good for the next couple of weeks. I love my job, wish you were here.
I still have room available fro several students (anglers) for my Sailfish Schools during early January and March of 2013, also if you are interested in fishing my Sailfish Tournament please contact me right away. Oh, by the way, I have in stock one Mako #9700 Marlin fly reel, available for sale. This would make a great Christmas present before the 2013 price increase.
Tarpon season is approaching, (April 1 through June 10) this is shaping up to be the best Tarpon season in years, don't miss the opportunity to catch lots of big Tarpon on fly. BOOK NOW. Happy Thanksgiving.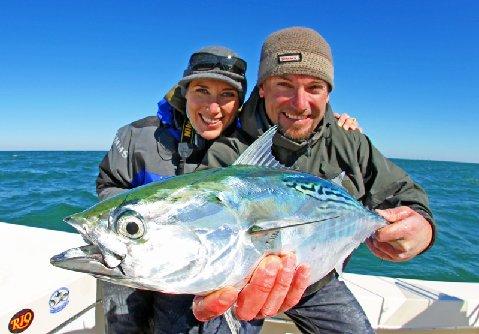 Jeska's first Albie, aboard Fly Reel captain Jake Jordan
Steve Gotch, Fat Albert, Captain Jake Jordan, Vessel Fly Reel
Gary Fellows, first Albie on Fly, Captain Jake Jordan, Vessel Fly Reel
Albie Fly Fishing Report
October 21 through 26, 2012
Greetings from Albie World:
After spending October 19 and 20 at "The Corvette Expo" in Sevierville, Tenn. I drove my red Vette home on October 21. I arrived home at 4:00 PM met up with my friend Chuck Furimsky for dinner in Havelock, and then got ready to go Albie fly fishing for the next 3 days.
October 22, 2012:
The weather is hot and calm, lots of sipper Albies around, we fished on the west side of the shoal about 5 miles off shore and found some hungry Albies. The fish would come up to the surface, chase bait for a short period and then disappear. Chuck hooked a half dozen nice fish however he had some bad luck and only caught two of these nice fat Albacore.
Today the fish were in a different location over on the east side of the shoal, Chuck caught two in the slot and then we chased fish that would not eat all afternoon. The water was calm and the water temperature is still 72 degrees with 80 degree air temperature.
Chuck Furimsky (Owner "The Fly Fishing Show") and I hit the water at 7:00 Am and headed offshore, we found good Albies eating bay anchovies in 60 foot of water. Chuck had tied some flies which worked well, and today he was casting and fighting fish well. As we came back to the dock after 8 hours of fly fishing Chuck had hooked 14 Albies of which he caught and released 10 or 11 up to 12 pounds in weight. We had a good trip and Chuck has already booked a 3 day charter for next season.
My friend Rick Pope arrived last night with our friends Chris Thompson and Alex Colonna to fish for a few days. We had good weather today found lots of fish which were up and down and feeding fast on Anchovies. I found the fish at 9:00 AM and immediately hooked Alex and Chris to two nice Albies. After fighting the double, releasing Alex's fish, and pulling the hook on Chris's fish at the side of the boat, we hooked several more Albies but they were very hard to keep hooked up too.
October 26, 2012:
Today the wind was blowing 15 from the NW with fog and clouds at 7:00 AM when we left the dock, the radio broadcast that hurricane Sandy is coming and that we are under a small craft advisory today. Rick and I wanted to make sure that these anglers caught Albies so we fished in the buoy chain and found some happy fish eating good. Chris caught the first fish of the day which accomplished our goal before the wind began to gust up to 30 knots. We fished half a day which was the most fun day that I have had so far this year. Looks like a few days off due to the storm, stay tuned for more fishing reports from Albie world, I love my Job, wish you were here.
| | |
| --- | --- |
| Chris' Albie | Alex's Nice Fat Albert Oct 2012, Vessel Fly Reel Captain Jake Jordan |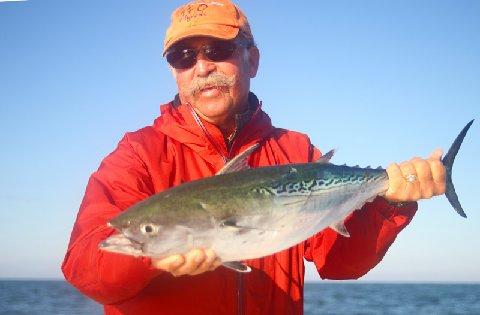 Chuck Furimsky False Albacore Oct 2012, CAptain Jake Jordan Vessel Fly Reel
Greetings from Albie world:
My friend Brian Carson arrived on October 10 planning to fish for the next 3 1/2 days with me before flying home to Dallas on October 14. We fished half of a day the first day due to planning to attend the CCA banquet on the 11th, Brian hooked quite a few Albies however he only released one on that first day. The next couple of days were slow for us as I was fishing without a bottom machine or chart plotter, however I fixed it on Saturday and on the final day Brian hooked lots of Albies and released half of a dozen before noon. We had lots of fun as usual, fishing is improving.
October 15: I fished the first of 3 days with a group of fly anglers who are friends of Carl Calandra, my first two anglers were Winslow from Connecticut and
Phil from Florida. We found lots of Albies in 60 foot of water 18 miles from the inlet, after missing quite a few we caught half a dozen before 11:00 AM. I got a call from Brian Horsley, and another one from Chuck Laughridge about bait balls on the other side of the shoal. I steamed over and they went off really good, bait balls with sharks, bluefish, and Albies, it was rough but we wound up catching close to a dozen Albies up to 10 pounds, life is good, Albie season is here for sure. Stay tuned for more Albie reports to come soon, I love my Job.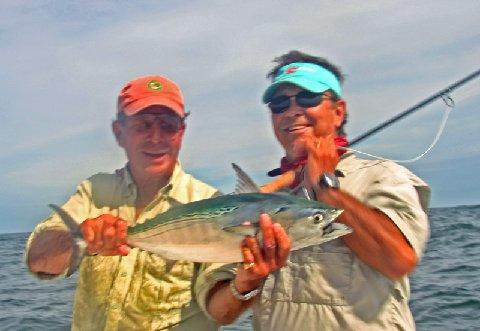 Albie on Fly Oct 15 2012
Contact: Captain Jake Jordan
Jake Jordan's Fishing Adventures
P O Box 309
Havelock, NC 28532
305-872-6060