Learn how to catch giant Striped Marlin on a Fly Rod with Captain Jake Jordan in the Galapagos Islands!
The Marlin School
Join Captain Jake Jordan in his pursuit of giant Striped Marlin on fly tackle.
Jake operates "The Marlin School" several times per year for small groups (1, 2, 3, or 4 students) of adventurous fly anglers. The Marlin Schools are located in the Galapagos Islands in Ecuador.
"The Marlin School" Information:
1. This school includes instruction in all areas of catching Marlin on fly tackle using IGFA rules and certified equipment.
2. Teasing techniques, bait and switch, presenting the fly, setting the hook, big game fly rod fish fighting techniques, and releasing the Marlin!
3. Learn about rigging your equipment for big game fly fishing, fly rods, fly reels, fly lines, backing, connections (that don't fail), choosing the right flies and hooks to close the deal.
My Marlin School packages include The Following:
Round trip airfare to the Galapagos from Guyaquil Ecuador, lodging at a first class hotel in Guyaquil on the first and last night of your trip, all ground transfers, 5 full days of fly fishing for Marlin aboard a world class sport fishing boat with a captain, 2 mates, and personal instruction by world class fly angler Captain Jake Jordan. Also included is breakfast at the hotel, lunch aboard the vessel, and all necessary fly tackle including the use of world class equipment.
Not included in the cost of your Marlin School are: Dinner each evening, (there are many good inexpensive restaurants to choose from in The Galapagos), alcoholic beverages, round trip airfare from your home to Guyaquil Ecuador, and gratuities for the captain and crew.
The cost to attend "The Marlin School" is $6,000.00 per student with a class of 3 students, $5,000.00 per student if there are 4 students, $7,500.00 per student with 2 students, or $12,500.00 for a single student. A 50 percent deposit is due with your reservation.
My Marlin School Dates durung March and April of 2010 are now available, Call me regarding more information on custom Marlin School dates which are still available for private groups.
The Marlin School in the Galapagos
Sample Itinerary
Depart Miami on American Airlines at 7:00pm arriving Guayaquil, Ecuador at 11:00pm. It's only a 4 hour flight!
Your private host will be waiting for you at the airport to transport you to the Oro Verde Hotel. This is only 5 minute ride from the airport!
The next morning after breakfast meet up with your host at the hotel, who will escort you to the airport and board your TAME or Aerogal flight to the Galapagos. The airlines use AIRBUS 320 for this one hour and forty minute flight to
San Cristobal
Island
.
Upon your arrival at
San Cristobal
you'll be met by your host who will escort you on a 5 minute ride to the Minconia Hotel located harbor-side at Puerto Baquerizo Moreno. After dropping your bags you can walk around the quaint little town. If a little extra cost you can take a side tour of the island to see the animal life that inhabits the island.
This package gives you a single or double room for six nights at the Miconia Hotel and includes breakfast, taken on the Miconia's top floor open, air restaurant overlooking the harbor. Five days of fly fishing aboard the Sport Fishing Boat with beer, snacks, sodas, and lunches included.
On your last morning in the Galapagos you'll take TAME or Aerogal flight back to Guayaquil arriving mid day. You'll be picked up by your host and taken to the Oro Verde Hotel. The next day you'll take the hotel shuttle back to the airport for your departure on American Airlines at 11:00am arriving Miami shortly after 3:00pm.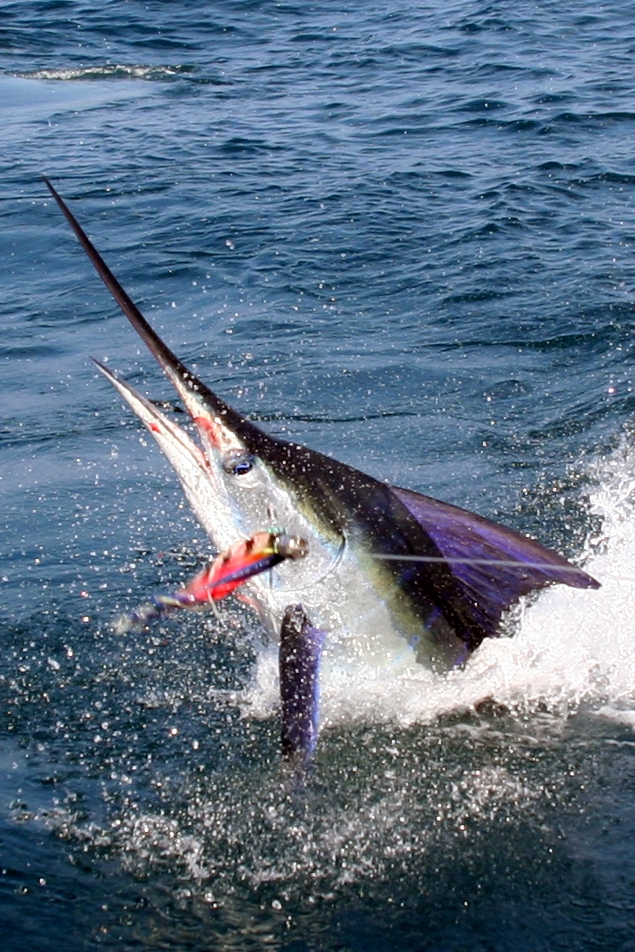 Galapagos Jumper
Contact: Captain Jake Jordan
Jake Jordan's Fishing Adventures
P O Box 309
Havelock, NC 28532
305-872-6060