Captain Jake Jordan - World Class Angler!
Biography of Captain Jake Jordan
Captain Jake Jordan; has spent over half of a century traveling the world in search of large game fish on light tackle and fly. He is an excellent educator and communicator, who loves to excite anglers with stories regarding his many spectacular fishing adventures.
Jordan is a world-famous Florida Keys tarpon guide and world-renowned big game fly angler. He was the founder and host of "The Bonefish School", a saltwater fly-fishing school held several times a year at the Peace & Plenty Bonefish Lodge in the Bahamas during 1972 through 2012.
Captain Jake is a consultant to several first-rate fly-fishing lodges throughout the world along with a boat manufacturer and several world class fly tackle companies. He designs customized fly-fishing vacation packages and fly-fishing schools, for anglers throughout the world.
The retired CEO of STH Reels USA, and the founder of the "World Class Angler" (an early Florida Keys fly shop), located in Marathon, Florida, Jordan is a well-known speaker, author, and consultant to the boating, fishing, and fly-fishing industries. Jake has authored and or been featured in dozens of articles in most major sport fishing magazines. He is considered an expert in all areas of big game sport fishing and fly fishing. Captain Jordan has also appeared in many fishing related television productions. He is an FFF certified fly-casting instructor, an original member of the FFF advisory committee, a life member of IGFA, and a charter member of the "I.G.F.A. Certified Captains" organization.
Jake Jordan's Fishing Adventures, Jordan's company, for more than five decades has operated several charter boats out of Marathon in the Florida Keys and other locations. At 79 years of age, Captain Jake continues actively guiding fly anglers in search of Tarpon during April, and May, in the Keys. Jake currently operates fly fishing charters during October and November aboard his Jones Brothers cape fisherman vessel "Fly Reel" near his retirement home in coastal North Carolina.
Jake also owns and operates "The Sailfish School" a fly-fishing school designed to teach anglers how to catch Billfish on a fly rod. The Sailfish School is held at "The Casa Vieja Lodge" in Puerto San Jose, Guatemala. Jordan often brags that during the last 28 years of operation, his "Sailfish School" has never had a student at his Sailfish School in Guatemala who did not catch a Sailfish on a fly! Jake and three of his students released 30 or more sailfish on fly several times, in one day, and as many as 76 in one three-day session of The Sailfish School. During his lifetime, Jordan has caught more than 2,400 Billfish on fly, including over 2100 sailfish and more than 300 marlin on fly.
Jordan's "Marlin Schools" (Fly Fishing for Marlin) are held in many locations throughout the world each year including, The Galapagos Islands, Australia, Hawaii, Panama, Mexico, Costa Rica, Dominican Republic, along with many other exotic locations. During the last 6 seasons Jordan's "Costa Rica Blue Marlin Fly-Fishing Schools", in Los Suenos CR have proved to be very successful with 96 percent of his clients catching between 1 and as many as 17 at each school. As of today, Jake Jordan has caught and released 88 Pacific Blue Marlin along with 7 Atlantic Blue Marlin on fly!
Captain Jake appears as a speaker at many fly fishing shows, boat shows, and fishing clubs every year. He has excellent PowerPoint and Video presentations about: Catching Billfish on fly, Fly fishing coastal North Carolina, Fly fishing for Trout in the US, Argentina, Chile, and Alaska, Atlantic salmon fly fishing in Russia, and Pacific Salmon in Alaska. His specialty is Tarpon, Permit, Bonefish, and other Game fish Species of the Florida Keys. Jordan's Billfish presentations are World Class. The favorite and most popular presentation during the last several years is: History, of development and advancement of tackle, techniques, rigging, along with seasons, locations, captains, crews, boats, for catching all nine species of Billfish, using IGFA rules, and 20 pound or lighter class tippet on fly. Captain Jordan specializes in coaching Big Game Fly Anglers in catching the very rare IGFA Royal Billfish Slam on Fly.
Available PowerPoint Presentations:
A. "The Sailfish School":
Learn all about how to catch Sailfish on a fly by an instructor who has successfully taught more than nine hundred students (Anglers) at his Sailfish Schools. All of Captain Jordan's students have caught at least two sailfish on fly while using IGFA class tippets and following IGFA rules. Captain Jake Jordan has personally caught more than two thousand sailfish and over three hundred Marlin on fly during his lifetime. During his presentation Captain Jake will describe the best locations to catch sailfish on fly. Also covered are the latest teasing techniques, tackle, flies, rigging, fly presentation, and fish fighting techniques. This information will definitely improve your hook-up and catch ratio percentages. Captain Jordan has operated his "Sailfish Schools" for 29 years, beginning in Costa Rica and Panama, and then in 1994 he moved the location to Guatemala. "The Sailfish School" Jordan's company has been successfully operating out of "The Casa Vieja Lodge in Guatemala since the lodge opened. This presentation contains
some of the best Billfish photography ever shown in any presentation.

B. "Fly Fishing the world for Billfish" Captain Jordan has caught over two thousand Billfish on Fly, Atlantic and Pacific Blue Marlin, Black Marlin, Striped Marlin, White Marlin, Spearfish, along with Atlantic and Pacific Sailfish He shares many experience and secrets in this great presentation. Pictures of Billfish on Fly from many of the words best destinations!

C. "Giant Silver Salmon on Dry Flies": Jordan travels to remote areas of the gulf coast of Alaska where he teaches you to catch 12 pound + Silver salmon on Dry Flies! Add to this Alaska's giant Rainbow Trout, and you will experience the ultimate Alaskan Fishing Adventure!

D. "Tarpon on fly the ultimate high: The Florida Keys produces the worlds best fly fishing for Tarpon, Master Keys guide Captain Jake Jordan teaches you where, when, and how to catch them. This presentation covers everything including flies and equipment, The photography is Awesome! In this presentation Jake covers "Extreme night fly fishing for Tarpon"!

E. Captain Jordan also presents seminars and clinics regarding "Basic Fly casting", "Advanced Fly Casting, along with "Understanding Saltwater Fly Casting Techniques".
F. Captain Jordan presents a program regarding the history of; tackle development, tecneques, locations, seasons, used in fly-fishing for Billfish. This program covers the developmen of fly rods, fly reels (with drag systems), backing, connections (Knots), running lines, fly lines, building leaders, hooks, and flies, along with the best currently available. It also includes; Current, best, upto date, locations, seasons, boats, captains & crews, to catch all species of of Billfish using "International Game-Fish Association" (IGFA) rules of fly fishing along with twenty pound test and under IGFA class tippet.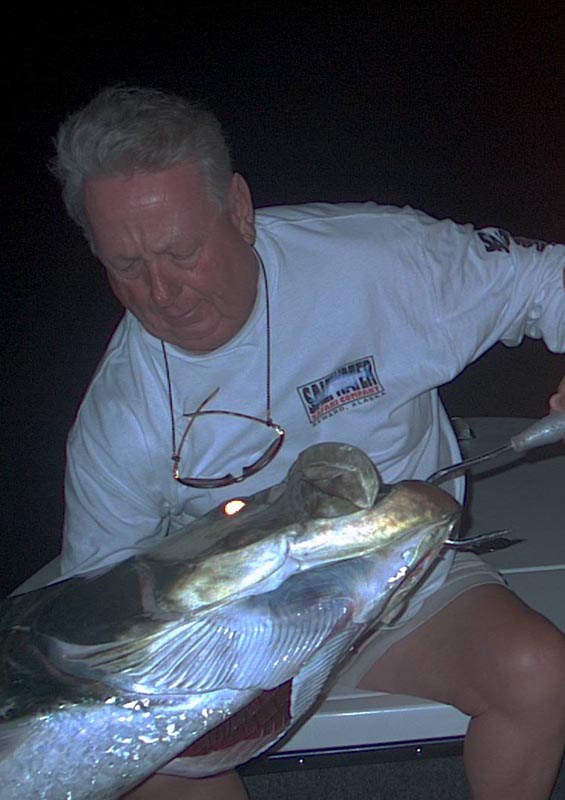 Fly Caught KeysTarpon
To arrange for Captain Jake Jordan to Appear at your Club or Function contact him at:
(305) 872 6060 Cell Phone
Contact: Captain Jake Jordan
Jake Jordan's Fishing Adventures
P O Box 309
Havelock, NC 28532
305-872-6060