I Love Alaska
Check out my latest Alaska fishing reports and cool pictures by clicking on Alaska Fishing Report Tab!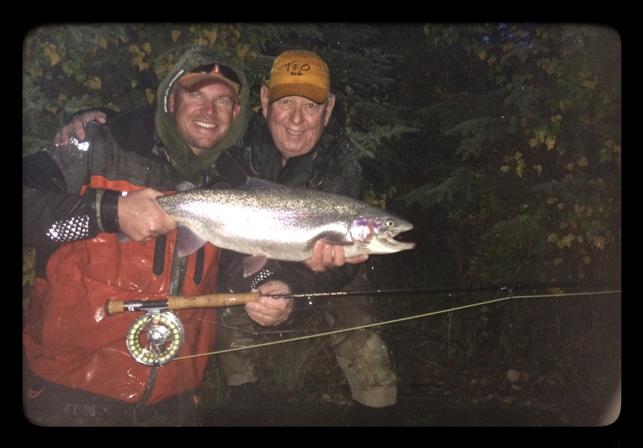 Large Kenai River Rainbow Trout caught with Josh Hayes on Sept 21 2014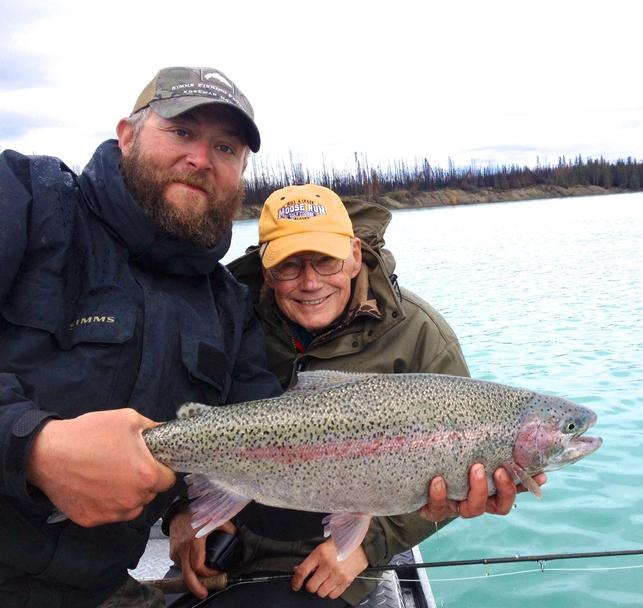 Billy Coulliette releasing Ron's fat Bow Sept 2014
Giant Kenai Rainbow Oct 1 2004
Bears watching Fly Anglers from Icy Bay Lodge
Giant Silver Salmon On Dry Flies!
Great Rainbow Trout and Dolly Varden on fly
August, September, and October, are Prime Months!
Icy Bay Lodge in Foot Print of Mt. Saint Elias
Steve Ranney's "Orca Adventure Lodge " in Cordova, is our headquaters destinations for the Silvers during September and October.
We specialize in large Rainbow Trout fishing from the Kenai Peninsula, to Talkeetna! Troutfitters www.aktroutfitters.com in Cooper Landings is my Alaska headquarters for giant Rainbow Trout!
The area between Yakutat and Cordova (Lost Coast) from the middle of August through October produces the best Dry Fly, Sight Casting, to Silver Salmon in the world!

I have Fished at Lodges in this area since 1989. I have fished in Alaska during August and September for over thirty years. The Lost Coast area is the most beautiful and productive wilderness area I have ever visited. My headquarters for this fishing is split between The " Orca Adventure Lodge" in Cordova along with "Icy Bay Lodge" near Yakutat.

Orca Adventure Lodge Package includes: Lodging at Orca Adventure Lodge, Fly outs to remote wilderness camps in heated cabins, all meals (Gourmet Food), Six full days of the best Fly Fishing for Silver Salmon you will ever experience, and Fly Fishing Instruction by Captain Jake Jordan!


www.icybaylodge.com

I am now taking reservations for late August, September, and early October of 2020. The cost of my Silver trips run from $7,000.00 to $8,900.00 per angler per week. Each trip is a custom package. Please Join me for the trip of a lifetime!

Many other Rainbow Trout, Dolly Varden, and Saltwater destinations in Alaska are available through Jake Jordan's Fishing Adventures.We fish for Rainbow trout in August, September, and early October. The Trout and Dollys follow the spawning Salmon in Alaska. I fish where the Native Alaskans fish. We offer great fly fishing at reasonable prices.


Contact Me


Captain Jake Jordan:
Phone: (305) 872-6060
Icy Bay Top Water Silver
Icy Bay Lodge Sunset
Contact: Captain Jake Jordan
Jake Jordan's Fishing Adventures
P O Box 309
Havelock, NC 28532
305-872-6060