A Tribute to my friend Curt Trout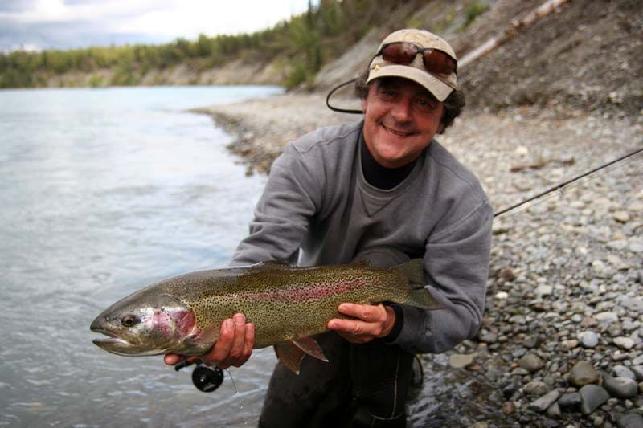 This is Curt on the last day that we fished together
My Friend Curt Trout
To spend time with him on the water was a special privilege. His quiet manner. His drive to pass along all that he had learned to others. The strength of his love of the river and the trout that lived there transcended his physical weakness. I knew Curt well, he had a grace about him. He was a very special person in our world.
I am sure that, knowing his time was short, that he could not have dreamed of a more idyllic passing. To slip away after a day of fishing the river that was the very fiber of his being. The Kenai weeps, as do many who knew him, but God has already given rest to Curt's soul in the most obvious way he could for those left behind. By granting him a peaceful passing from the bosom of the river he loved most in life to His side in a place that surely has a river full of beautiful trout for him to wade into eternity.
Death is a time for the living to grieve, but for some reason I, can see Curt smiling down upon us as he ties on a bead that the ultimate Creator painted just for him. Curt Trout left his mark on me and I am much better for that encounter. To go as he lived would have been his wish. I hope Jody can find peace with her lovely memories, my prayers are with you.
Jake
Contact: Captain Jake Jordan
Jake Jordan's Fishing Adventures
P O Box 309
Havelock, NC 28532
305-872-6060