Jake Jordan's Fishing Adventures
2008 North Carolina Fishing Reports
December NC Speck on Fly
Buddy Rogers Speck on Fly
North Carolina Fly Fishing Report
December, 28, 2008
Greetings from Paradise:
Today I had the pleasure of fishing in a Pamlico county creek, way out in the country, with my friend Buddy Rogers. Now to say that Buddy is a Speckled Trout expert is an under statement, he is the guru in this area. Buddy had offered to show me some cool fishing in the past however this was my first trip "up the creek" with Buddy, we launched about 7:00 AM and were back at the dock by 11:00 AM. Now as you may know, when I fish with someone who knows a lot more than I do, I take on the characteristics of a sponge, try to learn as much as possible.
Buddy suggested a 5 to 7 weight rod with an intermediate line and a fluro carbon class tippet of under 20 pound test. He supplied the flies, small chartreuse and white bait fish pattern fished erratically and slowly. We traveled less than a mile when Buddy said they may be some fish in this area, he was right. I caught the first speck, a fish of about 2 pounds, and then another one, then I heard Buddy say " this one is a pretty good one" and then I netted his 4 pounder.
Next we moved a little and then Buddy caught a small Striper, followed by several decent sized Trout. then I got my first Striper of the day, followed by more specks. As we made cast after cast, smiling and enjoying the scenery as a Bald Eagle watched us from above. The fog had now cleared out, the water dropped, and so we moved down river to another spot. We fished another hour or so in the warm sunshine (70 degrees), each catching several more fish and then decides to take the rest of the day off.
What a great day on the water with a good friend who is a dedicated fly angler and the best speck fisherman I have ever met, Thanks for the lesson, Buddy! I wish you all a Happy, Healthy, and Successful New Year. Stay tuned for more fishing reports to follow shortly!
Regards:
Jake
Striper on Fly
Bandito Striper
Bandito Albert
Buddy Rogers with fat Albert
North Carolina Albie Report
November, 23, 2008
Greetings from Albie World:
Buddy Rogers and I left the dock aboard "Fly Reel" at 7:00 AM and headed for Beaufort inlet, the air temperature was 30 degrees and the water temperature was 49 degrees. The calm wind made everyone who chases Albies go out today even in the cold weather, the ocean was calm as we headed to Cape Lookout. We steamed across the shoal and then headed off shore in search of warmer water, we were rewarded with 65 degree water in 65 foot of water about 3 miles east of the shoal.
We and one other boat were the first to spot the hundreds of birds diving on busting Albacore. I drove up to a bait ball and Buddy buddy hooked up right away, I made a cast and we caught our first double header of the day.
Buddy caught another one and then I hooked my second fish and broke it off by stepping on my line, I then picked up a 7 weight, made a cast and caught my second Albie of the day. Lots of boats showed up and the fish turned off so we headed off shore to check out a wreck, the water at the wreck was colder and we found no more fish out there.
I made a call and my friend told me that they were on bait balls several miles east of the light house, in 50 foot of water. We steamed up there to find lots of Albies feeding on Bait Balls on the right kind of bait.
Lots of boats,lots of Albies, lots of bait balls, some folks did real good, we had a tough time coming up with the right fly, Buddy and I caught close to a dozen Albies and we never caught two on the same fly. In any event it was awesome, what it is supposed to be like here during October and November. Lots of good friends shared in this awesome day of fishing, it was cool watching a bunch of CLFF members all hooked up and fighting Albert at the same time. I am tired and have to shower, eat, and sleep so I can get back out there at dawn. More reports to follow, wish you were here.
Regards:
Jake
Get Ready for the Albies
Bait Ball
North Carolina Albie Fishing Report
November 17, 2008
Greetings from Albie World:
November 17, 2008:
Sunshine with cool North West wind from 10 to 20 knots was the forecast as I headed out of Beaufort inlet at &:30 AM. Tommy Bennett was heading out at the same time and as we turned to the west we found relatively calm seas. Both boats headed west I was about a mile off of the beach while Tommy stayed closer to shore as we looked for birds. Just off of the first fishing pier I found quite a few birds working on a few Albies which were eating scattered baits, they would not stay up very long however I did manage to catch one before they dried up. Tommy found the same thing inshore close to the beach however by the time I arrived they also disappeared. I decided to head west to look for Albies while Tommy stayed here to look around that area.
I drove along the beach almost to the end of Emerald Isle, stopping from time to time to check out birds. From there I headed out to 65 feet of water, turned left and began to head east while traveling in and out between 40 and 65 feet of water. Saw lots of birds, and many mammals (Porpoise) however I did not find many Albies. When I got back to the Sheridan a few fish had been caught but none were around so I ran back to the inlet to catch the beginning of the falling tide, NADA.
After looking around I headed out toward the Cape Lookout Shoal, it was calm and beautiful so I decided to cross over to the east side and have a look. Captain Sarah Gardener crossed at the same time and we found calm seas with muddy water in close but good water as soon as we got a mile off of the beach. I headed out toward a structure that is five miles out however when I got half way to where I was going I ran into birds and some Albies. Again, first cast I hooked a fish which put up a great fight before I caught and released my second fish of the day. These fish were up and down and hard to get to with a fly before the went down. I headed on out as Sarah arrived, and I guess I should have stayed as she caught some fish there.
When I arrived at the structure there was lots of scattered bait and a few small bait balls on the surface. I chased them around for a while and caught two more before that spot dried up. I headed back to where I stopped on my way out however that had also dried up. Next I steered "Fly Reel" back across the shoal and along the beaches all of the way back to Beaufort inlet, stopping frequently to check out birds before calling it a day at 4:00 PM. The next day the wind was blowing hard so I took the day off and worked on my winter fishing schedule.
Guatemala Sailfish Schools:
I do have space available at a Sailfish School for one or two anglers with Chuck Laughridge's group fishing on January 16, 17, & 18, and there is space available for one student at a Sailfish School with fishing dates on March 21, 22, 23, 2008. I had a cancellation for a Sailfish School group for the following dates March 29, 30, 31, this was a group who canceled due to a family health problem so I can accommodate any size group up to 4 students on these dates. Please if you have the desire to catch Sailfish on Fly while relaxing in classic luxury at the best fishing lodge in the world, Casa Vieja Lodge" contact me soon as these dates will fill quickly.
Tarpon Season in the Florida Keys:
My guiding dates to fly fish for Tarpon begin on April 15 this year, with my last fishing day being on June 28 2009. I will be contacting clients who fished last year to confirm this years dates within the next week or so, then by December first I will know what extra Tarpon dates will be available. I plan to fill my Tarpon calendar by the first of the year, so please if you read this and you think that you would like to experience this ultimate extreme fly fishing for Tarpon in the Keys contact me right away to reserve dates! More Reports to follow, wish you were here.
Regards:
Jake
North Carolina Albie Fishing Report
November 11 & 12, 2008
Greetings from Paradise:
November 11, 2008:
Today Michael Bates from Tampa Florida joined me for his first of several days of fly fishing for Albies aboard my Jones Brothers Cape Fisherman "Fly Reel". We pulled out from the marina at 7:00 AM, cleared Beaufort inlet, and headed toward Cape Lookout. The wind was north at 10 to 15 knots with relatively calm seas and sunny skies, as we approached the shoals I received a call that the Albies were turning on down near the western beaches. We turned around and steamed for 45 minutes to the Ramada Inn where we found small bait balls with a few birds and some Albies eating 3 inch glass minnows. Michael hooked and landed his first Albie on fly in that general area, and while he was fighting that fish I hooked and released another fat Albie.
Those fish dried up after we each caught our second fish so we headed back down the beach toward the inlet. We worked hard on fish which were popping up and down eating spearing but were hard to hook. We each caught another Albie on the west side of the inlet and then called it a day at 4 PM.
November 12. 2008:
Today we left at 6:45 and found a bunch of fish feeding near the inlet, however soon after we arrived they disappeared so we began heading to the west along the beach. The wind was blowing from the north at 10 to 15 knots with mostly sunny skies and 61 degree water temperature. After traveling west for 45 minutes I got a radio call about some fish biting just off shore in 65 feet of water. We ran out to find 3 or 4 boats catching Albies on bait balls with lots of birds working the area. Michael proceeded to catch 3 Albies on his first three casts while every boat in the area was catching fish. This action continued for a couple of hours with mike releasing several more Albies while I caught a few as he kept hooking up.
As the wind picked up this fishing ended so we headed back up the beach in search of more hungry Albies. At the inlet we found a few fish on both the east and west side beaches, Michael caught a fish near the western beach and another one out in the channel near the buoy chain. We quit at 3:30 and ran into millions of birds and Bluefish in the inlet, Mike caught a few and then it was in to get gas for tomorrow. Guess what; this morning the wind is south west at 20 knots and small craft advisories and steady rain, congratulations to Michael for catching 10 Albies on fly during his first ever Albie fishing trip. Looks like late Sunday or Monday before the weather will get good for Albie fly fishing again, I am scheduled to fish with my doctor on the 19th but other than that I am wide open, wish you were here. Give me a call if you want to catch some of these awesome fish on fly. More Reports to follow!
Regards:
Jake
Michael Bates first Albie
Buz Bryson Albie Nov 7 2008
North Carolina Fishing Report
November 5 through 9 2008
Greetings from Paradise:
November 5, 2008:
Windy, sunny, and choppy in the early morning, Don Roberts from Atlanta was here on business and had a half of a day to spend on the water. We launched the skiff at 6:45 AM and then fished in the inter coastal waterway between Core Creek and Adams Creek until 11 AM. Don was fishing with a spinning rod, using Berkeley's Gulp for bait while I was casting a 7 weight TFO fly rod with a 300 grain streamer express fly line and white Clouser minnow flies.
Each time that Don hooked a fish I would cast the fly to the same spot, I was rewarded with a bite from a speck or a puppy drum on most of my casts. Don wound up catching 8 specks and 3 drum while I released 6 Specks and 1 drum. We had a great time and found some places where we can fish on windy days.
November 6, 2008:
Last night a group of fly anglers from all over the US arrived and we all attended a great Barbeque at a home on Atlantic Beach. Included with the group was the management team from TFO Rods who were here to enjoy our great Albie fishing and the great southern hospitality. Today the wind was blowing from the west at 20 - 25 knots and the ocean was real choppy as I pulled out of the Beaufort inlet with Jeff Jackson aboard "Fly Reel". We ran 15 miles to the west into the building seas, saw lots of birds and mammals (porpoise) along with lots of bait in muddy water. After running out to 65 feet of water we headed down sea past 2 wrecks and didn't find Albies until we headed back toward the beach. During the afternoon Jeff and I saw quite a few Albies chasing bait however we could not get them to eat. At 2 PM we called it a day and headed to the dock and then to a good hot lunch.
November 7, 2008:
My friends Rick Pope (TFO Rods ) and Buzz Bryson joined me aboard "Fly Reel" at 7 Am and we headed out in search of the elusive Albie. Today the wind had laid down under 10 knots from the NW with sunny skies and relatively calm seas. We steamed toward the Cape Lookout shoal and then crossed the shoal and headed to the north east, as we got close to the light house we found a few sipper Albies which would not stay up long enough to get a fly to them. We headed up the beach for close to 12 miles in muddy water with lots of bait but no Albies and then turned right and drove about 10 miles to a wreck.
There was one other boat that arrived at the same time that we did at the wreck and we marked fish right away. I had Rick cast a T-14 line with a blue and white 5 inch long H & H fly while Buzz cast a 400 grain head with a white 4 inch Clouser. On the first drift Rick has an Amberjack follow the fly to the boat and then on the next cast it was a Kingfish that would not bite. Buzz hooked a red hot Kingfish on his first cast and promptly got bit off, after re tying Buzz lost another fly to a King. I put on wire leaders and then we couldn't get another bite. Two more of our friends showed up and began to fish the same wreck and the guys with the heavy lines (600 grain and above) caught Kingfish but we didn't get another bite.
After an hour we headed west toward the outer part of the shoal to look for Albies, we found a small school eating 3 inch silversides 3 miles before reaching the shoal. Buzz hooked up right away and landed a 6 pounder right away, we chased them for another 30 minutes but they would not stay up very long and we never got another bite. Next we crossed the shoal and searches all of the way to the hook where I found some small groups of Albies which were feeding a little. We chased them for quite a while, with Rick making a cast to the middle of the school just as an angler in another boat cast to the same spot. Guess who hooked the Albie? That is right the angler in the other boat caught Rick's fish, now the wind is beginning to blow from the west pretty hard and the seas are getting choppy. We fished our way back to the inlet, looked on the western beaches and then called it a day.
November 8, 2008:
This morning the wind was howling at 25 to 30 knots from the South West and the seas were ROUGH, we ran the back way past Harkers Island to the hook where we ran into my friend Chuck Laughridge who had just come back fro a pounding out in the ocean. We played around in the hook and just outside of #4 but we never saw a fish. Brian Horsley and Sarah Gardner were out there talking on the radio, the convinced us not to go any further so after a nice boat ride we headed back to the marina. Spending these last couple of days with good friends, even with slow fishing made me realize what a wonderful sport that this is. That evening a bunch of us had dinner at the Beaufort Grocery Restaurant where we had a great meal and some wonderful conversation. It was fun, come back soon my friends!
November 9, 2008
Day off so I fished with my neighbor in a small creek just off of the Neuse River from his John Boat. After 4 hours of early morning fishing we had caught a couple of Drum and a few Speckled Trout and made it home by 11 AM.
November 10, 2008:
Today was a maintenance day on my home, boat, and truck, after which I picked up my client "Michael Bates" who will fish with me for the next three days. I heard that the Albies showed up this afternoon, and that the bite was good, we will be out there early looking for those elusive "Little Tunny". Stay tuned for more fishing reports which will follow shortly.
Regards:
Jake
Rick Pope, Buz Bryson, Jake Jordan, aboard "Fly Reel" Albie fishing November 2008
North Carolina Fishing Report
October, 14, 15, 16, 17, 2008
Greetings from Paradise:
It looks like our Carolina coastal fall red hot fly fishing season has begun, last week we had pretty good Albie fishing on the east side of the shoal along with lots of Amberjacks and Kingfish on the wrecks. In Beaufort inlet there have been lots of Bluefish and some Spanish Mackerel, while the big bait balls way down along the western beaches have produced world class Spanish and Shark fly fishing.
June 14, 2008:
Bob Nemson who now lives in Morehead city joined me for his first fly fishing trip in this area. Although Bob has operated charter boats in New Jersey and in the Keys, fished the SKF tournament series, and fished for Billfish extensively, this was to be his first fly fishing trip in saltwater.
We headed to the cape in the morning where the seas were choppy and the fish were not plentiful. Bob did manage to catch his first couple of bluefish before we headed back to the western beaches where we found some bait balls with Spanish, Bluefish and a few Albies. We quit at noon after I had caught some fish and Bob had caught some small Spanish. All in all for his first time doing this he was happy after catching several species of fish on fly.
June 15, 2008
Don Butler and his son in law Jason MacKenna joined me for two beautiful days of North Carolina fall fly fishing. This morning we got a late start at 10:00 AM we headed toward cape lookout, crossed the shoal and went looking for Albies. Although the early bite had been good for many of my friends, by the time we arrived the fishing had slowed and we only managed to find a few sippers that would not eat our fly. After catching a few Spanish and Bluefish we left that east side area which was about half way out the shoal, and headed inshore towards the lighthouse. I headed east along the beach until we were about four miles east of the light and then turned south and ran out to 46 foot of water.
The Albie gods were with us as we found a great bait ball that held sharks, and lots of hungry Albies along with plenty of Spanish. We found those fish after noon and left them still biting at 3:30 PM with Jason hurting from all of the fish that he caught. Today there were lots of Albies, and Spanish caught by all three of us, we plan on fishing early tomorrow.
October 16, 2008:
Calm seas, sunny with clear skies, was the conditions that greeted us as we headed out Beaufort inlet before sunrise. Jason, Don, and I had heard reports of large bait balls holding Albies to the west so we turned right and kept Atlantic Beach on our right as we headed down the beach. About 10 miles down we began to see bait balls with lots of birds working so we stopped to take a look.
Jason hooked up first, then Don, and finally me, we caught Spanish Mackerel until we were tired of taking them off of the hook. When we got tired of catching them we would move a mile or two and find the same thing, the best Spanish fly fishing that I have ever seen, unfortunately we caught no Albies and we found out later that my friends Brian and Sarah had slammed them on the east side. Many of these bait balls not only had Bluefish and Spanish Mackerel but several species of Jacks and sharks were also eating from many of the balls of bait. After catching more than a hundred fish on fly we called it a day and headed back to the dock, what a great day of fly fishing.
October 17, 2008:
This morning I met up with Cape Lookout Fly Fishers members Ken Eiler, Chuck Laughridge, and Tommy Bennett at Radio Island Marina where we would depart from for a short day of fly fishing. Doc Eiler joined me aboard "Fly Reel" while Tommy joined Chuck on Chuck's Pathfinder rocket ship. Weather was cloudy with South west wind when we headed west out of Beaufort inlet and headed west along Atlantic Beach. It took a while but we finally found lots of sipping Albies which would not eat our flies. After trying for an hour we headed toward the beach and found the bait balls full of Spanish, Jacks, and dozens of Sharks.
Ken and I began to catch Spanish on every cast, while Tommy and Chuck were slamming them over on another bait ball. We would catch a few fish and then loose that fly, it was cool as I got rid of many of my old used flies. The wind swung to the North east and picked up to 15 knots by noon but the fish kept biting, Tommy released a big shark on fly and then Chuck got one. I hooked 3 sharks but they easily bit through my 30 pound bite tippet as Ken kept catching the Mackerel. Finally after Ken and I had caught close to 60 Spanish Mackerel and some Bar Jacks we took off for home as Tommy and Chuck were still catching fish. The ride home was choppy however we all had a great big smile as we pulled into the dock, that was an awesome day of fly fishing among some very good friends. I didn't take a camera today so I don't have any pictures of Ken however I am sure that we will have many more fish to take pictures of in the near future, Thanks guys!
Rain and small craft advisories for the next couple of days, then the Albies will go wild and it will be game on. Stay tuned for more fishing reports from Albie World! Wish you were here.
Regards:
Jake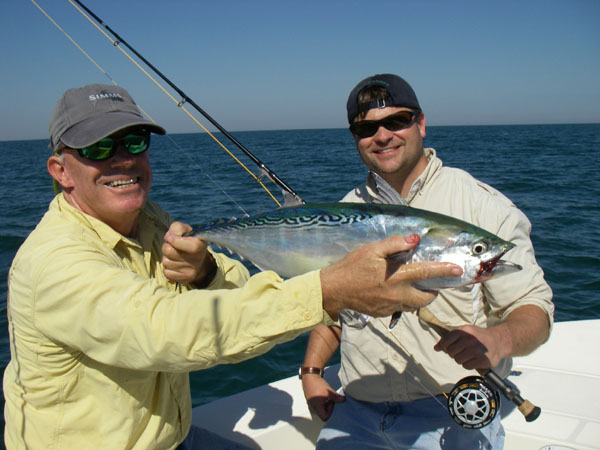 Don Releasing Jason's Albie
Jerry with King Mackerel on fly
Jerry Gibbs first AJ on fly
North Carolina Fishing Report
October 2, 3, 4, 5, 2008
Greetings from Paradise:
My friends Jerry & Judy Gibbs from Freeport Maine came down for a visit hoping to try a couple of days of our great East Carolina fall fishing. Jerry had fished here years ago however this was Judy's first fishing trip to this area. I rigged up a 16 pound test spinning rod for Judy while Jerry used my TFO fly Rods with Mako Reels.
The weather was sunny with pure blue skies along with light north to north east winds for the first couple of days. On Thursday afternoon we hit the flats in my skiff where I was lucky enough to find a several schools of Redfish feeding along a submerged oyster bar. Jerry and I caught 2 each on the fly while Judy caught 3 using Gulp shrimp.
Friday found us leaving the dock at 7:00 aboard my Jones Brothers Cape Fisherman "Fly Reel", we had heard from my friend Chuck Laughridge about some Kingfish which would eat flies near a west side wreck. We arrived at 7:45, and found Chuck already fighting a King on fly. Both Jerry and Judy caught Kingfish while Judy caught a Spanish Mackerel and Jerry landed a 52 inch Hound fish on fly. By 9:30 fishing slowed down so we reeled up our lines and headed for the Cape Lookout shoal to look for Albies.
We had calm seas as we crossed the shoal and headed east up the beach past the Cape Lookout Light House. After traveling east along the beach for three miles with no Albies in sight I headed south, out to sea in search of the elusive Albert. About six miles off shore we began to find Albies (Sippers) which would not eat, so we continued to a wreck which was about 11 miles from the beach. As I drove "Fly Reel" to the structure we began to see lots of action including plenty of bait in the water. When we arrived I turned off the motor and the boat was surrounded by hundreds of Amberjack which followed the boat as we drifted over the wreck.
After trying to catch an AJ using sinking lines with big baitfish flies to no avail I put a Zara Spook top water plug onto Judy's spinning rod and they tried to eat it right away. As we rigged Jerry's floating fly line with a top water fly, Judy hooked a medium sized (about 50 pounds) Amberjack on the 16 pound test spinning rod. Thirty five minutes later after an epic battle Judy landed her first ever Amberjack and took the next hour off to rest up. Next, after loosing his first three hooked AJ's Jerry finally had a nice fish attack the popper fly on the surface just a few feet from the boat. He fought it for 10 minutes and then I grabbed Jerry's first Amberjack on fly to take a few pictures before releasing that great catch.
After a couple more we headed back toward the shoal where we found lots of Albies sipping small baits on the surface. We tried many different flies however these fish would have nothing to do with the flies that we tried to feed them. We hit the dock at 4:00, stopped at Rowland's Barbecue in Beaufort to pick up dinner, and headed home to get ready for another day of great fishing.
Jerry, Judy, and I pulled out of the marina at 6:30 AM on Saturday ran out the inlet, and headed for the Cape Lookout shoal. We crossed the shoal, ran east up the beach in search of Albies but found none. I headed straight out from the Lighthouse and then found the sippers about 7 miles off shore however they were on really small bait and would not eat.
We finally arrived at the wreck where we had been the day before, found the Amberjack and began to try to catch one. Unfortunately there were far less fish and they would not eat our flies very well, although we did get one to eat a Blue Clouser fly. We tried for an hour or two and then headed for the shoal in search of the elusive Albie, which we found in great numbers feeding on the surface. Club members Tommy Bennett, John Snipes, Kary Via, and Chuck Laughridge were among the several dozen boats which were trying to crack the code to find out what they would eat. Finally I took my scissors and cut a pearl baitfish fly way back to one inch in length and thinned it out to a very sparse streamer fly.
Jerry caught the first Albie on my little fly and then I got the next one on my first cast using that fly. Let me tell you, it feels real good when you get lucky and figure out what they will eat.
Sunday we headed back across the shoal a little later this morning, it was pretty choppy however my Jones Brothers Cape Fisherman just loves that chop. We saw Chuck on the way out and he let us know that the Albies had bit well early, however by the time that we arrived the bite was over. We fished for a couple of hours with a couple of bites but the rough seas sent us in early to try to catch the end of the North Carolina Sea Food Festival in Morehead City.
Monday my friends headed back to Maine while I took care of catching up on E-mail, and phone calls in the morning and cleaned the Boat in the afternoon. I did hit the river at the end of my street on Monday evening, fishing was slow from the beach, one juvenile flounder and one pinfish both caught on a small white Clouser.
Today we have a small craft warning however it looks like Wednesday may have light wind and nice weather, if so I will be out there looking for more Albies, stay tuned for more fishing reports.
Regards:
Jake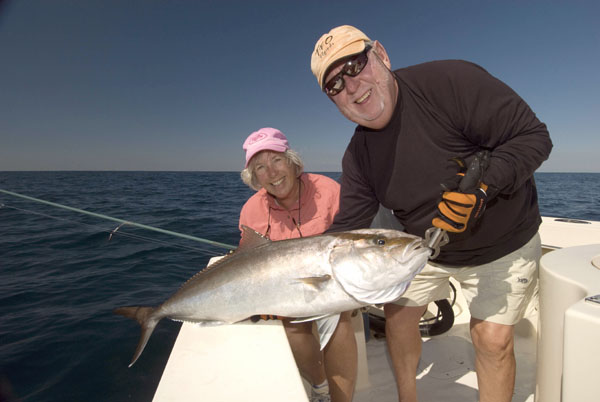 Judy Gibbs with big Amberjack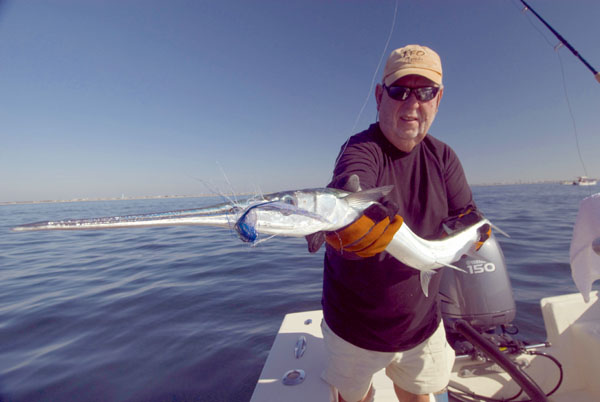 54 inch Hound Fish on fly
Pre Hurricane Hanna Fishing Report

Greetings from Coastal Carolina:
Fishing has been real good for the last week and a half, we caught lots of Spanish Mackerel, a few small Albies, along with a couple of tailing Redfish. Yesterday I put both boats on the trailer, cleaned them, fueled them up, and locked them up in my garages prior to the arrival of Hanna.
I am leaving this morning to drive west over to West Virginia to fish on the New River with my friend Danny Cline. The new river is a picturesque, scenic river which runs through a beautiful canyon in a mountainous area of southern WV which is known for the great fly fishing for small mouth bass. Two birds with one stone, miss out on "Hanna" and get to do some river fishing in a pretty place with my friend Danny.
I plan to be back home on Monday evening to clean up after the storm and fish a couple of days before heading to the Fly Fishing Retailers Show in Denver from September 13 to 16. We have lots of bait in the area which is a good sign of the great fishing to come here during the next three months. The Mackerel and Redfish fly fishing is world class already, the wreck fishing is awesome on the calm days, there are still lots of big drum in the sound, and the Albies are already showing up. I am getting excited about this great fishery turning on even more in the near future.
The Sail fishing in Guatemala has already started to turn on, I do still have room for a few students to attend my Sailfish Schools during December and January of this coming season. If you have any interest in joining me please make up your mind now as these dates are filling quickly. If you are planning to be in Denver at the Fly Fishing Retailers Show, give me a call on my cell phone or an E-mail so we can get together in Denver. Please join me in prayer for those unfortunate folks who have to deal with those horrible Hurricanes.
Warmest Regards:
Jake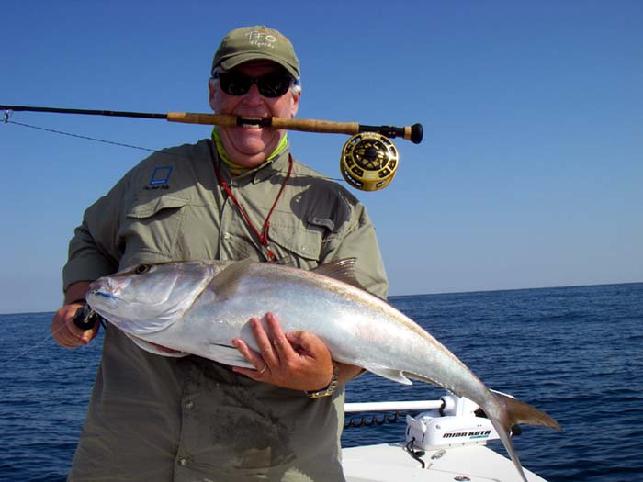 Chuck Laughridge releasing 30 pound AJ on fly
North Carolina Fishing Report
July 3 & 4, 2008
Happy Fourth of July:
July 3, 2008,
Today I was invited to go wreck fishing with my friend Chuck Laughridge on some local wrecks where the fly fishing for Amberjack, Cobia, Kingfish, Spanish Mackerel, along with sharks has been good for the past several weeks. I arrived at Chuck's dock on Harkers Island at 5:30 AM and we were underway at 5:35. After a one hour trip in Chuck's super fast Pathfinder bay boat we arrived at what is locally called the "D" wreck. I was fishing a 10 weight TFO TiCr fly rod with my Mako #9550 fly reel, and a RIO T-11 30 foot shooting head and a 5 inch deceiver (White and Chartreuse on a 3/0 owner hook while using 20 pound floro carbon class tippet. Chuck was using a Mako Reel with a Streamer express (400 GR.?) fly line on an 11 weight rod.
We both had Amberjack follow our flies up to the surface several times, and then I got a big one to eat my fly about 20 foot deep in the crystal clear 78 degree water. I cleared the line to the reel as that big AJ headed back toward the wreck, I dialed the drag up to 12 pounds and slowed that fish just as it reached the wreck and cut me off. After about a half hour we headed out to the Atlas Tanker wreck, about 20 minutes further out, and found lots of fish on this structure.
The "Atlas" wreck looked like a giant fish bowl, we had several 4 to 5 foot barracuda hanging around our boat, lots of cobia (up to 50 pounds) swimming around and lots of Kingfish, Spanish Mackerel, and Amberjack were plentiful. The water was clear and calm, (80 degrees) and these fish were very leader shy, (hard to get to eat a fly) however we watched a boat with live bait with bent rods for several hours. I hooked several AJ's which broke me off in the wreck, and then I hooker a big Spanish which I wound to the boat just before one of those big Cudas ate it.
Chuck had several good bites, and finally got the skunk out of the boat by landing this nice 30 pound plus AJ which he then released. I got one more big AJ which ate my fly on the surface however I broke this fish off in the wreck.
We headed in to another wreck where Tommy Bennett and his son Thomas were teasing AJ's with live bait, and a popper plug with no hooks, and then catching them using a large popper fly. Those fish were exploding on the surface bait and Tommy did catch one fish which was over 40 pounds. Watching those fish chasing those live teasers was awesome, I am sure that some of that is in my future. Chuck and I left the Bennett's catching fish and we were back at the dock by 2:00 PM. What a great day on the water, Thanks Chuck!
July 4th, 2008:
This morning I woke up at 4:30 and decided to walk down to the end of my street to look at the beach and see if there was any action. It was dead calm on the Nuese where it runs into the sound and there was bait jumping everyplace along the beach. I walked back home and got my 7 weight fly rod with half a dozen white Clouser flies and headed back to give it a try. By sunrise I had released 3 flounder (11 to 15 inches), one small sea trout, and another fish about 12 inches long (Croaker I think). As the sun came up the wind began to blow and the bite was over, I was home by 7:00 AM.
I want to wish you all a happy Independence Day, enjoy your holiday! I am really happy to be back in Eastern North Carolina, more fishing reports to follow!
Regards:
Jake
AJ on Fly
Jumping Shad Roanoke River, Weldon, NC.
Greeting from rainy eastern North Carolina:
March, 30 2008:
This Morning Tommy Bennett, Chuck Laughridge, and I met at the boat ramp at 7:00 AM to head out on Chuck's boat into the Roanoke where we would fly fish for Hickory Shad. After launching, Chuck maneuvered his boat to a great spot and we set two anchors so each angler had a good technical cast to the spot where we thought the Shad would be schooled up.
Chuck and Tommy took the first shift while I finished my coffee and unhooked fish for the other two anglers. While I tried to drink my coffee, I took a look at my watch it was 7:10 AM, I began counting the fish as I released them. 10 minutes later I had released 19 Shad, then at 7:31 AM the count was 43 fish which I had unhooked for my two fishing buddies.
Next I stood up and Chuck took my place as the unhooker, while he was trying to eat is cheese biscuit. No luck for Chuck, twenty minutes later he had 3 bites from his biscuit and had released more than 20 double headers from Tommy and I. This is world class fishing even with the air temperature 35 degrees colder than yesterday, along with cold 20 knot wind and rain the fish kept biting.
We caught Rockfish (Stripers), White Bass, and Catfish along with the Shad, then after releasing close to 200 fish in 3 hours, we decided to head back to the ramp, put the boat on the trailer, and go have a hot brunch before the 3 hour drive back home. We watched Kary Via, Tommy Via, and Buddy Rogers, catch multiple triple headers, they all had bent rods every time I looked at their boat. Everyone was laughing, and giggling as they caught more Shad. John Snipes and Albert caught lots of Shad along with quite a few Rockfish, John caught the largest Rockfish of the day. Several other CLFF members were on the river catching Shad, as far as I am concerned this was the best club outing that I have ever been on. Thanks to a great bunch of folks for introducing me to this wonderful fishery.

I am off next Friday to the Galapagos, where Danny Cline and I will fly fish for Striped Marlin aboard the vessel "Blue" with Captain Braden Escobar. I plan to arrive back home on April 15th then head to the Keys with Mom on the 18th. We should arrive in Marathon on the 19th in the evening, and then begin my Tarpon season on April 21st. I still have April 24 and 25 available along with June 20-29 open for anyone who would like to catch a Tarpon on fly during the prime time season. Please contact me should you wish to fish on any of these dates?
Stay tuned for more fishing reports, I really love my job, I wish you were with me!
Regards:
Jake
My first ever Shad on fly, Roanoke River, Weldon NC.
Greetings from Weldon, NC:
Today I fished for Hickory Shad with friends Chuck Laughridge, Tommy Bennett, also fishing in another Boat was Captain Jack, Tom Merrit, and Buzz Bryson, and in a third boat was Kary Via. Chuck and I fished for two hours before Tommy arrived, we caught over 100 Shad during the first two hours. I was using a TFO TiCr 5 weight with a Ross Reel and an SA 200 grain streamer express fly line. The fly which I used was one of Tom Merrit's Pearl Necklace flies tied on a #2 hook, at one time Chuck and I caught 30 double headers on 30 casts each. These are awesome little fish.
Buzz caught several dozen Shad in a 30 minute period while fishing with Captain Jack and Tom Merrit. When Tommy Bennett arrived, Chuck, Tommy, and I headed down the river for about a mile where we began catching lots of Shad, two of us would fish at one time while the third angler would unhook the other two anglers fish. At 1:30 we quit and went to "Frazier" for a great lunch then we went back out and caught another hundred and fifty Shad before quitting at 5:00 and heading to the restaurant for a great dinner.
Tom Merrit said that in the last two days he caught all of the Shad that he wanted, he did not come out after lunch, Captain Jack also quit at lunch time, while Buzz quit after close to a hundred shad and headed back to Raleigh. Kary fished from 2:00 to 5:30 and I saw his rod bowed over pretty consistently over all it was the most fish that I ever caught on fly in one day on one boat. We estimated conservatively that Tommy caught at least 100 Shad, while Chuck and I caught 150 each, Just plain Awesome! We are back out there in the morning, like Chuck said we need to file an environmental impact statement after catching that many fish in one day. Stay tuned, More reports to follow.
Regards:
Jake
Hickory Shad on Fly
Chuck Laughridge releasing Shad
Contact: Captain Jake Jordan
Jake Jordan's Fishing Adventures
P O Box 309
Havelock, NC 28532
305-872-6060