2006 Sailfish School Fishing Reports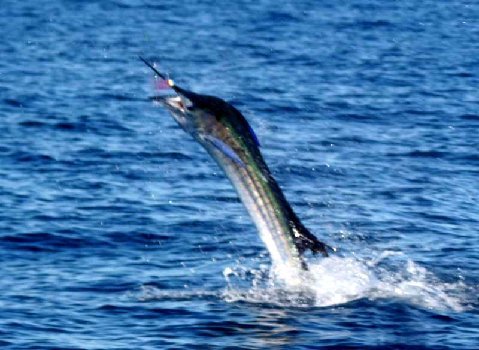 Welcome to The Sailfish School
Sailfish School Fishing Report
December, 12, 13, 14, 2006
Greetings from The Fins 'n Feathers "Casa Vieja Lodge" in Guatemala:
December 12, 2006: Today new Sailfish School students Austin Hepburn and Pete Zelov from Radner Pennsylvania, joined me aboard the vessel "Release" with Captain Mike Sheeder, along with mates Niko and Recardo, to learn how to catchSailfish on fly.
After a great dinner last night, some big game flyfishing instruction, and a wonderful breakfast at Casa Vieja Lodge this morning, we arrived at "Release" at the 'Sailfish Marina"for our first day of fishing. we raised our first Sailfish at 9:05 in the morning, I cast to, hooked, caught, and released that Sailfish by 9:20. Austin and Pete were amazed at this lesson, and both were ready to give it a try.
The weather was sunny, hot, and relatively calm, however fishing was slow by Guatemala standards. We raised les than a dozen sailfish, got a total of 5 to eat the fly and after a few mistakes Austin Caught his first Sailfish on fly.
December 13, 2007: Austin, Pete, and I began our day aboard "Release" by catching three sailfish on fly from our first three bites. Fishing was better today as we caught a total of 9 Sailfish from 15 bites with all three anglers catching 3 fish each. Ausin and Pete now are becoming more accomplished at fightinh big fish on fly tackle.
December 14, 2006: Fishing slowed today with the students making a few mistakes and the sailfish acting pretty finicky. When the day ended we had caught two sailfish from nine bites, along with a Dorado on fly and several 25 pound Yellowfin Tuna. We ateTuna and Dorado and had a great day Aboard Release.

This was the last day of my scheduled Sailfish School dates during 2006. The season was fun and I am looking forward to fishing with and teaching many more anglers in the art of catching Billfish on Fly! I will be home in my office in North Carolina on Saturday morning where I will be planning my many Sailfish Schools to be held during 2007. I do have available space for several anglers to join me in Guatemala during January, March, November, and December of 2007. Please call if you have any interest in joining me for this awesome fishery in guatemala. More reports to follow.
Regards:
Jake
Sailfish School Fishing Report
December, 10, 11, 2006
Greetings from The Fins 'n Feathers "Casa Vieja Lodge" in Guatemala:
December 10, 2006, Today as Hunter, Chuck, Ben, and I, boarded the Release and headed out for our second day of this Sailfish School, I noticed that the water had changed from our great day of fishing the day before. The wind was blowing from the East at 15 knots, rare for this area, the water was choppy, and the color had changed to a more gray color.
We caught our first Sailfish on fly at 8:21 in the morning then the fishing became slow with our team only catching 3 sailfish on fly by noon. By 2:00 PM the water became calm, the fish turned on, and we ended the day with 8 sailfish Released from 13 bites, after being caught on fly. Today both Ben Furimsky and colonel Hunter Ledbetter decided to take a swim with their sailfish before releasing them.
December, 11, 2006: Today as we headed out the weather was calm and sunny, with flat seas. Captain Chris Sheeder needed a day off so Captain Mike Sheeder was running the release today. We raised quite a few sailfish which would not tease to within casting distance however the 10 fish that did come in ate the fly well as we caught 8 out of 10 bites. World class photographer Pat ford from Miami joined us today aboard Release to shoot photos of some jumping Sailfish, He was quite successful getting some great pictures. It was a pleasure to have Pat aboard Release during this last day of "The Sailfish School."
All in all Chuck, Ben, and Hunter did a great job as our group caught and released 38 Sailfish on fly from 51 bites during this three day sailfish school, it was a pleasure fishing with these fine anglers. Tomorrow starts another sailfish School, more reports to follow.
Regards:
Jake


Sailfish School Fishing Report
December 9, 2006
Greetings from The Fins 'n Feathers "Casa Vieja Lodge" in Guatemala:
Hunter Ledbetter from Arlington Virginia, Chuck Furimsky from Ocean City, NJ, and Chuck's son Ben Furimsky from Colorado, joined me for the first day of this 3 day Sailfish School. After a hearty breakfast at the Casa Vieja Lodge we jumped into the van for a short 5 minute trip to the Sailfish Marina where we met up with Captain Chris Sheeder aboard his vessel "Release."
Ben and Chuck are accomplished fly fishermen, Chuck owns "The Flyfishing Shows," while hunter is a very good, experienced, conventional tackle big game angler. Ben was the only student to have ever caught a sailfish on fly so we went through the rules of engagement during the 35 minute ride from the marina to the area where we began to fish.
As we slowed to trolling speed and put out the teasers, I was explaining the presentation, fish hooking, and fish fighting techniques which we use when the first sailfish came up to a teaser. Niko teased that sailfish to within casting distance, Captain Chris pulled the boat out of gear, I cast the fly, hooked, and landed that first sailfish within ten minutes if the start of our fishing.
During the next 3 hours each student caught 2 or more sailfish on fly, by noon we had released 10 fly caught sailfish, and each angler now hat the system down pat. The fishing got real hot during the last several hours and when we quit fishing our team aboard "Release" had caught and released 22 sailfish, on fly from 28 bites.
Several other boats fly fishing today caught between 15 and 18 sailfish on fly as the fish were free jumping in every direction. With all of my experience fishing here I am always amazed at the quality of this fishery, I do still have some dates available during January, March, and April, so if you want to see the best Flyfishing in the world for Billfish, Call and reserve your spot before we are sold out.
Tomorrow looks like another great day, we are excited and ready to do it all over again. Several of the sport fishing vessels in Guatemalan fleet have several dates still available during December, The Bite is red hot, come on down if you can get away. More reports to follow!
Regards:
Jake
Guatemala Fishing Report
December 8, 2006
Greetings from The Fins 'n Feathers Casa Vieja Lodge:
I arrived in Guatemala last night and headed down to Puerto San Jose, to the new Fins 'n Feathers Casa Vieja Lodge. My first Sailfish School was not scheduled to start until December 9th so I would have a day off or so I thought. I had dinner with my friend and world class Billfish Fly angler Nick Smith and his Captain, Chip Shafer. I was invited to fish with Nick the next day, December 8th aboard his vessel Old Reliable.
The next morning I showed up at the sailfish marina at 7:00 am, boarded "Old Reliable" then we headed out a few minutes later. We began fishing about 45 minutes later with Nick catching a couple Sailfish on fly during a relatively slow morning. Later in the day we were fighting our 3rd double header of the day with Nick catching the first half then as I reeled in the second Sailfish of the double header I was told that my fish was the 600th Billfish caught on fly aboard Old Reliable during 2006. Wow, who would believe it possible for a crew to catch 600 sailfish and Marlin during a single year on IGFA legal fly fishing tackle?

By the time that we headed to the dock we had released 15 Sailfish on fly from 21 bites, a world class day. Spending the day fly fishing with Nick and Chip was one of the highlights of my fishing career, they are truly a world class team! Congratulations to team "Old Reliable"!
The bite has been pretty good here in Guatemala this week so I feel that we will do well at my Sailfish School which starts tomorrow. Stand by for more fishing reports.
Regards:
Jake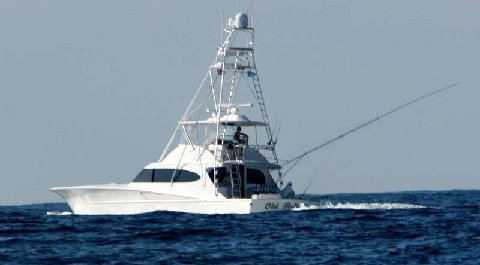 Old Reliable
Guatemala fly fishing for Sailfish Report
October 16, 17, 18, 2006
Greetings from the new Fins 'n Feathers Casa Vieja Lodge in Guatemala:
October 16, 2006: Today my friend Jeff Clark invited me to join him for a day of fishing aboard the vessel Release with Captain Chris Sheeder at the helm along with Mates Nico and Ricardo joining us in the cockpit. I got to take pictures and spend some time with the crew enjoying my first day aboard Release while Jeff fought fish.
We raised four Blue Marlin and six Sailfish today, Jeff got two of the Marlin to eat, he pulled the hooks on one about 400 pounds and caught a red hot Blue of about 200 pounds. After releasing that Marlin Jeff caught a great Sailfish to top off his first day of fishing with the Fins 'N Feathers fleet this season.
October 17, 2006: Today Ray Hutcherson (Sea Level Fly Fishing) joined me as an observer as Jeff Clark got to do his first full day of Fly Fishing for billfish. Captain Chris backed "Release" out of the slip at Marina Pez Velia at 7:00 Am and headed out toward the fishing grounds.
One hour later Jeff landed his first Sailfish of the day on fly, then shortly after Nico and Ricardo teased in another hot fish and Jeff was two for two. After Jeff pulled the hooks on his third bite he came right back and caught his third sailfish of the day which was a red hot fish which took 40 minutes to land on 20 pound tippet. Jeff being the fine gentleman that he is then offered me the opportunity to cast at the next sailfish. Twenty minutes later we raised a big sailfish which teased in hot, I cast the fly to that sailfish, he ate the fly, and then he went nuts! After five minutes of continuous jumps I caught my first sailfish on fly aboard "Release" with Captain Chris Sheeder, I then handed the fly rod back to Jeff. Fishing slowed in the afternoon with only one more bite that spit the fly and swam off. What a great day of fly fishing for sailfish with six bites and four caught fish.
October 18, 2006: Today Jeff Clark, Ray Hutcherson, and I would share the angling duties aboard Captain Chris Sheeder's 37 Merrit "Release". The first fish raised was 40 minutes after we left the dock, Ray cast the Cam Sigler pink fly to that fish which pounced on the fly, fifteen minutes later Ray had caught and released his first Guatemalan sailfish on fly. We then missed a few fish however with Nico and Ricardo teasing the action continued, as Ray caught another one and I landed one from two bites. During the after noon the bite slowed as the weather conditions deteriorated and the fish that we raised would not tease in and bite.
We hit the dock and headed back to Jim Turner's new Fins 'n Feathers Casa Vieja Lodge which is a short 2 minute ride from the marina in the lodge's new Mercedes Benz large van. As we drove through the entrance gate into the court yard the old Fins 'n Feathers staff, (Antonio, Edgar, Julian, and Fredy) were waiting as usual with our favorite cocktail. After a dip in the pool we retired to the first class air conditioned rooms for a shower and to dress for dinner.
Later at dinner in the spacious air conditioned dinning room we ate those giant shrimp cocktails and ordered from the menu which features shrimp, fresh fish, filet mignon, and at least one local traditional meal. What a treat, to sit around and talk about the great fishing while smoking a Cuban cigar while sipping a snifter of Brandy. Jeff, Ray, and I had a great time, reminds me of the old Fins 'n Feathers, only maybe better. We experienced raising four Blue Marlin in one day which is a first for me in Guatemala, We caught over fifty percent of the Sailfish that bit our fly, and we had wonderful time fishing with Chris, Nico, and Ricardo. I feel that the New Fins 'n Feathers fleet and the Fins 'n Feathers "Casa Vieja Lodge" will turn out to be another world class sailfish destination, I sure will be returning. Thanks Jim, and good luck to you and the crew!
I am back in North Carolina now getting ready for the Albi Blitz to begin. More reports to follow.
Regards:
Jake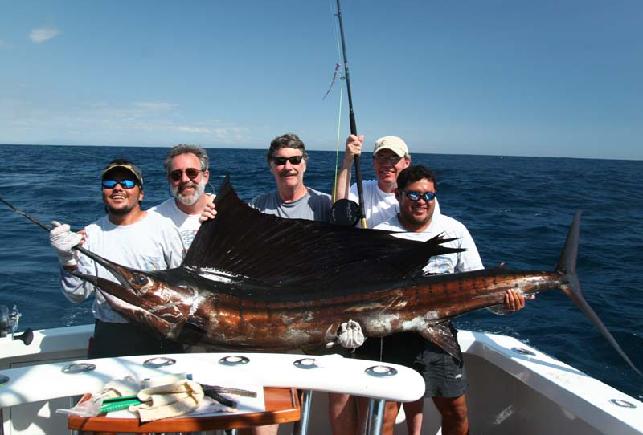 # 39 of This Sailfish School
The Sailfish School Fishing Report

February, 8, 2006
Greetings from Guatemala (Sailfish World):

February 8, 2006: Robb, Scot, Mark and I arrived at Decisive at 7:00 AM and headed out for our third day of this Sailfish School. Mark Schifrin was first to catch a sailfish today, his 13th sailfish on a fly rod. Mark decided that it was time for him to "swim with the fishes" so he jumped in, took hold of that sailfish, swam it away from the boat and released it unharmed.

Next Scot Barker caught and released his first fish of the day, and then Robb Gair caught the third fish of the day with me catching number four. Fishing remained good until noon when we had released 8 sailfish on fly, then the fish became more difficult to tease and we missed a few bites. By the time that we headed in to the dock we had caught and released eight sailfish for the day and ran our three day score up to thirty nine sailfish caught and released on fly using IGFA rules with 20 pound tippet.

As usual the fishing in Guatemala was world class, the crew aboard Decisive, Brad, Kennedy, and Jeffrey, produced a great fishing trip. I am in Bellevue Washington this morning preparing to present several PowerPoint shows regarding catching Billfish on fly at The Sailfish School and the Marlin School! More reports to follow soon.

Regards:

Jake
The Sailfish School Fishing Report

February, 7, 2006
Greetings from Guatemala (Sailfish World):

February 7, 2006: after a wonderful dinner, relaxing evening, and breakfast this morning at the Billfish Inn, Scot Barker and Robb Gair, from Colorado joined Mark Schifrin and I aboard the vessel Decisive for a day of fly fishing for sailfish.

This was to be Robb's first attempt at a big fish on a fly, while Scot had fished with Mark and I here at a sailfish school in 2001. Scot was the first up and he hooked and caught a red hot 80 pound sailfish after just one cast. Next Robb hooked and fought a larger lit up fish right up next to the boat before releasing his first sailfish on fly, Mark caught the next one then I got lucky and landed my first of the day.

By 10:00 AM we had released 8 sailfish, which are two for each angler in the first two and a half hours. Fishing remained good and after a few missed bites by the students we were at 12 releases by noon. As the day wore on the fishing remained steady with some fish being difficult to tease within casting range however some came in hot and ate the pink and white Cam Sigler fly aggressively.

At 4:30 PM when we finished fishing for the day the score was: 33 sailfish bit the fly and the sailfish school group had released 19 sailfish, caught using IGFA 20 pound tippet rules. Wow what a hot day of fishing, this is my high day of 2006 and the new record of fly caught sailfish aboard Captain Brad Philipps vessel Decisive. This just goes to show what can be achieved while fishing with a great crew like Captain Brad and Mates Kennedy and Jeffrey.

The bite is red hot and we will be back after them in the early morning tomorrow, look forward to another fishing report from the sailfish school. I will be at The Fly fishing Show in Bellevue Washington this weekend, come by and watch my presentation if you are in the area.

Regards:

Jake
The Sailfish School Fishing Report

February, 6, 2006
Greetings from Guatemala (Sailfish World):

February 6, 2006: My friend Mark Schifrin from Bethesda, Md. Arrived at Puerto Quetzal at 7:00 AM, boarded Decisive and headed out in search of Pacific sailfish on the fly. Captain Brad Philipps along with Mates Kennedy and Jeffry were ready to go and our guest Charley Levine (managing editor of Marlin Magazine) was aboard to shoot some photographs of our sailfish.

At 7:25, just 4 miles off shore Captain Brad slowed Decisive to trolling speed. Kennedy and Jeffery put out the teasers and 5 minutes a red hot sailfish charged the left flat teaser. I got the first cast and made short work of that 75 pound pacific sailfish on 20 pound tippet. Mark caught the first sailfish that he cast too and we took a picture of his first of many sailfish to be caught during this trip

During the next 2 hours we each caught 2 more sailfish on fly to produce a score of 6 bites and 6 released sailfish on fly before 10 AM. Fishing remained good and by 11:00 AM we had released 10 sailfish from 14 bites with all 4 of the missed opportunities coming on non aggressive bites which mark had a hard time converting to hookups.

Fishing Slowed in the afternoon and we only got 3 bites with Mark and I each catching one more sailfish and I got a 20 pound Dorado to tease in and eat my fly presentation. The male Dorado stayed with the hooked female but would not eat Mark's well presented fly, we even tried to feed bait to that male but it would not eat anything. At the end of the day Mark and I had caught 12 Sailfish on fly along with a nice Dorado on fly.

Tomorrow, Mark's friends Rob Gare and Scott Barker will join us aboard decisive to share this great adventure and catch a bunch of big Guatemalan Sailfish on the fly! More Sailfish School fishing reports to follow, wish you were here.

Regards:

Jake
The Sailfish School Fishing Report

January 18, & 19, 2006
Greetings from Guatemala (Sailfish World):

January 18, 2006: We ran offshore and started fishing at 9:00 AM with Cherie hooking the first Sailfish on fly. She fought the fish well however it got some slack in the fly line and pulled the hook 10 foot from the leader. Next Don hooked a fish but got some bad luck and broke the tippet.

Cherie then hooked a big fish and fought it for 45 minutes before the fish subdued and swam to the surface where Kennedy released that big sailfish. I caught a hot jumping Sailfish shortly later then fishing slowed for a few hours.

During the late afternoon Cherie hooked another 100 pound plus Sailfish on fly, this time she had figured out the technique for whipping big fish o n fly while using 20 pound tippet. She did a great job on that fish landing it in less than 10 minutes for her third sailfish of the trip.

Joe never got a shot today however he had the pleasure if congratulating Cherie with the traditional first sailfish tosses the angler into the water celebration. We got 5 sailfish to bite the fly today and landed 3, pretty good for a slow day. We look forward to tomorrow.

January 19, 2006: We left the marina in Puerto Quetzal at 7:30 Am with Kennedy and Jeffrey rigging teasers while Captain Brad Philipps drove Decisive out to sea looking for the elusive sailfish. Seven miles out of port we slowed down and put out the teasers, Don Butler was the first angler of the day. A few minutes later we raised a double which teased in perfectly, Don cast the fly to the first fish and hooked up immediately. I got ready to cast to the second fish when Dons fish pulled the hook, so Don reeled in some line and recast to the second fish. This time when Don set the hook after the violent bite the tippet broke, the result of the first fish nick on the leader
The rest of the day was very slow and although we teased up more than ten Sailfish, they would not ever tease within range to cast the fly to them. This is the first time that I can remember going a full day fly fishing in Guatemala without catching at least one sailfish, but it was bound to happen.

Joe, Don, Cherie, and I had a great time at the Billfish Inn where the food and service was first class right down to the mariachi band performing for Cherie's Birthday. We wound up catching 7 sailfish on fly from 11 bites during the first two days of fishing then went 0 for 2 the last day. Seven caught on fly for a total of 13 bites is still above 50 percent conversion. Fishing will improve next time. More reports to follow.

Regards:

Jake
The Sailfish School Fishing Report

January 17, 2006
Greetings from Guatemala (Sailfish World):

January 17, 2006: Joe Obrien from Boston, Don Butler from Connecticut, and my friend Cherie Cincilla from Pennsylvania, joined me aboard "Decisive "for the first day of this Sailfish school. Captain Brad Philipps, along with mates Kennedy and Jeffrey had the boat ready for us as we arrived at 7:00 AM and we headed out to find the fish.
Today is Cherie's Birthday so she was the first to hook a Sailfish on fly but 15 minutes into the battle the tippet broke and she lost that great fish. Shortly later Joe landed his first Guatemala caught Sailfish on a fly.

Next we found a large school of spinner dolphin and managed to catch 6 nice Yellow fin Tuna during the next hour, and then we ran to another location where Don Butler caught his first Sailfish of the trip.

Next the birthday girl Cherie, who had caught a couple Tuna, Hooked into a 125 pound plus sailfish which ate the fly, then went nuts. After a valiant battle Cherie subdued that fish and she released her first Sailfish on fly ever! As you can imagine Cherie had a large grin for the rest of the day!

The last fish of the day came in hot and Joe made a good solid cast, hooked the fish and released it after a ten minute battle. We caught four sailfish from 6 bites today along with those tuna we had a wonderful time.

Tonite we had a special meal, decorations, and Mariochies to celebrate Cheries birthday. More reports to follow, Happy Birthday to Cherie!!

Regards:
Jake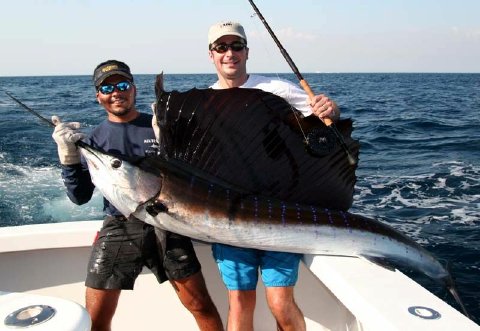 Matt Asplundh First Sailfish on Fly
The Sailfish School Fishing Report
January 12, 2006
Greetings from Guatemala (Sailfish World):
January 12, 2006: Matt Asplundh left for the states this morning so Don McNabb, Jeff Asplundh, and I boarded "Decisive" after a great breakfast at "The Billfish Inn" and headed to "Sailfish World"!
We put the teasers in the water at 7:30 AM just 9 miles off shore from Puerto Quetzal. Don landed the first Sailfish on fly of the day just 14 minutes later. Jeff Asplundh caught and released the next fish and I caught the third fish at 8:30. The fish gods were with us today as we had each caught our second fish by noon. We did have one fish bite at a fly and miss it which spoiled our perfect day however Don and I caught our third sailfish on fly by 2:30.
Brad saw an explosion on the left rigger, and at first he thought it was a Blue Marlin, that big hole in the water turned out to be a monster bull dolphin and a big cow. Kennedy teased the cow in to casting distance and Jeff cast the fly to that Dorado and caught a 25 pound cow dolphin.
Just ten minutes later Jeff cast to and hooked the largest sailfish of the year, over 140 pounds; he fought that wild fish valiantly and landed it twenty minutes later. We wound up the day catching nine sailfish on fly from ten bites and a big Dorado on fly.
This 3 day Sailfish school aboard Decisive with Captain Brad Phillips and Mates Jeffery and Kennedy produced 21 landed sailfish on fly from 30 bites with over 60 sailfish raised. We are on our way back to the states now with some awesome memories.
I will be back in Guatemala next week for another great Sailfish School. More reports to follow!

Regards:

Jake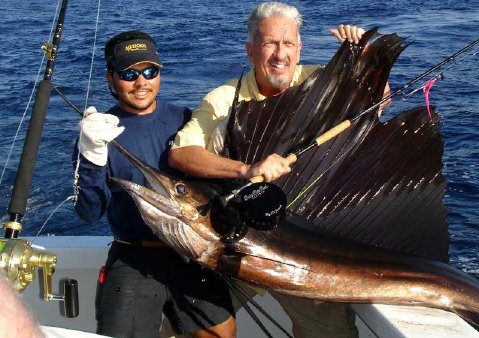 Don McNabb Sailfish on Fly
The Sailfish School Fishing Report
January 10 & 11, 2006
Greetings from Guatemala:
January 10, 2006: Today Sailfish School students Don McNabb, from San Diego and Phoenix, Matt Asplundh from New Hope PA, along with his brother Jeff Asplundh from Middle Torch Key in the Florida Keys, joined me here in Guatemala aboard the sport boat "Decisive" with Captain Brad Phillips and mates Kennedy and Jeffrey for our first of three days of fly fishing for Sailfish.
After a short 40 minute run south of Puerto Quetzal Brad slowed to trolling speed and the mates put out the teasers. After a short 5 minute lesson a red hot sailfish showed up on the left rigger, was teased in by Kennedy, and I cast the fly to that fish. He ate the fly, jumped several dozen times, went crazy, then was defeated, brought to the boat, and released unharmed.

During the next seven and a half hours we got 9 sailfish to bite the fly and we released 6 totals for the day. Don McNabb and Matt Asplundh both landed their first Sailfish on a fly. Each angler caught a sailfish and we had a great time fishing the calm seas of Guatemala.

Back at the Billfish Inn we had cocktails, snacks, and a dip in the pool prior to Cindy Philipps serving us her wonderful jumbo shrimp with ginger sauce for dinner. We can't wait for more great fly fishing for sailfish tomorrow.

January 11, 2006: Calm seas, sunny skies, low wind, and lots of sailfish greeted us today. We made some mistakes early in the day and only landed 2 out of our first 7 bites, then it slowed down for a while. Later in the day fishing picked up and each one of our group hooked, landed, and released a sailfish on fly during a 45 minute period. Don McNabb landed a monster sailfish and all of the fish which we caught today were really big.

After a spectacular catch by Jeff Asplundh and after the sailfish performing a lap dance for Jeff, his brother Matt jumped overboard with snorkel and mast took hold of the fish and swam away from the boat with the just released fish. You should have seen the grin on Matt's face after swimming with that sailfish.

With the first 2 days of this Sailfish School finished we have had 23 sailfish bite the fly and our group has caught and released a total of 13 sailfish on fly. We are excited about tomorrow, more reports to follow!

Regards:

Jake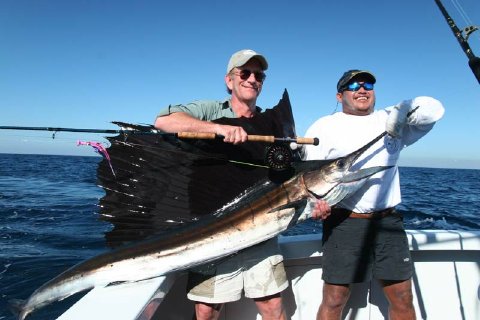 Rick Dyw releasing First Sailfish on Fly
The Sailfish School Fishing Report
January 9, 2006
Greetings from Guatemala:
January 9, 2006: The weather was sunny and warm with clear skies and calm seas as we left the marina and headed south into the Pacific Ocean off the coast of Guatemala. At 7:45 Brad slowed Decisive to a slow troll while mates Kennedy and Jeffrey put out the teasers while we rigged our fly rods.
At 8:00 am Jamey hooked his first Sailfish of the day and pulled the hook minutes later, and then he hooked, fought and landed a 75 pound Sailfish ten minutes later. Next student up was Rick Dye who hooked and fought a red hot 90 pounder which he landed after a fifteen minute battle. After Rick got his picture taken with a lap dance from that Sailfish we released it to fight again another day.
Therese Goodman caught the next fish of a double which we raised however the second fish would not bite the fly. Each angler caught and released a second fish then after Therese caught her last fish both her and Rick jumped overboard and took a swim with that Sailfish. We wound up the day by catching 6 sailfish on fly from 9 bites for the final day off this Sailfish School.
Therese, Rick, and Jamey where a pleasure to fish with, they learned a lot and landed 16 sailfish on fly during this sailfish school. They left this evening and my next sailfish school starts tomorrow. Don McNabb from California, along with Matt and Jeff Asplundh will join Brad, Kennedy, Jeffery, and I for another exciting sailfish adventure aboard Decisive in Guatemala. More reports to follow!
Regards:

Jake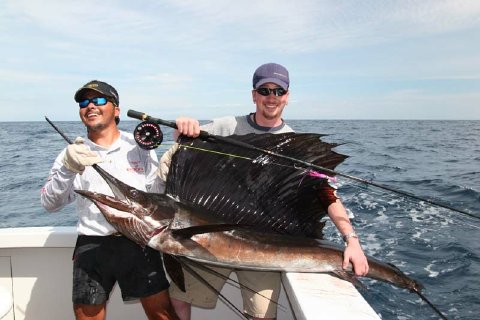 Jamey with first Sailfish on Fly
The Sailfish School Fishing Report

January 7 & 8 2006

Greetings from Guatemala:

January 7, 2006: Today as we left the marina it was clear and sunny with many volcanoes visible many miles inland as we looked toward the north. As Brad headed "Decisive" out of the port and headed to the southwest he remarked "this may be a little rough today". He was right as the wind blew at 15 to 20 knots from the east and we fished in 6 foot seas most of the day. This was the first time that Brad has had the opportunity to try out his new 40 foot Gamefisher "Decisive" in rough seas, the vessel performed splendidly. What a wonderful ride in rough seas, which are very rare in Guatemala!

We raised 19 sailfish today and got 6 of the spooky fish to bite the fly. Rick Dye caught the first fish today, then Jamey caught one followed by his Mother Therese catching a big (120-130) pound sailfish on fly for a lap dance. Jamey hooked the first fish of a double header and I hooked and caught the second one while Jamey lost his fish. Rick lost another fish before the day ended and we wound up catching 4 for 6 bites during a very rough day. I hope it calms down tomorrow, more reports to follow.

January 8, 2006: Today the seas calmed down and the sun came out strong, we headed out to the same area which we had fished the day before. 15 minutes after we put the teasers into the water a red hot Sailfish charged into the spread. Rick Dye made a good cast and that red hot sailfish pounced on Rick's fly, and ripped off 5 foot of line, tail walked, jumped a few more times, then Rick wound the leader into the rod tip and released that Sailfish.

30 minutes later we teased in another fish, Jamey made a great cast to that sailfish and got bit immediately. Jamey fought the fish well for about three minutes when the hook came out and that sailfish swam away. We raised a couple more fish during the day however they were spooky and would not tease into casting range. We never got another bite, however the weather continued to improve and I feel sure that fishing will begin to get better tomorrow.

We are having a great time aboard Decisive with Captain Brad and mates Kennedy and Jeffrey, and during the evening the Billfish Inn staff, meals, and service are awesome. More reports to follow.

Regards:

Jake
Therese with 120 - 130 pound Sailfish on Fly
The Sailfish School Fishing Report
January 6, 2006

Greetings from Guatemala:
Therese Goodman, Jamie Goodman, and Rick Dye from Portland Oregon joined me today for the first of 4 days of the Sailfish School. None of these students had ever caught a Sailfish, let alone a Sailfish on fly.
My friend and fellow fly angler Nat Harris left yesterday after fishing with Brad aboard the Decisive during the last four days. Fishing was slow for Nat the first couple of days however he did manage to catch several Sailfish on fly each day. On his third day Nat caught and released 2 Blue Marlin, one on Bait and the other on fly, toss in a couple of Sailfish on fly and this trip just became awesome. On his last day of fishing Nat Harris caught 7 Sailfish from 7 bites for a perfect score on January 5th, Nat you have my congratulations, what a great trip!
Friday January 6, 2006: Fishing started off with a hot bite as Therese hooked a red hot 50 pound Sailfish on fly, she fought this fish for 35 minutes and expended all of her energy. After 35 minutes mostly trying to get this Sailfish to come up to the surface, she was 6 inches from landing her first Sailfish on fly and the 20 pound tippet broke as the fish swam away.
Next Jamie, Therese's son, hooked fought and landed a nice 70 pounder, his first ever Sailfish on a fly. After we released that fish Rick hooked a small fish after a perfect fly presentation, and reeled it to the boat in record time releasing the fish in less than a minute.
Therese Cast to, Hooked, fought, landed, and released her next red hot Sailfish. I then hooked and fought a 120 pound red hot monster through some violent jumps and had it next to the boat with the leader in the guides when it shook the fly loose and released itself.
All together we raised 19 Sailfish, however they were spooky and where hard to tease into rang to cast the fly to them. We got a total of 6 bites and released 4 Sailfish on fly for an excellent day on the water with Captain Brad Phillips.
We are of course staying at the fabulous Billfish Inn, which is managed buy Cindy Philipps and located in Likin Guatemala. The food, service, accommodations, and fishing are first class, Thanks Brad and Cindy! More reports to follow.
Regards:

Jake
Contact: Captain Jake Jordan
Jake Jordan's Fishing Adventures
P O Box 309
Havelock, NC 28532
305-872-6060