2010 North Carolina Fishing Reports
Albie on Fly, Captain Jake Jordan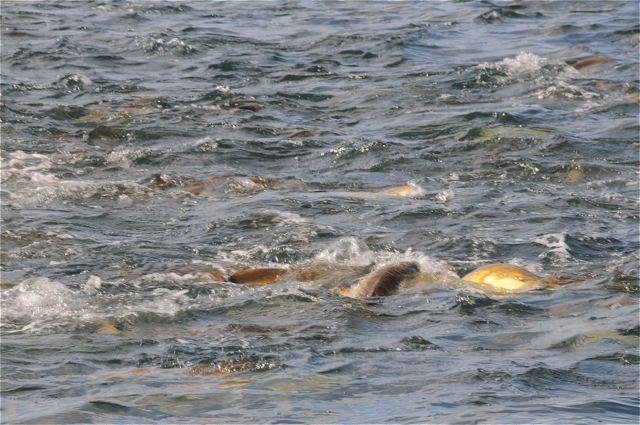 Giant School of feeding Red Fish (Drum) Cape Lookout NC, Captain Jake Jordan
NC Fly Fishing Report November 14, 2011
Greetings from the Cape Lookout Region of eastern NC:
Today November 14, 2010, my friend Chuck Laughridge invited me to fly fish with him for specs and redfish on a spot near the cape where he had some real good fishing during the last week or so. We left Chuck's dock at 6:00 AM and began fly fishing at 6:40 AM, I hooked a 12 inch trout on my 6 weight on my first cast. During the next 4 hours we took turns un-hooking each others fish, at one time I caught 11 specs on 11 casts, missed one and then caught 13 in a row. We caught more than 70 trout a couple of dozen Bluefish, lots of pinfish and several Drum. Below are a couple of pictures from the non stop action. Tomorrow I begin Albie charters for the next 7 consecutive days, hope the weather holds up. I love my job, wish you were here. Mom is doing great at home with my sister.
Regards:
Jake
NC Fly Fishing Report, Nov 10 & 11, 2010
November 10, 2010: Today I fished up in the Neuse River near New Bern NC and caught some juvenile Striped Bass. This is a neat cold weather fishery and the stripers in the area get as big as 26 inches. We fished for 4 hours and I hooked 8 or nine fish and released 4 up to 15 inches.
Today November 11, 2010, I fished with Ric Cox, a friend and member of the Cape Lookout Fly Fishers club. The wind is blowing from the north at 15 to 25 knots and the seas are choppy, but the good news is that the Albies are back strong, and they are eating big bait from Bait Balls. Rick had a hard time casting in the strong wind with rough seas, however he did manage to hook 10 Albies, one was 15 pounds, and he caught six nice Albies on Fly. This weather should improve after Saturday and I predict some awesome Albie fishing for the rest of November. I will fish again tomorrow so stay tuned for fishing report up dates, I love my job.
Regards:
Jake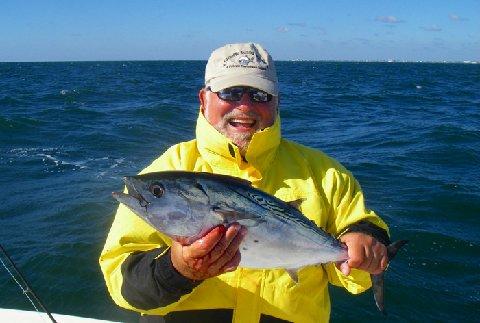 Ric Cox Albie on Fly
Albie Report
Oct, 23, 24, 25, 26, 27, 28, 29, 2010
Greetings from Albie World:
After some really good Albie fishing last week, on Saturday October 23rd, my friend Rick Pope (TFO Fly Rods) told me that he had invited several Marines to fish with us. Rick had met, and became friends with Alex and Chris through his active participation in the Healing Waters project of the Wounded Warriors program. Alex and Chris drove down from Virginia the night before to spend a day or two fly fishing with us. To say that I was excited, honored, and humbled to spend a day fishing with these heroes fishing aboard "Fly Reel", is a gross under statement.
I met up with Rick, Chris, and Alex at the marina at in the early morning and headed out toward the Cape Lookout Shoal, all the time listening to the other boat chatter on the VHF radio.We stopped short of the point to check out some birds, both Alex and Chris hooked and released some Bluefish so we hooked up and headed out to look for these:
We found some sipper Albies, however, they were hard to hook so we decided to go looking, after riding 8 miles up the beach from the shoal, we turned out to sea and headed out to a wreck which was 12 miles away. My idea was based on possibly catching some of these AJ's on fly, both Chris and Alex hooked several between 30 and 50 pounds, however all fish either broke the 20 pound class tippet , the fly line broke, or they pulled the hook. Both of these good fly anglers were amazed at the strength of the Amberjack, while Rick and I giggled as these monster fish followed the fly up to the boat as it was retrieved.
We left and headed back to the shoal to look for more Albies but had no luck, I really had a great day fishing with Chris, Alex, and Rick, I do hope that we get to fish together again soon. Here are a few pictures from the day before;
October 24, 2010: Today I fished with my friend, CLFF member, Ric Cox, from Atlantic Beach NC, along with his buddy LC from Dallas Texas. We got a late start today due to the marina not opening for fuel until 8:30 AM on Sunday morning. After fueling up we headed down along Shackleford bank and out to the east side of the shoal. We saw lots of these:
However, every time that I got the boat close enough for Ric and LC to cast the fish went down. All day we were in sippers, and then we found some good feeding schools of Albies, however we just had bad luck today with pulled hooks, broken leaders, and had fouled flies. Fishing with Ric and LC was fun and I look forward to fishing with these fine gentlemen again in the near future. This crew is heading to the Keys to fly fish for Tarpon with me next May.
October 25, 26, 27, wind, rain, small craft warnings, on Monday I went to the doctors to get a check up, then on Tuesday I drove my Mother over to Virginia, to my sisters home where she will spend the next couple of months before heading back to Florida during January, February, and March. I arrived home on October 27, to windy, rainy, weather so I have a day or two to catch up on my chores, along with answering E-mails and booking trips fro my Sailfish Schools and Fly Fishing Tournament at Casa Vieja Lodge in Guatemala.
If you would like to fish for Albies and big redfish here in Albie World with me this year please give me a call, I do have a few open dates during November, check out my website for exact dates?
http://jakejordan.com/northcarolinafishing.html
.
For those of you who want to participate in my Sailfish on Fly tournament on January, 11, 12, 13, 2011, if you have not already reserved your spot and sent in payment please contact me to confirm your entry. If you would like to fish in the event I do have room available on at least one top boat from the Casa Vieja Fleet, contact me right away, don't miss the awesome fly fishing for sailfish during this world record breaking up coming season!
http://jakejordan.com/billfishschools/sailfishflychallenge.html
If you would like to fish in one of my many Sailfish Schools during December of 2010, or January, February, March, of 2011, please let me know NOW, I am filling up quickly.
I am now accepting reservations for my 2011 Tarpon fly fishing season which begins on April 10 and runs through June 29, 2011. There are some prime time night fishing dates still available, they won't last long, contact me now to lock in your reservations. I begin fishing here again on Saturday October 30, tomorrow looks like 30 knot wind and then it calms down for a few good days. Stay tuned for more fly fishing reports coming in the near future, I really love this job, wish you were here!
Regards:
Jake
Jake Jordan's Fishing Adventures
PO Box 309
Havelock NC 28532
252-444-3308 Home/Office
305-872-6060 Cell

www.jakejordan.com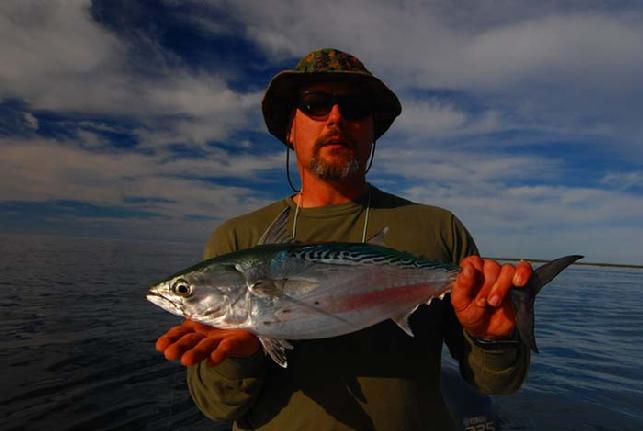 Alex, First Albie on Fly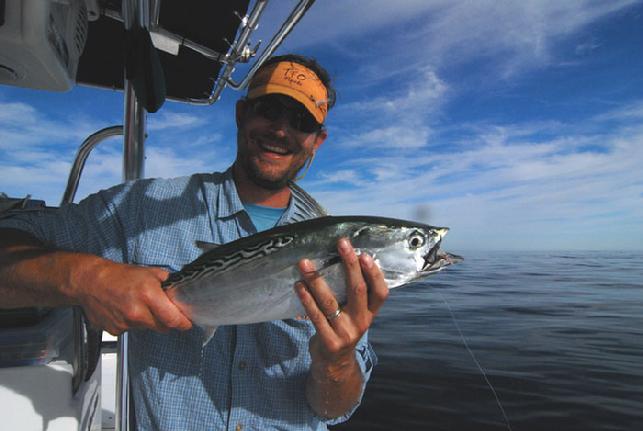 Chris, First Albie on fly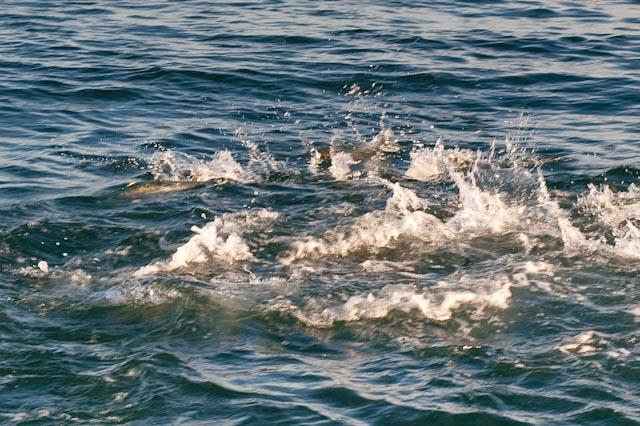 Bait Ball
Albie Report
Oct 20, 21, 22, 2010
Greetings from Albie world:
Warm weather with good fishing has been the norm here in the Cape Lookout region of eastern North Carolina. During the last couple of days some 20 pound plus Albies have been caught mixed in with lots of smaller fish , some Drum , and lots of Shark. A couple of days ago Tom Merritt caught a once in a lifetime 21 pound Albie while fishing with my friend Chuck Laughridge, on the same day Brian Carson (AKA Ricky Bobby) caught another hog while fishing with Captain Brian Horsley.
October 20, 2010, I had the pleasure of taking Brian Carson from Dallas Texas and Alex Emerson from Lexington KY out for a day of fly fishing for Albies. Both of these anglers are fun to fish with which made for a fun day of good fishing. Brian caught the first Albie of the day then shortly after Alex caught the next Albie. We found sippers, along with lots of bait balls loaded with Albies , birds, and Sharks. By 4:30 we had released more than 50 Albies on fly, plus Bluefish, Spanish, and Shark, another happy day in paradise.
October, 21 and 22, 2010, My friends, Rick Pope (TFO Rods), and Buzz Bryson, joined me to spend a couple of days here in paradise to do some fly fishing for false Albacore,. Rick has been here before and always had bad weather combined with bad luck, he had not caught an Albie on his previous trip. It took 2 casts before Rick hooked, fought and released his first Albie of the day, then Buzz caught the next one. I had the pleasure of spending several days catching Bluefish and Albies with two really fun anglers in my boat, the first day we caught half a dozen Albies and saw some awesome sights, the next day each angler caught more Albies and Bluefish. I can't remember having so much fun fishing as I did during these last couple of day, this week many friends are in town fishing in both Charter boats along with many of the CLFF members are on the water. Life is good!
Albie season is here, I will be sending more reports during the next 6 weeks, I do have some a few Prime Time Albie season Dates available during November, if you like catching big, fast, powerful fish on fly, in the ocean, BOOK today! More reports to follow, I love my job, wish you were here!
Regards:
Jake
Alex's first Albie aboard "Fly Reel"
Brian Carson, Albie on Fly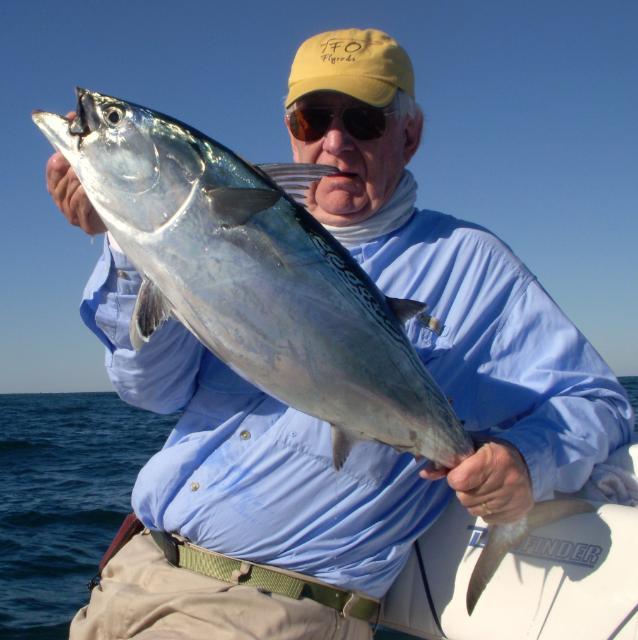 Tom Merrett 20 pound Albie on Fly
Rick Pope, Albie on Fly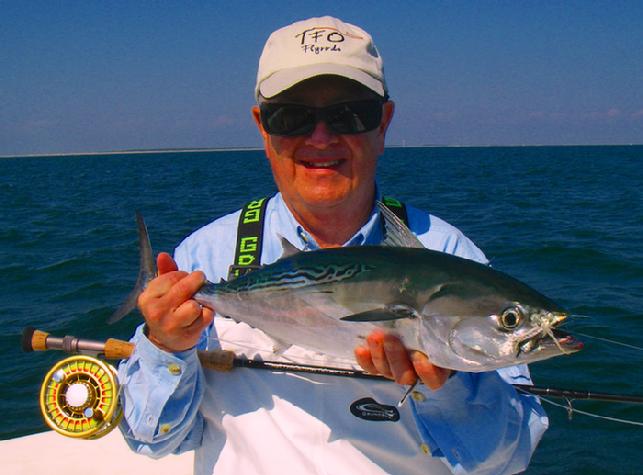 Buzz Bryson, Albie on fly
Albie Report
October 14, 15, 16, 17, 18, 19, 2010

Greetings from Windy, Rough, Albie World:
My friend Theodore Calvert drove over from Cullman Alabama to spend a few days with me and Mom while fly fishing for Albies. The wind blew from the southwest at 10 to 20 knots on October 14 so we fished the western beaches where we saw a few sippers , caught bluefish, but never got an Albie to eat Ted's fly. By 3:00 PM the wind war honking at 20 and we hit the marina, with plans to catch some the next day. October 15 the wind was blowing and we got a late start, as we went out of Beaufort inlet we hugged the beach and made it to the first fishing pier, it was rough and the wind was picking up, we came in at 2:00 PM , went home, picked up Mom, and had a great dinner at Beaufort Grocery. Theodore left the next morning, while I took the day off to get ready for a busy 10 days of fishing in a row. It was a real pleasure spending those couple of days with my good friend Theodore Calvert.
October 17, the wind had dropped down at dawn so I headed out toward the Cape Lookout shoal where the bite was good the day before. With the help of some friends I got on to some bait balls which had lots of sharks, big Spanish, Bluefish, Redfish, and lots of Albies. Fishing near Brian Horsley, Sarah Gardner, Chuck Laughridge, Don Butler, Smoot Carter, and other friends I had an awesome morning releasing more than two dozen Albies up to 13 pounds, along with some Bluefish, and big Spanish. Just after noon I got a call that my friend Buddy Rogers was standing on the beach inside of the Cape Lookout "Hook", he wanted to catch some Albies! I steamed 45 minutes in moderate seas to pick up Buddy, then steamed back out to the Bait Balls where we began to catch lots of Albies. Cas Cader and Bart Lewis aboard Bart's boat was there along with Don Butler aboard "Magician" , everyone had an epic day of catching Albies on fly.
October 18, My buddy Gary Caputi drove down from NJ to spend a day or two of fly fishing for Albies, we invited Don Butler to fish with us aboard "Fly Reel". Wind was from the SW at 15 at 6:30 AM so we headed to the Cape to try and find the fish from the day before. I got a call from Chuck who said that he had found some bait balls with fish on them. During the next 6 hours we had carnage, lots of Albies, Sharks, Spanish, and other species eating everything in sight. Top Water Albies, Awesome Day, my 4 year old Cannon 20D Camera died so all pictures were on Point and shoot camera, New Camera on the way from B & H Photo, can't wait.
October 19, Gary and I left the dock at 6:30 AM, took the bacl country rout to the Hook, found 25 knot west wind and very rough seas at Bardens inlet, Too Rough, turned around, headed back to the dock, said good by to Gary who is headed to Oregon Inlet for a day of Tuna Fishing tomorrow. Booked solid for the next week, wind going north and dropping to 10 tomorrow, looks like great fishing ahead. I still have some prime dates available in November, call for prime Albie dates? Stay tuned for more fly fishing for Albie reports, I love my job, wish you were here.
Regards:
Jake
Jake Jordan's Fishing Adventures
PO Box 309
Havelock NC 28532
252-444-3308 Home/Office
305-872-6060 Cell

www.jakejordan.com
Gary Caputi Albie on Fly
Buddy Rogers Albie on Fly
Albie Report
October 12 & 13, 2010
Greetings from Albie World:
Fished the last couple of days with Jason Bishop from Connecticut who also fishes Albies, Bluefish, and Striped Bass back home. Jason drove down here (13 hours) on Columbus day to charter me on October 12 and 13 to catch a bunch of these:
On the 12th we fished hard in rough conditions with 15-20 knot south west wind and choppy seas. The Albies and Bluefish were scattered but if you cast to the right place they ate well, Jason wound up catching 8 and I also released a couple.
The next day the seas were much better, we headed west to the 320 wreck where we found lots of Albies feeding on 3 inch bait, the ate well and we caught more than a dozen Albies up to 13 pounds. Jason had a great time and has already reserved some time for next season. More reports to follow, I love my job, wish you were here.
Regards:
Jake
Jake Jordan's Fishing Adventures
PO Box 309
Havelock NC 28532
252-444-3308 Home/Office
305-872-6060 Cell

www.jakejordan.com
Jason Bishop, Cape Lookout Albie
Albie on Fly Report
October 11, 2010
Greetings from Paradise:
Fly fished today aboard "Fly Reel" with Chuck Furimsky, (The Flyfishing Show) from 7 AM to 4 PM. We started to the west of Shark Island and caught some bluefish and saw a few Albies which were sippers and would not eat the fly. Got a call from friend Chuck Laughridge who found some fish about 6 miles away, we headed over but got there too late.
Next I got a call from Don Butler aboard "Magician" who found fish 15 miles to the East, steamed to that location and found other friends on sipping Albies, hard to hook, at least fro my angler. We caught a couple and then headed back down to the shoal to look for fish eating bigger bait. We found and caught some Bluefish and Spanish and saw more sippers. Then we headed back toward the inlet and found some friends on schooling Albies that were eating the flies pretty good, Chuck caught 6 or 7, and I even managed to catch a couple before we headed in at 4:00 PM. Another great day at the office, I love this job, wish you were here, call fro available dates before Thanksgiving!
Regards:
Jake
Jake Jordan's Fishing Adventures
PO Box 309
Havelock NC 28532
252-444-3308 Home/Office
305-872-6060 Cell

www.jakejordan.com
Chuck Furimsky, releasing Cape Lookout, Albie on fly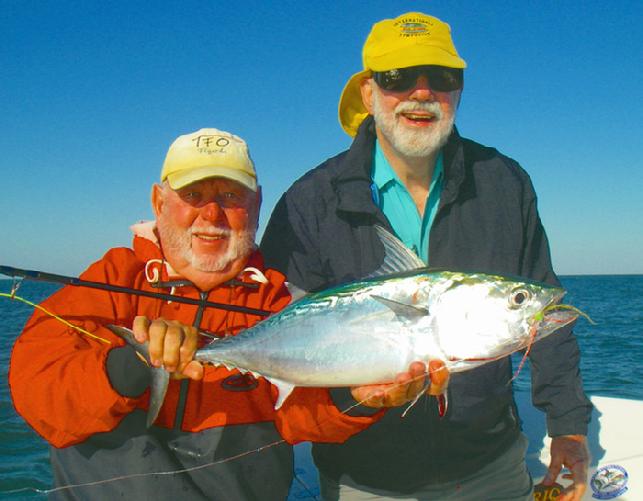 Dick Talure Albie on Fly
Albie Report
October 8 & 9, 2010
Greetings from Albie World:
The last couple of days I had Author and famous fly tier Dick Talleur along with my friend Chuck Furimsky (owner of "The Fly Fishing Shows") with me aboard "Fly Reel", fly fishing for false Albacore. After a week of rain and flooding it looked like the Albie fishing was going to be hard, the morning temperatures were in the high 40's, the water was dirty, and the bait was hard to find. Then on October 8 Chuck, Dick, and I found a few fish and lots of bait, the weather calmed down and my anglers released a half dozen Albies along with some Bluefish.
October 9, started out with calm seas but the North wind had slid to the west but that didn't matter, after looking to the west we then headed over to the east side of the shoal. At 10:30 Am we found lots of 6 to 10 pound Albies in 55 feet of water a few miles off of the beach. On the first cast Dick and Chuck hooked up a double header and shortly later we had released those Albies and were hooked up again. Chuck had the hot rod by catching half a dozen nice fish from that school and Dick fought a few more but had a tough time keeping them on his flies. Later near the beach we caught a dozen or so 2 to 4 pound Bluefish before the wind swung to the south west and increased to 20 knots. The seas became choppy and confused so we called it a day at 3:00 PM and headed to the dock after another successful day of Albie fishing in the beautiful Cape Lookout area of eastern North Carolina. I am on my way to the dock now for another day chasing Albies with Chuck, I love my job, more reports to follow.
Regards:
Jake
Jake Jordan's Fishing Adventures
PO Box 309
Havelock NC 28532
252-444-3308 Home/Office
305-872-6060 Cell

www.jakejordan.com
Albie on Fly ready for release
Local Fishing Report
September 24, 2010
Greetings from Albie World:
Just Got home from a full day of fly fishing with my friend Cas Cader here in eastern North Carolina. We had really good fishing today, we caught a few 3 to 4 pound Spanish and some small Albies in the morning. The fish in the morning were eating #6 snot bait 1 inch long, later we ran 8 miles looking for bigger Albies. We found them eating mixed 1 inch small bait, along with 3 inch #2 tan and white Albie Candy flies! At the end of a long day on the water the count was several dozen Albies released. Red hot fishing for the last several hours, lots of doubles! Albie season is getting closer. Guess I'll go fishing tomorrow? I still have a few dates available during October and November, Call me now to lock in some prime fly fishing for Albies.
Regards:
Jake
Cas Cader releasing Albie on Fly
Albie on fly ready for release
North Carolina Fishing Report
August 24 through 27, 2010
Greetings from Coastal Eastern North Carolina:
August 24, 2010: Fished with Chuck Laughridge on Chuck's Pathfinder, looking to film a Spanish Mackerel inshore fly fishing TV show with Joe Albea of Carolina Outdoor Journal, on the camera. We met up at Chuck's boat dock on Harkers Island, and headed to Beaufort Inlet about 7:00 AM. Now you know we have been catching between 50 and 100 Spanish every morning before noon for the last week (without the TV camera aboard), not today. The weather was cloudy with south wind and in coming tide when we arrived, we found a few scattered Spanish inside of the inlet, I caught one, and then Chuck caught a few, and then the rain came, we headed to a marina so we could get out of the rain. We missed several hours of the good falling tide and when we got back out the fish had turned off, Chuck caught a few and then the rain came back so we postponed the filming for a few days until the weather and tide gets good again. It was a fun morning, Chuck, Joe, and I had a fun morning on the water. Thanks Chuck!
August 25, 2010: Fished from 5:00 AM to 8:00 AM and found some Bluefish and some Spanish, Fish were scattered from the Morehead City end of the turning basin, out through the inlet, and down the Atlantic Beach as far as the first Pier. The fish were scattered but I managed to catch more than 20 Spanish and Blues mixed before returning to the dock in time to make Breakfast for Mom!
August 26, 2010: Today I was invited to fish some wrecks with Captain Dean Lamont to try for Amberjack on fly. We left the dock at 6:45 and headed off shore to fish several of the many wrecks in this area, by 8:00 we arrived at the wreck of choice. Dean began rigging up his 12 weight with a floating line and a big popping fly, meanwhile I cast a 5 inch olive and white half and half fly, on a 400 grain shooting head, on a TFO Blue Water LD rod and a Mako #9550 reel. As the fly sank to 15 foot below the surface I hooked my first AJ, it was a 25 pounder and as I fought it to the surface 5 more jacks swam up to the boat to check us out. Dean cast a big popping bug but never got a bite, so after I released that fish I gave him a crease fly which looked just like the spanish sardines under our boat. Next a big explosion and jacks were busting bait on the surface, Dean hooked up on my fly, so I cast again and hooked up on the third bite and we were fighting a double of Amberjacks. Dean broke off his fish so he helped me lift my 30 # plus AJ into the boat for a picture before a release. We hooked a couple more but to no avail, by 10:30 it was all over. It was fun fishing with Dean, thanks for the ride. More reports to follow soon.
I will be heading out to Denver on September 8 to attend The International Fly Tackle Dealers Show on September 9, 10, 11, and will return home on September 13. If you plan to be at the show, I will have my cell phone, lets get together? I expect that before I leave or shortly after I return home that we will begin catching Albies, I can't wait. I love my Job, hope that you are having a good summer.
Regards:
Jake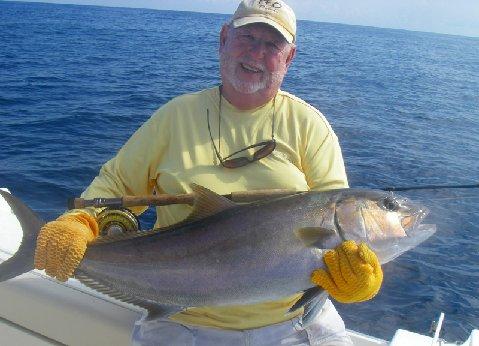 Amberjack on Fly, August 26, 2010,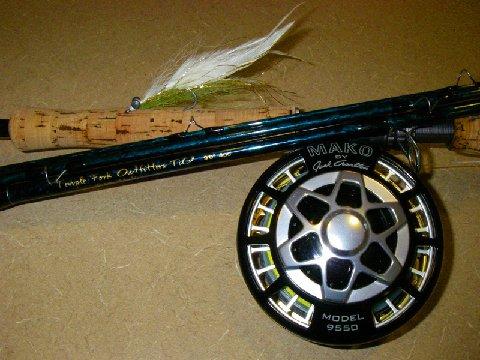 Mako Fly Reel, TFO Bluewater LD Fly Rod, used fro Amberjack on Fly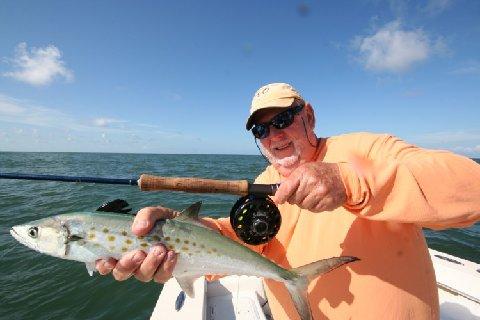 Spanish on Fly
August 2010 Reports
Greetings from North Carolina:
During the first two weeks in Augustwe finally got some decent weather when the wind laid down, so I got to do some local fly fishing. Last week the tides were good for tailing Redfish, I fished several half days poling the grass flats with friends, and several with clients. We spotted a total of 16 tailing Redfish, had 3 eat the fly, and released two Reds.
This week the weather got really nice with low wind and sunny skies, great fishing weather. On Tuesday August 17, Chuck Laughridge and I left the dock aboard "Fly Reel", at 6:00 AM, and then we headed to Beaufort inlet where we saw some Spanish Mackerel feeding with birds diving. Between 6:30 and 9:30 Chuck and I caught close to 100 Spanish Mackerel up to 3 or 4 pounds.
We left them biting and ran an hour to a wreck off shore on the east side of cape Lookout shoal. The water was calm and clear, there were hundreds of spade fish floating on the surface, all kinds of bait, and a bunch of big barracuda swimming around the boat. We saw sand tiger shark breach several times and marked lots of fish deep on the bottom machine, we fished with sinking lines and could see the flies when they were 40 feet below the boat. I hooked and fought two fish which turned out to be Albies, and both were eaten by the big Cuda, we never saw any AJ's today. On the way in the Spanish were still biting in the inlet.
Today, August 18, John Snipes joined me for a morning of fly fishing for Bluefish and Spanish Mackerel, We arrived at Beaufort inlet at 7:00 and hooked our first double of Bluefish right away. After we each caught close to a dozen Blues, we then moved to a school of Spanish, another double on fly right away. At noon after close to 30 Spanish and less than a dozen Bluefish we headed in, with a big smile after a great morning of fly fishing.
Now it is pouring rain, with thunder and lightning, I just cooked some fresh white corn on the cob, broccoli, along with a couple of Trigger fish filets stuffed with lump crabmeat. Mother and I are well and having fun here in NC, we are planning her 101 birthday party fro February 23 2011. I hope that you are having a great summer and catching some fish, Albies are not far off!
Regards:
Jake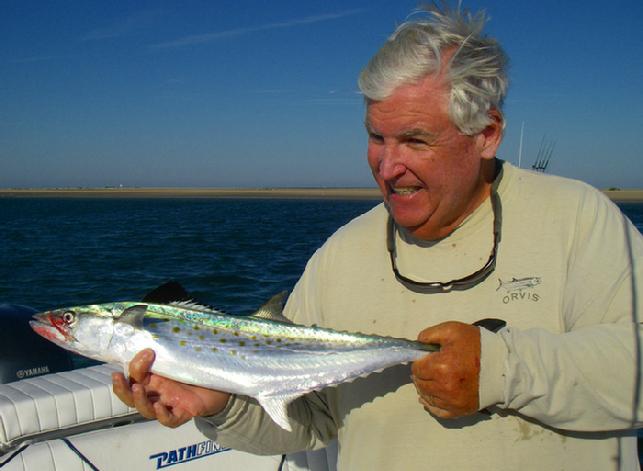 Chuck Laughridge releasing Spanish Mackerel on fly
Bluefish on Fly, Cape Lookout, NC
Spanish on Fly, Captain Jake Jordan
Fishing Report from Offshore Cape Lookout NC.
July 4, 2010
Yesterday, July 4 2010 I was invited to spend the day with my friend Don Butler, his son in law, Jason, and his friend Fred, fishing off shore, aboard Don's 39 foot Henriquez sport fishing boat "Magician". Now Don, of course, loves to work the cockpit, rigging tackle, rigging baits, setting out the pattern for trolling, instructing anglers, and landing the fish, in other words he likes to be where the action is. Although I also enjoy being involved in the action, I have spent most of my life as a boat driver, so that was my job today.
We left Beaufort Inlet at 5:30 AM and headed out to the slot, which is a safe place to cross the Cape Lookout shoal. From there we headed east and north east for about another hour in till we reached an area with some blue/green clear water, flying fish, and water temperature of 80.7 degrees. Don put out his dredges, along with some rigged Bally Hoo, and then 15 minutes later Jason hooked, fought, and released, his first ever Sailfish, on a rigged dead Bally Hoo.
After Jason released the 5 foot long sailfish, we put the baits back in the water and trolled around that area for 15 minutes before I headed " Magician" east looking for birds, grass, or bait. Jason's sailfish was caught in 240 foot of water with a water temperature of 80.7 degrees, as we trolled off shore the temperature remained the same until we reached 290 foot. Now the water became clear and blue, with lots of bait, and scattered grass, along with increasing water temperature. At 300 foot, Fred and Jason hooked a 35 pound Bull Dolphin and a 20 pound cow as a double header, Don gaffed the bull which went crazy, ripped the gaff out of Don's hand, tip rapped the spinning rod, and was gone, then Don put Fred's cow dolphin in the fish box.
The water was clear, blue, and alive with bait between 290 and 330 feet, there were also lots of birds and scattered grass in the water. Jason caught another dorado, and I think several more were caught during the next hour or so. I soon spotted some birds working off shore in 330 foot of water, as we approached I saw some big explosions which could have been a Marlin feeding. As we got closer I saw a 14 foot shark feeding on a bait ball with lots of birds working over it, then there was fish busting all around us. Two light tackle rods went off and my crew was fighting a double header, turned out to be 10 - 15 pound skip jack tuna, they were thick!
After catching several of these tuna, we decided to put out the lures and look for a marlin. The wind was 10 knots from the north, water temperature was 84.3, and we were pulling marlin lures at 7 knots between 270 and 330 foot of water. After several hours with no Marlin, we wound in the big rods and at 3:00 PM we headed toward the dock, at 5:15 we hit the marina and I headed home to cook some fresh fish for dinner for Mom and I. I enjoyed being a boat driver again, felt like I was right at home driving Don's awesome 39 footer, took the pictures while sitting at the helm with point and shoot camera. The water looks really good inshore, I think that I will be hitting the wrecks, looking for AJ's and other species, on fly, after all of the weekend vacationers leave and the traffic gets back to normal.
I hope that you had a great Independence day with lots of fun with family and friends, and that your summer is filled with good stuff. More reports to follow shortly.
Regards:
Jake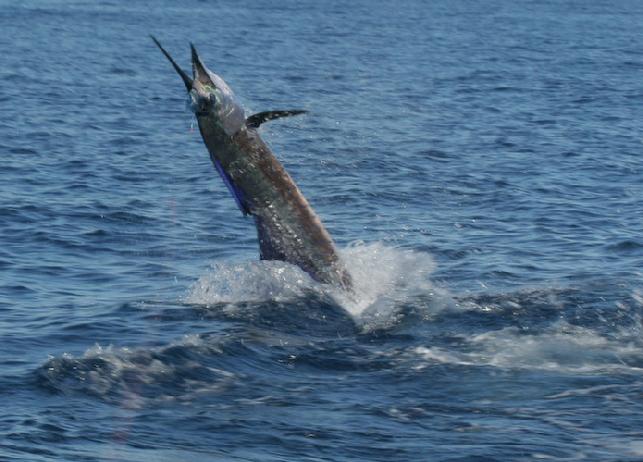 Cape Lookout Sailfish July 2010
Don and Jason with Skip Jack Tuna July 4 2010
Contact: Captain Jake Jordan
Jake Jordan's Fishing Adventures
P O Box 309
Havelock, NC 28532
305-872-6060