Jake Jordan's Fishing Adventures
North Carolina's Great Fly-Fishing Adventures, 2021
Available prime dates during Albie Season, October and November of 2021.
October available Prime time dates: 17, 19, 20, 28, 29, 30, 31. 2021
November available prime time dates: 10, 11, 12, 13, 14, 15, 16,17, 18, 19, 20, 21, 22, 27, 28, 29, 30. 2021
I will try to keep this up to date as my dates get booked.
November NC Albie on Fly
I am now taking reservations for prime time dates to fly fish for Albies, Giant Redfish, and other species during the fall season of 2021. We fish out of Beaufort inlet, near Cape Lookout, in coastal North Carolina, aboard my Jones Brothers, Cape Fisherman 2000, "Fly Reel"! If you would like to share this awesome fishery give me a call and lets lock up some prime time Albie dates. My charter rates for this fishery are $800 for a full day of fly fishing or $600 for half day. This fee includes one or two anglers, and all flies and fly fishing tackle! Check below for available Dates!
Chuck Furimsky's Fat Albert, October 2011, Captain Jake Jordan aboard "Fly Reel"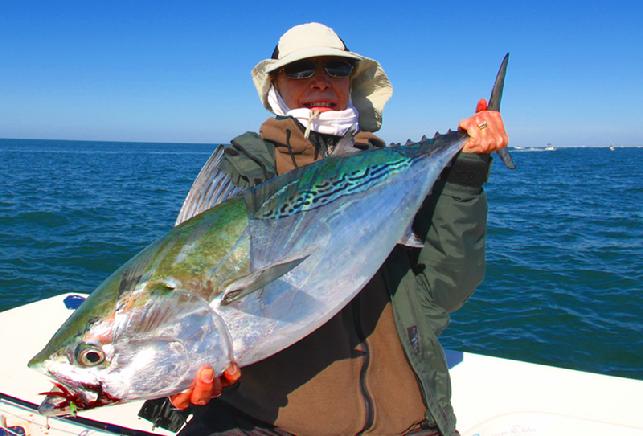 Helen Truchen, 20+ Albie on Fly
Brian Carson Large Albie on Fly
North Carolina Fly Fishing Information!


North Carolina produces some of the best fly fishing for more species than any other state. I moved here to the Cape Lookout region during 2006 to take advantage of this great fishery. I live and operate my charter fishing business out of Havelock which is located in eastern North Carolina. Although I still operate my "Blue Marlin Fly-Fishing Schools" in Costa Rica and the Dominican Republic, My "Sailfish Schools" in Guatemala, my "Salmon and Trout fly fishing schools" in Alaska, and I still guide my Tarpon fly fishing clients in the Florida Keys (during April, and May), I do spend the rest of the year figuring out the many diverse fly fisheries here at home in Eastern Carolina.

During September, October and November this area has the best fly fishing available for big "Albies" false Albacore, of anywhere I have ever fished. Eight months of the year we have some of the best Red fishing that I have ever seen, Redfish on the flats (Sight Casting) up to 20 pounds, and giant Reds along the beach and in the sound up to the 60 pound class. Striped Bass, Flounder, Snappers, Grouper, Bluefish, Bonita, Spanish Mackerel, Kingfish, Blue fin Tuna, Yellow fin Tuna, Sailfish, White, Marlin, Blue Marlin, and half a dozen species of Sharks are but a few of the local species of fish available here. Tarpon are here during July, August, and September while the Sea Trout (Specks) are plentiful 10 to 11 months out of the year.

Up in the rivers NC has this awesome Shad fishery (March and April), with lots of Rockfish (Striped Bass) as a side bar, inland in the Mountains, we have some of the best trout fly fishing of any place along the east coast of the US. Overall I plan to spend the rest of my life chasing fish on fly tackle, many here in North Carolina, please give me a call so we can catch some fish together.

Captain Jake Jordan
Bait Ball
Jake with first big Drum Captain Bryan Goodwin
Danny Cline with Fat Albert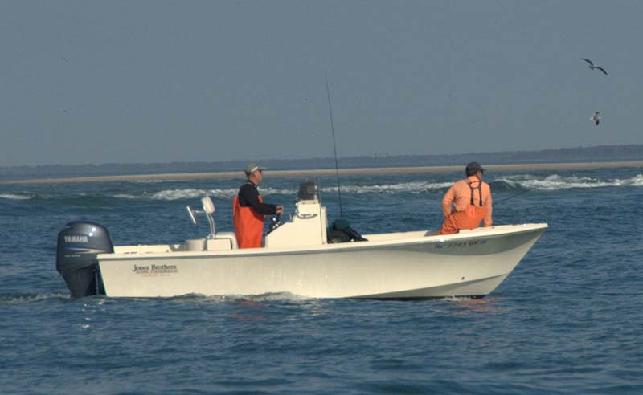 My Jones Brothers Cape Fisherman at work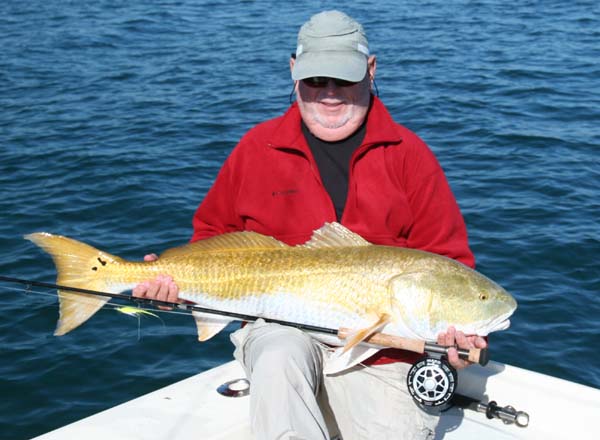 North Carolina Redfish on Fly
Contact: Captain Jake Jordan
Jake Jordan's Fishing Adventures
P O Box 309
Havelock, NC 28532
305-872-6060