Jake Jordan's Fishing Adventures
Mako Fly Reel by Jack Charlton
Mako Fly Reels by Jack Charlton
I am now taking orders for 2023 & 2024 deliveries
Mako Reels ready for Australian Marlin
Below are the current 2023-2024 prices for Mako Fly Reels by Jack Chalton, these reels are available in Stealth finish only!


Model Line Size Diamater Reel Price Spool Price


9500 - 8-10 - 4.0 - $1,360.00 $475.00

9550 - 10-12 - 4.5 - $1,490.00 $525.00

9600B -12-15 - 5.0 - $1,865.00 $575.00


9700B - (Bluewater) 5.5 BG $2,400.00 $650.00
The Above reels and spools are available in Black Stealth finish with Red, Black, Platinum, or Blue trim.
Rigged with Backing, Running line, Fly Line, and Butt section leader, for billfish $200.oo
Mako 9550 fly reel by Jack Charlton
PRESS RELEASE:
10-01-2007
Jack Charlton announced today the introduction of a new series of Saltwater fly reels. The new MAKO reels are available in 4 different sizes and 5 versions. Most reels have a choice of two spools. Each spool is laser engraved with it's model and line capacities. The Model 9500 is a 4" diameter that accommodates line weights 8-10 with the standard spool and a shallow spool for 8 wt. only. The 9550 is a 4 ½ " diameter reels with spools for both 8-10 and 10-12 wt. lines. The 9600 is 5" in diameter designed to mount 12-15 wt. lines. The 9700B (Bluewater) is a whopping 5 ½" diameter designed to provide maximum retrieve rates on the largest big game. The 9600S (Spey) is modeled after the standard model except with the a drag system more appropriate for Spey fishing, a lighter overall weight and more voluminous spools for the largest Spey lines. All reels continue the Jack Charlton design features of the legendary Signature Series reels; fully sealed with o-rings and proprietary carbon impregnated Teflon lip seals, oversized calibrated drag knobs with one turn stop to stop providing the full range of drag, multi-disk full contact carbon fiber drag system utilizing "button technology" to eliminate start-up friction, "taperloc" quick change spools and a 3 ball bearing spindle assembly. The new reels are produced to the highest machining standards and the polish and finish is second to none. Anodized finishes for all models are available in solid Platinum, Gold or Black or the choice of multi-colored variations of each. Solid Black reels are available only in Type III Hard anodize providing an incredibly durable porcelain like finish. These are superior saltwater performers destined to take the largest inshore and offshore species yet priced competitively with today's better reels. Distribution for the new reels is thru Jake Jordan's Fishing Adventures, or thru the MAKO e-commerce site at www.makoreels.com.
Mako #9550 rear view
Mako 9550 fighting Striped Marlin
"March 2012:
My Clients and I have caught more than 3,000 Sailfish, 500 Tarpon, along with 101 big Striped Marlin and 11 Blue Marlin using my prototype Mako 9550 Fly Reel by Jack Charlton. During the last 6 years of testing I can tell you that we really punished this reel, it took all of the abuse that my students and I put it through at my "Sailfish Schools" in Guatemala, along with my "Marlin Schools" in The Galapagos and Australia. I personally now own several sets of Mako Fly Reels in each size available for my own use along with use by my clients. I plan to help Judy Charlton, Jack's widow, to promote this fine reel. Feel free to contact me if you have any questions regarding my experience with Mako Fly Reels by Jack Charlton.
Captain Jake Jordan"

Jake Jordan
Jake Jordan's Fishing Adventures
PO Box 309 Havelock NC 28532
252-444-3308

keysjake@aol.com
Mako #9550 By Jack Charlton
Galapagos Striped Marlin on Mako Reel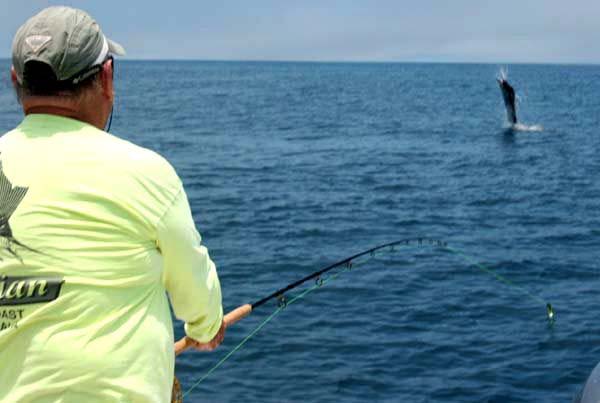 Jumping Striped Marlin on Mako Reel
For more information regarding Mako Fly Reels by Jack Charlton or to place an order please contact me at:
keysjake@aol.com


Jake Jordan
Jake Jordan's Fishing Adventures
PO Box 309
Havelock, NC 28532
USA
305-872-6060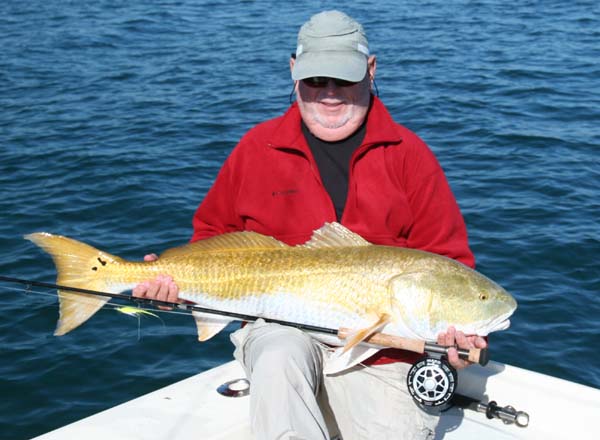 First fish on my new Mako 9500 fly reel by Jack Charlton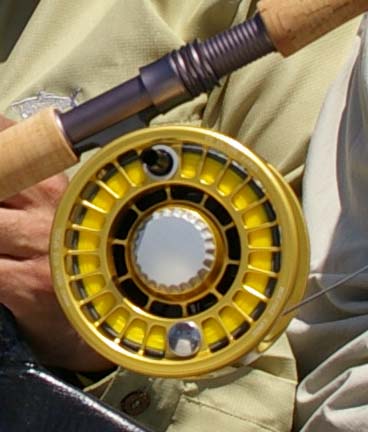 9550 Mako Fly Reel by Jack Charlton
Contact: Captain Jake Jordan
Jake Jordan's Fishing Adventures
P O Box 309
Havelock, NC 28532
305-872-6060