Galapagos Marlin School Fishing Reports
2008 Galapagos Fishing Reports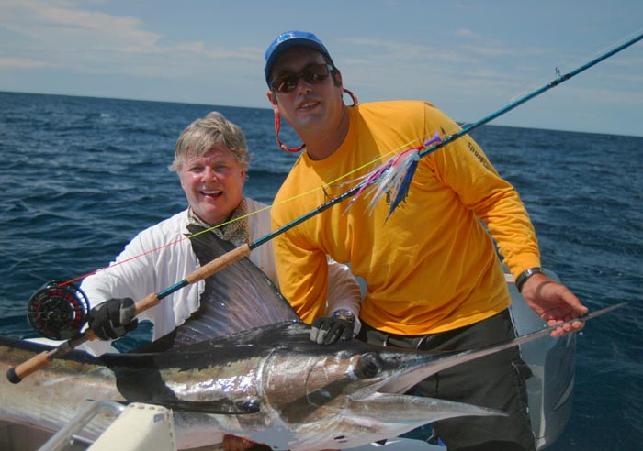 Danny Cline first Marlin on Fly
Galapagos Fishing Report
"The Marlin on Fly School"
April 10, & 11, 2008
Greetings from the Galapagos:
April 10, 2008:
This morning after a wonderful breakfast (bacon, eggs, coffee, fresh fruit, fresh baked breads, and pastries, and fresh squeezed fruit juice) at Casa Iguana Mar y sol, Danny and I met Braden and headed to the dock. The mates along with Captain Alan Star were waiting at the dock and we were under way at 7:00 AM.
At 8:45 Captain Braden slowed down "Blue" while the mates Tonto and Enrique put out the teasers, as I got our fly gear ready to do battle with the Striped Marlin of the Galapagos. At 9:50 AM a red hot 160 pound Striped Marlin charged in chasing the long teaser, I made a decent cast which caused that Marlin to pounce on my fly. Well let me tell you it was awesome, that fish jumped about a dozen times and then he sounded before charging back to the surface for a few more jumps. After less than 15 minutes we were backing down toward that fish fast, I was on the fly line just 5 foot from winding the leader through the tip of the fly rod, and the hook fell out of the Marlins Mouth! Five feet from another Marlin release, oh well, there will be more.
About 45 minutes later Danny Cline hooked a 170 pound Striped Marlin on fly, and did a great job catching his third Striped Marlin from four bites in 4 days of fishing. Remember now, Danny is the student at "The Marlin School", Monday was the first Marlin that Danny ever cast a fly too. He is about ready to graduate with honors, oh and by the way, his last fish was on 16 pound tippet.
I had two more Striped Marlin tease in and attempt to bite my fly this afternoon, the first one caught the hook on the tip of its bill, and jumped several times before the hook fell off. The next bite came at about 1:30 PM and looked like I was going finally land a Marlin on fly, and then as I was very close to getting the release the hook suddenly came out and the fish swam away. We raised 22 Marlin to the teasers today, teased in 8, got 4 bites, and caught one fish. After our first four days of fly fishing for Striped Marlin here in the Galapagos, we have raised 79 Marlin, wound up getting only 9 to eat our flies, and of those we caught and released 3 Marlin, all of which weighted over 150 pounds, 2 on 20 pound tippet and the third on 16 pound tippet.
The fishing here is awesome, for all of you who do not understand what fly fishing for marlin is all about, it is like hunting Lions or Elephants with a sling shot, or playing golf but only counting your hole in ones. This is truly a really challenging game of sport, I of course like it somewhat to say the least. Danny cline is 3 from 4 bites, while I am 0 from 5 bites, I can't wait to get back out there tomorrow, hopefully we will get more bites and my percentage will improve. In any event I love my job, wish you were here to share this awesome place, more reports to follow.
April 11, 2008;
Today we left the dock at 7:00 AM to head to Rosa Blanca marlin bank, which is about an hour and a half boat ride in calm seas. As we arrived at the fishing grounds, Tonto and Enrique began to set out the teasers while I prepared our fly fishing tackle for our up-coming battles with the Galapagos Striped Marlin. Danny took the first turn, as he is the student, at 9:46 AM a 150 pound, lit-up, Galapagos, Striped Marlin came charging in chasing the teaser. Danny made a great cast just as Tonto pulled the teaser away from that marlin an then the fly disappeared in the mouth of that marlin. Twenty five minutes later Danny had caught, photographed, and released that great Striped Marlin, which brought his score to 4 marlin caught from 5 bites during less that five days of fly fishing for Striped Marlin.
Now it was my turn, after showing Danny how to not catch 5 bites I was anxious for my next shot, at 11:05 Am it happened. A big, close to 200 pound Striped Marlin came in hot on the long teaser, it teased in quickly, and then I cast my fly which landed where the teaser had been a split second earlier. This marlin ate my fly the way I had planned it, he took off and jumped several dozen times, then went deep for a while. I was applying maximum pressure (I was fishing with 16 pound tippet) when that marlin came to the surface and jumped several more times. I turned the drag knob on my Mako #9600 fly reel up to 10 pounds of drag pressure, leaned heavily on my TFO blue water heavy billfish fly rod, and stopped that fish from sounding again. Now the marlin was just paddling on the surface as I closed the distance between me and the marlin. Finally after 23 minutes I pulled the Marlin to the boat where Enrique grabbed the bill, removed the fly, and released my first marlin from 6 bites during this trip.
We still had half of a day left when sure enough another 170 pounder came charging in and attempted to eat Danny's well placed fly. Unfortunately, this marlin got his bill hooked out near the end of the bill, then proceeded to put on a great show with some magnificent jumps before the fly came off and the fish swam away. We raised a total of 12 Striped Marlin today, got 3 bites, and caught 2 wonderful Galapagos Striped Marlin on fly, what a great day!
During our 5 days of fly fishing here in San Cristobal, Galapagos, aboard "Blue" with Captain Braden Escobar and mates Enrique and Tonto, Danny Cline and I saw 81 Striped marlin raised, we got a total of 13 of these marlin to bite our fly of which we caught and released five Striped Marlin between 150 and 190 pounds, of which two were caught on 16 pound test tippet while the other three were on 20 pound tippet.
Braden was apologetic that we didn't see and catch more marlin, however after fly fishing for 5 days we caught 5 marlin on fly, that is awesome fishing anywhere in the world. The lodging at the Casa Iguana Mar Y Sol B&B is the best that I have ever seen in the Galapagos, the weather is awesome, and the seafood is awesome. I plan to return next year for at least 3 "Marlin on Fly Schools", if you have any interest you might want to contact me as I am sure that these trips will fill up quickly. Braden still has a couple of prime weeks this season, May and June, if you have any interest in catching a bunch of Striped Marlin in a cool place you can contact me or contact Merijo Atong at Sportsman's Addiction www.sportsmansaddiction.com .
I will be home on April 14th, hope to talk to you at that time. I sure love this job, wish you were here! Tarpon reports from the Keys begin April 21.
Regards:
Jake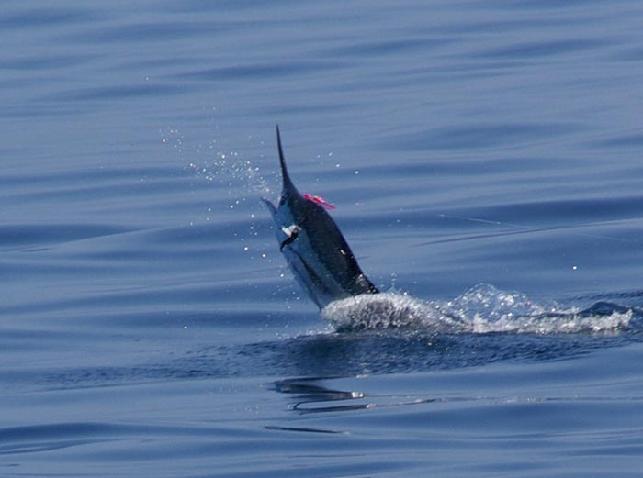 Galapagos Striped MArlin on Fly
Galapagos Fishing Report
"The Marlin on Fly School"
April 9, 2008
Greetings from the Galapagos:
Danny Cline and I joined Captain Braden Escobar his two mates and Captain Alan Star aboard Blue for the third day of our Galapagos Marlin on Fly adventure. We left the dock at 7:00AM, and began fishing at 9:00 AM at Rosa Blanco bank, with partly cloudy hot weather with some showers in the area. The bank was alive with sea lions, dolphins, whales, lots of birds and bait and of course lots of big Striped Marlin.
I think that the marlin were gorging themselves on the abundance of bait in the area, as we raised 31 marlin during our eight hours of fly fishing fro marlin, however we only teased in less than 10 and only got three bites on the fly. I got my first bite at about 10:15 AM when a 160 pounder teased into my casting range, and gave me a good shot. I made a good cast, placing the fly just behind that Marlin; he then turned and pounced on my fly. This battle lasted about five minutes, wit six or seven jumps before that great striped marlin leapt out of the water, wacked my 16 pound tippet with his bill, and broke the tippet.
About an hour later I hooked a 275 pounder on 20 pound tippet, it looked like the hook slipped out of the marlins mouth on a jump and hooked her on the bill. She fought me very hard for 25 minutes and never jumped again, then all of the sudden, while I was gaining on her, the hook came out and she was gone.
Next I handed the rod to Danny and five minutes later he hooked up to a 180 pound, red hot Striped Marlin. Danny didn't make any mistakes and after a 26 minute battle Danny Cline had landed his second Striped Marlin on Fly in two days. After 3 days of fly fishing aboard the vessel "Blue" with Captain Braden Escobar, in San Cristobal, Galapagos, Danny and I together have had 5 Striped Marlin eat our flies, and we released 2 of the 5 bites. This place is awesome, we have seen over 50 striped marlin during our first three days of fishing, I am sure it will get even better tomorrow. More Reports to follow, I sure love this job!
Regards:
Jake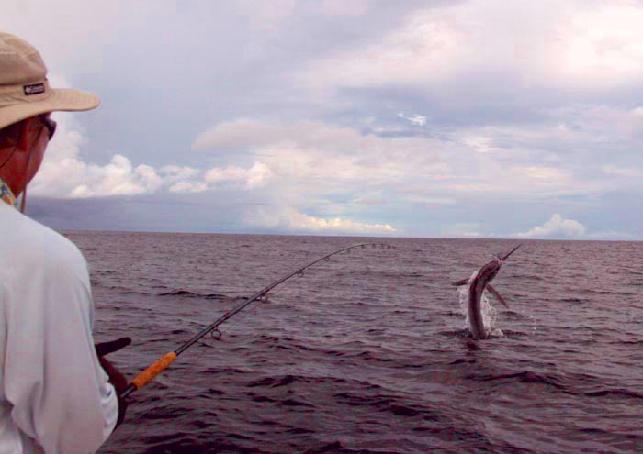 Danny fighting 180 pound Striped Marlin on fly
Galapagos Fishing Report
"The Marlin on Fly School"
April 7, & 8, 2008
Greetings from the Galapagos:
Danny Cline from Charleston WV and I arrived to the island of San Cristobal, in the Galapagos national park, 600 miles off of the coast of Ecuador in South America, on April 6th at 12 noon. Captain Braden Escobar, of the vessel Blue, met us at the airport and escorted us from the airport through town, past the port, and to the Casa Iguana sol y mar, a wonderful first class bed and breakfast overlooking the harbor. The suite we are in is 5 star, gorgeous, with superb breakfast served on the patio in front of our room at 6:00 AM.
We unpacked our gear and then headed to the Miaconia hotel for cocktails and a bowl of ceveche along with a cold local beer. In the evening we rigged our fly fishing tackle, Mako Reels, TFO rods, Rio fly lines, and Cam Sigler flies, and I gave Danny a crash course in Hooking, fighting, and landing Marlin on fly.
April 7, 2008:
After a great breakfast at Casa Iguana mar y sol we headed to the dock where Braden and his two mates met us aboard "Blue" and we headed to the Marlin grounds. At 8:30 we put our teasers in the water and began looking fro signs of Marlin. About 9:30 we raised the first striped marlin of the day which teased in to the boat really hot. Danny cast the "Jakes Special" marlin fly just as Braden pulled Blue out of gear and then that 150 pound plus Striped Marlin attacked Danny's fly. The initial run included 13 greyhound jumps then a bunch more jumps as the marlin charged the boat at full speed. Danny fought the fish exactly the way that I had instructed him and 15 minutes later the fish was tired and about 35 foot away from the boat. As Danny applied pressure that marlin got it's second wind and charged under the boat, Braden tried to maneuver the vessel away from the fish however that marlin swam right past the propellers and got the line into the props and cut the fly line. What a great battle.
As the day went on with calm seas, hot and sunny weather, and 90.6 degree water temperatures, the marlin were scarce for the Galapagos. We wound up raising 7 Striped Marlin all day and only got 3 to tease into the area where we could cast the fly to them. Danny cast to 3 marlin, got 2 bites, of which one pulled the hook on the bite and we lost the other one as described above.
By the way on the marlin which ate the fly and then spit the hook, as Danny stripped the fly back in it came tight and he hooked a sea lion, the first ever on fly, after one short run and a jump that sea lion spit the hook back at us (we were very happy) and swam away happy and free. We arrived back at the dock at 6:00 PM and had a great dinner at the Miaconia Hotel before retiring for the day. By the way I did not get to see North Carolina in the finals as they do not have any television here, at least no US stations. We are having a ball, I do love my job, more reports to follow!
April 8, 2008:
After another great breakfast at Casa Iguana mar y sol, we again headed to the dock where we met up with Captain Braden Escobar, along with guest video camera operator, Captain Alan Star, and Braden's two mates for a ride out to the bank where the experts say that we should find lots of Striped Marlin. Guess what, they were right, we found the marlin, they were on Rosa Blanca bank in pretty good numbers. We also found sea lions, dolphin, frigate birds, boobies, and feeding Marlin. All were feeding on lots of sardines and other baits, unfortunately there was too much bait and the fish were hard to tease into fly casting range.
After raising half a dozen striped marlin which never came close enough to cast to, we had a hot striper of about 180 pounds come flying into the spread. The mates teased that fish into position, Danny Cline cast the fly, and that fish pounced on the fly. That Striped Marlin ran off about 300 yards of backing before the first of only three jumps then went deep. Danny battled that super fish for forty six minutes before winding the leader into the tiptop scoring his first ever Marlin and he caught it on fly using 20 pound tippet. After we released Danny's great 180 pound Marlin he went inside to get his breath while I re-rigged to prepare for the next Marlin. We raised 6 more Stripers however none teased to within fly casting range so we headed back to San Cristobal to the Miaconia had a great dinner then walked the short distance up the hill to the Casa Iguana for a relaxing evening where we would prepare for the next day of Marlin on the fly! More Reports to follow, I love my job, wish you were here.
Regards:
Jake
Galapagos Marlin on fly Airborne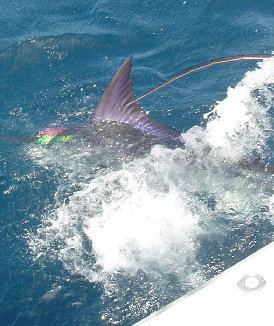 Lit up Marlin
Contact: Captain Jake Jordan
Jake Jordan's Fishing Adventures
P O Box 309
Havelock, NC 28532
305-872-6060