Port Stephens Australia "Fly Fishing for Marlin School"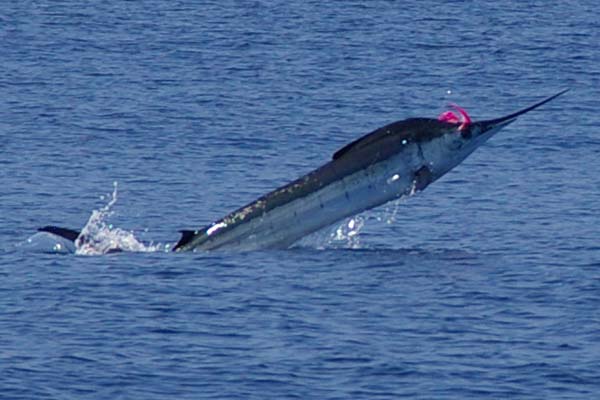 Jumping Striper on Fly
2010 Dates for Port Stephens Australia Marlin Fly Fishing Schools:

Late March and the first half of April dates are now available
Other custom Marlin Schools also available!
Please call me to customize your Marlin School Dates!



I have long been looking for the right place in the world to operate my fly fishing for Marlin Schools with the best access for my students to catch Blue Marlin, Black Marlin, and Striped Marlin, on fly. After doing years of research I have settled on the Port Stephens Australia area during February, March and April. Most Fly Fishing world records for these species have been set in this area.
I will be operating several Fly Fishing for Marlin Schools during March of 2012 and I am in the process of planning dates for those Marlin on Fly Schools. I will be working with World Class Captain Tim Dean at Calypso Fishing Adventures at: www.marlinfishingaustralia.com. Please contact me directly if you have any interest in this world Class fishing School.

Jake Jordan
PO Box 309
Havelock, NC 28532
252-444-3308
Cell: 305-872-6060
keysjake@aol.com
2008 Port Stephens, Australia, Fly Fishing Marlin School Fishing Reports!
Greetings from Down Under:
Dick Ellis, (Redding, CA) Craig Machado, (San Francisco, CA) Hugh Chatham, (Marin County, CA) and I, are here at my Grand Slam, Australian, Marlin on fly, school. We are in Nelsons Bay, Port Stephens, New South Wales, Australia, fishing aboard the 43 foot sportfishing yacht, "Calypso" with Captain Tim Dean along with deck hands Tinker and Dave. The weather is sunny, 75 to 85 degree air temperature with water temperature in the mid 70s and relatively calm seas. Most of the Blue, Black, and Striped Marlin fly fishing records come from this area, so we came to try for a Pacific Marlin Grand Slam (Blue Black, & Striped Marlin on fly in one day). Dick Ellis had never seen a Marlin in his life and his biggest fly caught fish was a Salmon, last year Craig caught several Striped Marlin on fly with me in the Galapagos, while my buddy Hugh Chatham has caught a White, Black, and several Striped Marlin on fly with his target being the elusive Blue Marlin on fly.
March 11, 2008,
Today we boarded Calypso at 7:25 AM and headed out of Port Stephens in a south easterly directions to look fro a Blue Marlin for Hugh. We ran off shore for 2 hours then put out our teasers and prepared our fly equipment for the epic battle. About 11:00 AM a Blue Marlin in the 100 to 200 pound class popped up on our long left teaser, Hugh prepared to make his cast while Dave teased that Blue Marlin almost to within casting distance before the Marlin lost interest and turned away never to be seen again. That was the only Marlin which we raised today, the weather was sunny, hot, and calm, Great boat and crew, more fish tomorrow.
March, 12, 2008:
We pulled out of the marina at Peppers resort at 7:30 AM, cruised down the bay, turned left and headed north east up the coast for 45 minutes. We stopped and caught lots of bait, (Bonita, Mackerel, and other bait fish plentiful to this area) before heading out about 3 miles offshore. As we approached several other boats (friends of Tim) we saw a couple fighting a double header of Black Marlin in the 200 pound range, while their deckhand drove the boat. The other vessels in the area were live baiting deep and hooking Marlin on a regular basis.
Finally after a couple of hours, we raised a 120 pound Striped Marlin which teased right up to the transom of Calypso. Dick Ellis from Redding California stood in the corner waiting fro his shot, Tim pulled Calypso out of gear and yelled cast, Dick made a good cast and almost instantly was hooked to a 120 pound jumping, lit up, Striped Marlin. Dick Ellis listened to my instruction while fighting this marlin fro 35 minutes on 20 pound tippet, and then wound the leader into the rod tip for his first marlin ever, which was caught on a pink and white Cam Sigler Fly. Congratulations to Dick Ellis who caught the first marlin which he ever cast a fly to, he is batting 100 percent. Later in the day we raised one more striped marlin which teased part way in then faded off never to give us a shot.
March 13, 2008,
Today we headed back to the same place to look for Blacks, and after several hours of no fish up popped a 150 plus pound Striped Marlin, I was up and made a short cast to this red hot Marlin, he swam around the fly for what seemed sever al minutes before pouncing on my pink and white Cam Sigler fly, and ripping off several hundred yards of backing. After 14 minutes of hard fighting on my TFO Blue Water Heavy fly rod and my 9600# Mako fly reel, using 20 pound tippet, I wound that marlin up to within 3 feet of my rod tip to get the release. What a great fish, Tim, Tink, and Dave are a great crew, we are having a great time.
An hour later we raised a bigger Stripper while Craig Machado got ready to cast, the fish teased almost up to casting range then turned away from the boat and disappeared. That was the last fish we saw today, after 3 days of fly fishing for Marlin we have raised 4 Striped Marlin and a Blue Marlin, Cast to 2 Striped Marlin with flies, and we caught and released both Marlin which we cast too! This area is awesome, I love it here, we have a lot more fly fishing for marlin to come. Stay tuned, More reports to follow.
Regards:
Jake
Marlin Fly School Australia, aboard Calypso
Dick Ellis's Striped Marlin Jumping
Greetings from Australia:
March 14, 2008,
Today we headed off shore to the Southeast for about 30 miles before slowing to a troll and putting out our teasers. We are looking for a Black Marlin for Craig, or a Blue Marlin for Hugh to complete his quest for all 5 Marlin species on fly. First up was Craig with a Striped Marlin tease in to within 60 foot from the Calypso before fading off and not giving Craig a cast.
Next, at 11 AM we raised an estimated 190 pound marlin which looked like a Blue, Hugh made a great cast and that Marlin came out of the water to pounce on the Cam Sigler fly. As it turned out the fish was a Striped Marlin of close to 200 pounds, which fought valiantly for 25 minutes on 20 pound tippet before Hugh Chatham wound the leader into the rod tip for a release. That 190 pound Striped Marlin was an awesome fish which jumped 13 times in the first 5 minutes of the battle.
Later we raised 2 more Striped Marlin of which one teased in to the boat and gave Craig a half hearted bite then jumped and spit the hook then swam away. This is about the time that I realized that our score for 4 days of fly fishing is now, 8 Marlin raised, 4 tried to eat the fly, with 3 being fought to the boat for release. That is a 75 percent catch ratio while fly fishing fro Marlin on 20 pound tippet, that is incredible fishing anywhere in the world. Stay tuned for more fishing reports to follow.
Regards:
Jake
Hugh Chatham fighting big Striped Marlin on Fly
Jakes Lit Up Striped Marlin, Port Stephens, Australia
Greetings from Australia:
March 15, 2008:
Today Hugh, Craig, Dick and I fished our 5th day aboard Calypso with Captain Tim Dean and Mates Dave and Tink. We had a mechanical problem which brought us back to the dock early so we could repair Calypso and get down to catching Marlin tomorrow. We did raise a Black Marlin today however it faded away without giving us the opportunity to cast the fly to the Marlin. As of now after 5 days at "The Marlin School" aboard "Calypso" here in Port Stephens Australia, we have raised 7 Striped Marlin, 2 Black Marlin, and a Blue Marlin. Only four of the Striped Marlin would tease in and ate the fly, of which we caught and released 3 for a 75 percent catch to bite ratio, (Not a bad Average)!
Hugh, with mates, DAve and Tink, Striped Marlin Tagged and Released on Fly Flags
Greetings from Nelsons Bay Australia:

March 16 and 17, 2008:
Just got in from our last day of the 2008 Australia Marlin on Fly School, held aboard the vessel Calypso, out of Port Stephens Australia, with Captain Tim Dean along with mates Dave and Tink. This place is awesome, even with relatively slow fishing for Port Stephens, we raised a total of 17 Marlin (2 Blue, 2 Black, and 13 Striped), of which 7 teased in and bit the fly, 3 were not hooked well, one broke the 20 pound tippet, and we caught 3 Striped Marlin on fly.
I plan to return next year for another shot at catching the first Marlin Grand Slam on fly, anyone wishing to join me should begin planning the trip as soon as possible. Tim, Dave, and Tink were a pleasure to fish with, they are a very knowledgeable fly fishing crew. Calypso, a 43 foot O'Brien custom sport Boat is a great sea boat which raises fish and is comfortable to fish aboard.
March 16, 2008,
Today we headed southeast toward the "Car Park" and began trolling the teasers at 9:00 Am, we raised a total of 4 Marlin today, 1 Blue which Hugh cast to, hooked on the Bill and pulled the hook, A Black which did not tease in, and two Stripes of which one bit a fly cast by Dick Ellis before pulling the hook and swimming away. Today we went 0 for 2 bites on fly with 4 fish raised.
March 17, 2008,
Today, the last day of fishing of this week long Marlin on Fly School began with strong wind, clouds, and rough seas. We ran for an hour then put out the teasers while still heading off shore looking for Marlin. The first fish up was a Blue, which did not tease to the boat, next a Black came in hot but did not eat the fly, the third fish was a big Striped Marlin, still no bites. The fourth Marlin of the day, A red hot Striped Marlin charged in to the transom and ate the fly which was presented by Craig Machado. this 200 pound plus Striped Marlin ripped off 300 yards of backing in about ten seconds, then the tippet broke and the magnificent Marlin was gone! An awesome bite, what a great way to end this great week of fly fishing for Marlin here in Australia. Stay tuned for more fishing reports.
Regards:
Jake
Contact: Captain Jake Jordan
Jake Jordan's Fishing Adventures
P O Box 309
Havelock, NC 28532
305-872-6060