2009 North Carolina Fishing Reports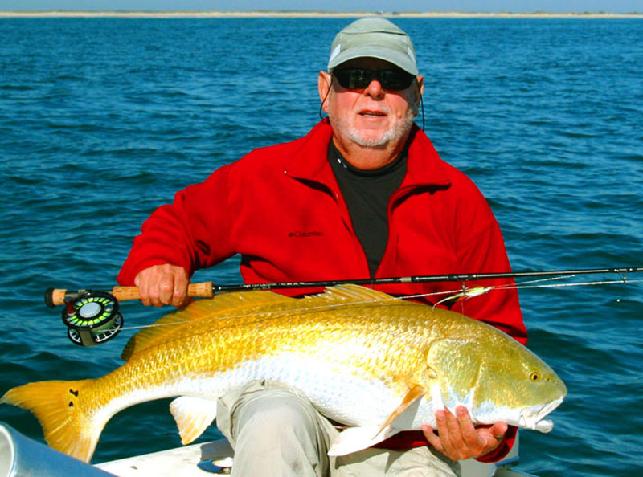 NC Redfish (Drum) on Fly
50# AJ on fly
North Carolina Albie Fly Fishing Report
October 25-31, 2009
My friend Tony Weaver from Anchorage Alaska made his first trip to Coastal North Carolina to visit and experience our awesome fly fishing for false Albacore. I picked up Tony at the New Bern airport Saturday night at 11:30 PM after his 18 hours of air travel from Anchorage. After sleeping late we began our fishing about 9 AM on Monday October 25th.
The wind today was NE at 20 and gusty, We found fish pretty good along Atlantic beach in the morning and a few later inside of the hook. Tony had a good day looking at the bait busting on Bluefish and then on Albies, our bait balls are awesome.
On Monday October 26, we found birds on bait about a mile outside of Beaufort inlet, Tony and I began catching nice Albies about 7 AM. Many of my CLFF friends along with other guide boats got in on this excellent morning bite. The bite ended by noon but the Albies did show up late in the afternoon down inside of the hook.
October 27 we had strong North East winds turning to the South West late with warmer conditions and rough seas. We did find some Albies off the Sheridan on Tuesday morning and then traveled all over looking in the afternoon without finding any Albies.
On Wednesday Tony and I took a tour of the back waters, and drove around down east showing my friend some of the beautiful sights of this awesome location. One evening we had dinner at The Sanitary Restaurant, another at "The Beaufort Grocery", several nights I cooked fresh "off the boat" North Carolina seafood, and drank some good wine. Both Mom and I really enjoyed spending time with my good friend Tony Weaver.
On Thursday morning Tony flew out of New Bern at 5:30 AM and then I headed to the dock to meet up with Ric Cox from Atlantic Beach. Rick joined the CLFF at the last meeting and asked me for a few casting lessons. We met at the dock and headed out of the Beaufort inlet at sun up, turned right and headed down the beach to the first pier. I turned off the engine and we spent the next couple of hours working on casting a 10 weight fly rod. By 10 AM Ric was casting 40 foot loops so we decided to try to catch some Albies. John Snipes and Brian Horsley gave me a call about the fish going off down the beach so we hooked up and headed down to the Albie Bait Blitz
We got to the Blitz near the end, Ric made some good casts and even had several Albies eat the fly, only to come unbuttoned before the hook set. It was fun watching Chick Laughridge, Seth Thomson, John Snipes, Albert Bruno, Brian Horsley, along with several other friends hooked up to Albies which were feeding hard.
My friend Danny Cline was scheduled to arrive on on October 30 and then fish with me on the 30 and 31 aboard "Fly Reel" and then join me for the next three days of Albie fly fishing aboard Flat Out with Captain Brian Horsley. Danny caught a virus or flu and decided not to travel, good idea, I am sure that he will get down to catch Albies later next month after he has healed up. I plan to fish with Brian for the next few days, stay tuned for more Albie Fly Fishing Reports to follow shortly. Wish you were here.
Regards:
Jake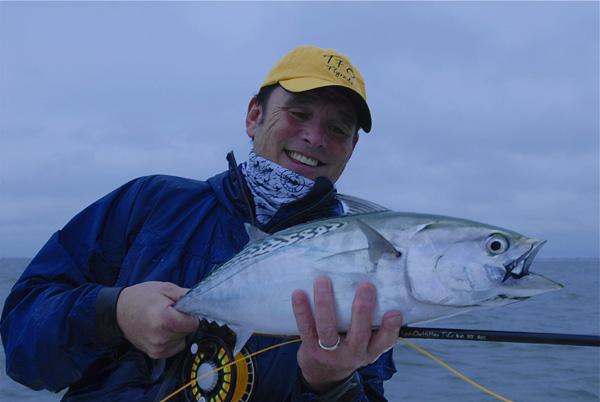 Tony Weaver Awesome Albie on Fly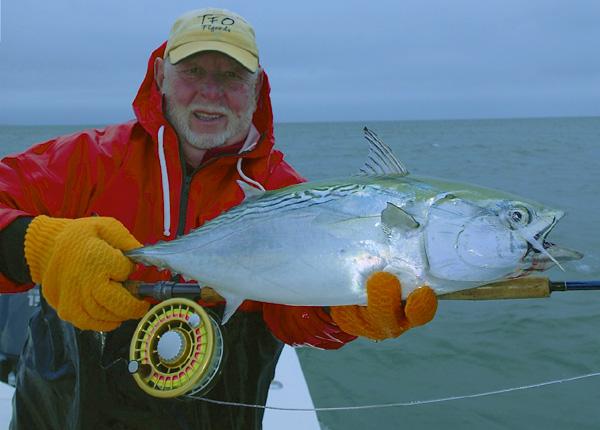 October Albie on fly
Fly Fishing Report from North Carolina
October 21, 22, 23, & 24, 2009
Greetings from Albie World:
October 21, 2009:
Today I fished a half day with Ben Bowdich from Oriental NC and a member of the Cape Lookout Fly Fishers club. We headed west along the beach before sun up, lots of birds on Bluefish but no Albies on those baits. We when headed back to Cape Lookout and found some scattered Albies but they wouldn't stay up long enough for us to get on them. Up inside of the hook there were some fish there but we couldn't get anything but Bluefish. Came in at noon and then heard that fishing was red hot in the afternoon.
October 22, 2009:
Bill Morrison from New Jersey came down to fly fish with me for several days after seeing my presentation to his fly club in Ocean City NJ during August of this year. Bill met me at My boat at 6:45 Am and then we left the dock at 7 AM and headed out of the Beaufort inlet. Now I did not know that Bill had just taken one casting lesson and had never caught any fish on fly, so when he told me that I was a little surprised.
I turned off the engine of "Fly Reel" (My Jones Brothers Cape Fisherman ) about two miles off shore from Shakleford bank near the gun mounts. The sky was pure blue, no wind was blowing, and the seas were dead calm, as I began 3 hours of casting instruction with a 10 weight TFO TiCr fly rod with a Mako fly reel, and a Rio floating fly line. During the next 3 hours Bill learned how to cast a fly up to 50 feet while forming a tight loop, he also caught 4 Albies while practicing his casting, which forced him to learn how to fight fish.
Next we headed across the shoal and up to the east where I had reports of big Albies being caught deep while blind casting. When we arrived there were a few birds but mostly just a lot of bait and fish marks deep. I turned off the key and Bill cast out a 10 weight with a 400 grain sinking head and let it sink for a minute or two.
On the first strip he hooked a fish which felt really strong. Now I had set the drag at six pounds and the reel had 400 yards of 50#GSP backing on it, (Good Thing) that fish ripped off about 200 yards of backing and I started the motor to chase this big fish. Bill fought the big fish for 25 minutes while I caught and released two 15 pound Albies on the other end of the boat. As the fish got close I thought that it was a Tuna however it turned out to be a 21 1/2 pound Albie, the biggest one ever caught on my boat.
Brian Horsley, Sarah Gardner, Donny Hatcher, Chuck Laughridge, Clark Hutchinson, along with several other boats were in the area where all were catching Albies in the 15 to 21 pound class. During the next several hours we managed to catch over a dozen of these monster Albies and then I heard a friend mention that there was some Redfish (Drum) on bait balls not to far away. As I pulled up to the action where I saw several friends already hooked up, Bill hooked a monster Redfish (45 pounds?) which took off on a long run, meanwhile I hooked, fought and landed a 25 pounder which I promptly released. I turned around to see Bill's big Drum jump completely out of the water just before being eaten by a big shark.
During the next two hours there were Drum on the surface feeding on large bait and every time we cast a fly (5 inch H&H Olive and White or all White) into the blitz the fly would disappear into the mouth of a big Redfish. Bill wound up releasing 4 while I was able to catch five of these awesome fish up to about 40 pounds. Nine Redfish along with a dozen and a half big Albies, this was one of my best days ever while fishing aboard "Fly Reel" in North Carolina. Today was Awesome, it was a pleasure being able to share this great fishery with so many other fine anglers from this area.
October 23, 2009:
Today the wind was light and from the south as Bill and I headed out the Beaufort inlet before sun up, the light chop made for an easy ride out to the cape. We crossed the shoal and ran several miles to the east before heading offshore to 35 foot of water where we saw some spinner sharks putting on a show for us.
Bill caught a couple of nice Albies fishing in the blind while I also managed to catch several also nice Albies. After about a half hour, I got a phone call from my friend Don Butler aboard "Magician". He was several miles away with lots of Albies around his boat, we arrived and caught several more in the deep while blind casting, now these Albies were all above 13 pounds with most between 15 and 20 pounds, and they were eating big baits. While Bill was fighting a big Albie, I hooked and landed a nice 19 pounder, which Bill insisted on taking a picture of.
Bill and I fished until 2:30 and released more than a dozen Albies, he has already booked more days for next years Albie season. It was fun sharing this great fishery with Jon Snipes, Chuck, Clark, Brian, Sarah, and many more members of our awesome CLFF club. Bill is going to take casting practice every week and be ready fro this awesome fishery next season.
October 24, 2009:
Today the forecast was for 25 - 30 knot south wind with rain, my client had to drive 4 hours to get here so he postponed his Albie fishing for a couple of weeks. Mean while my neighbor Adrian invited me to fish with him this morning in New Bern in the Neuse River. We launched his boat at 4:50 in the morning and headed to the leeward side of the railroad bridge.
Adrian is a spin fisherman who uses "Berkley Gulp" bait and he is quite successful. We found Striped Bass feeding on the surface near a bridge piling, he caught 13 fish on the "stinky bait" while I managed only 5 Stripers up to about 20 inches long. When it got light the fish disappeared and we were home by 8 AM.
My friend Tony Weaver from Anchorage Alaska is arriving tonight to spend 5 days fly fishing fro Albies with me, I only hope that these monster fat Alberts hang around for another month, oh yea, it would also be cool to find those giant Redfish a few more times this season! Stay tuned for more reports to follow shortly, I do love my job, wish you were here!
Regards:
Jake
Bill Morrison, First Albie on Fly
19 pound Albie, Jake Jordan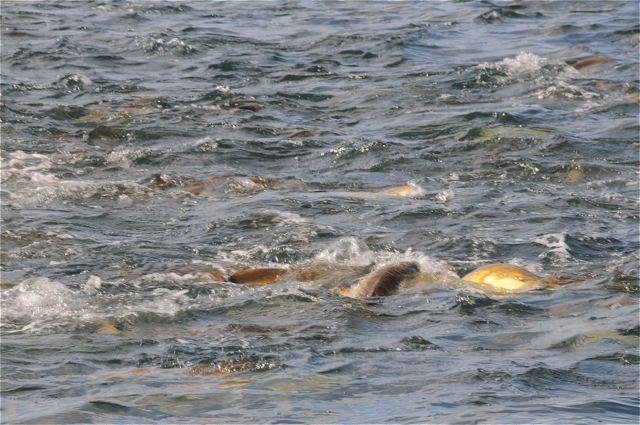 Redfish on Top, Brian Horsley Photo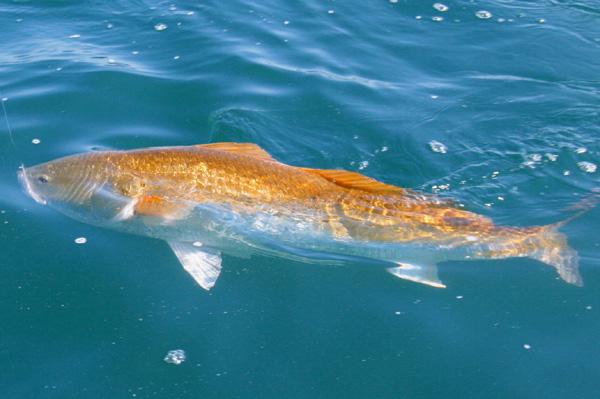 Drum on Fly, Bill Morrison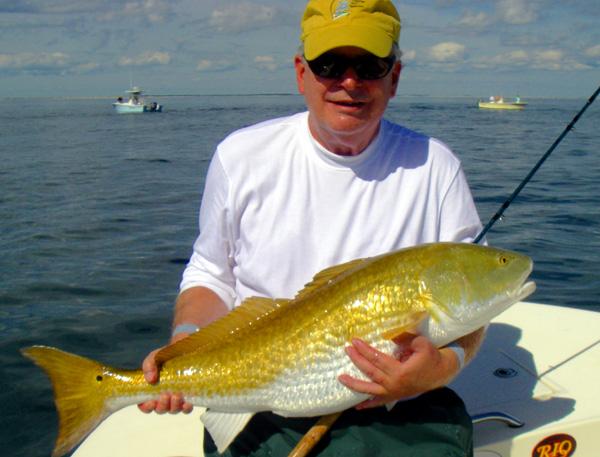 Ocean Redfish on Fly, Bill Morrison Angler
Albie Fly Fishing Report
October 18 and 19, 2009
October 18, 2009:
Chuck Furimsky, (Owner of "The Fly Fishing Shows") came in from New Jersey yesterday to spend a couple of days fly fishing for Albies with me aboard "Fly Reel". We left the marina before sunrise and headed to Beaufort inlet where there were millions of birds working over giant schools of Bluefish. After catching a few we headed out into the ocean to look for Albies, the wind was blowing from the North at 20 to 30 knots and the air temperature was 44 degrees at dawn however we never saw the sun as it was cloudy and rainy all day.
During the first couple of hours Chuck caught a few nice Albies chasing bait right up in the surf next to the sand. We fished along the west beaches about 12 miles from Beaufort inlet and then headed back toward Atlantic Beach. Between Noon and 3 PM we found school after school of Albies eating baits from 2 1/2 inches to about 4 inches long. When we headed in at 3:00 PM Chuck had released 13 Albies up to about 14 pounds, I caught 4 nice fish all of which were double headers, I only cast when Chuck was already hooked up.
October 19, 2009:
Today the day began with 25 to 30 knot NW wind with 39 degree sunshine, the day wound up warmer 65 degrees but still windy. We fished the same area, along the beach and picked away at the Albies, they were in smaller groups and a little harder to get on however every time that the fly landed on the blitz it got eaten. Chuck caught 7 today while I only got one fish today, these fish were mostly bigger today with fish up to 15 pounds. The tan and white or all white 3 inch Albie candy flies worked best, along with some olive over white 2 1/2 baitfish flies which chuck had tied also worked well.
So far this season the Albie fishing was real good, the fish now are 3 times the size that we were catching in early September. There are really lots of Albies here now and it should only get better during the next month. You need to get to this area and catch some of these fish, they are awesome fish to catch on a fly rod. More reports to follow, wish you were here, Oh and by the way, "I do love my job"!
Regards:
Jake
NC Albie Report
October 12 and 16 2009
Greetings from Albie world:
Fall is here with cooler weather, cloudy skies, light rain to heavy down pours, with Albies feeding well on small silversides along with 3 inch bay anchovies. I got out for 4 hours on October 12, the wind was North East at 15 to 25 knots with off and on rain. Half way between Beaufort inlet and Bardens inlet I found small pods of Albies which were feeding on bay anchovies about 2 1/2 inches long.
I hung around for 3 hours and managed to catch 4 Albies up to about 9 pounds. The secret of catching these fish was to turn off the motor, about 200 feet up wind from the feeding fish, the wind would blow the boat toward the fish, and casting to the blitz would produce a bite if the fly hit in the right spot while the fish were up chasing bait.
Today; October sixteenth I headed out of Beaufort inlet at 9:30, in cloudy, choppy, conditions. The air temperature was 60 degrees with the water temperature close to 70 degrees and the North wind at 15 to 20 knots. At the #8 buoy I found a few birds on breaking fish and made a few casts. I got 2 bites and got bit off both times so I changed to 30 pound fluorocarbon bite tippet and never got another bite. I only fished for an hour as I needed to get in early, however I did hear that there were plenty of Albies down at the other end of Shakleford Bank.
Starting tomorrow I plan to begin fly fishing for Albies every day that the weather will allow up to the day before Thanksgiving . Stay tuned for up to date fishing reports from coastal North Carolina.
Billfish on Fly
This week I have been working on my Sailfish School reservations for December 2009 along with January, February, March and early April of 2010. There are still a few opportunities available for anglers who would like to attend one of my Sailfish Schools during this period. Please contact me soon if you think that you would like to join me for the best fly fishing for Sailfish in the world?
My first annual "Jake Jordan, Invitational, Sailfish Fly Challenge" at the world class "Casa Vieja Lodge" in Guatemala on January 12, 13, & 14, 2010 is coming along well. We have 8 teams of 2 anglers per team already registered to fish in this world class event. There are still several boats available should you wish to join in the festivities and fish in this fly fishing for Sailfish tournament. For more information contact me or check out:
http://jakejordan.com/billfishschools/sailfishflychallenge.html
One more opportunity is available for a single angler who would like to join me along with one other angler during March at "The Marlin School" in the Galapagos. This is the chance for myself and two other anglers to fly fish in the Galapagos for large Striped Marlin. We will fly fish for Marlin fro six full days out of San Cristobal Island in the Galapagos. This one spot won't last long, please if you think that you want to do this, contact me as soon as possible, this will sell soon. The Galapagos produces the best fly fishing for Striped Marlin in the world, I cant wait to get back out there.
Tarpon On Fly
Tarpon season in the Florida Keys is from April through June, I will be back chartering from April 16 through June 30 of 2010. I am now taking reservations for both my Extreme Night fly fishing for Tarpon. I also plan to do some offshore and Wreck fly fishing on calm days during these dates, if you are planning to fish with me this year in the Keys please contact me as soon as possible, I expect to be sold out by December for my 2010 season. I look forward to sharing the best Tarpon Fly Fishing in the world with you. More Reports to Follow, wish you were here.
Regards:
Jake
Regards:
Jake
North Carolina Albie Report
Greetings from Albie World:


We all know that Albie (False Albacore) season is supposed to be during October and November here in Coastal Carolina, Wrong! For the last couple of years I have caught Albies on fly during the last week in august, this year my first Albies were on the 28th of August. Several of my friends have been catching a few Albies on fly every day since that day.

September 4, 2009:
My friend Don Butler from Connecticut and Beaufort NC joined me this morning for a few hours of Albie hunting with our fly rods. We left Beaufort inlet at 7:00 AM after catching some 4 -5 pound Bluefish and a Spanish Mackerel and headed down toward Cape Lookout. We found some fish near #2 buoy however they were hard to get to bite. I finally got one to eat a #6 "Albie Candy" fly in tan and white and caught my first fish of the day. We fished until 9:00 and caught a couple more fish and then I had to get Don back to the dock by 10:00.
I went back out at 10 and fished until 1:00 PM and caught several more Albies along with a bunch of Bluefish and Spanish Mackerel. Beautiful weather and lots of fun with fish everywhere, guess I will fish tomorrow morning.

September 5, 2009:
Today I was joined by Albert Bruno from New Bern NC who is a fellow member of the Cape Lookout Fly Fishers club. Albert and I left the marina at 7:00 AM and stopped at the inlet, just long enough to catch a Bluefish and a Spanish Mackerel. We then headed south out toward Bardens inlet where we began to see birds working over schools of Albies. I drove "Fly Reel" up to a school of feeding Albies and Albert made his first cast, and second cast and his third cast, I then cast into the feeding fish and hooked my first Albie of the day. After my second Albie on the same #6 "Albie Candy" fly in Tan and white, Albert tied one on and then caught his first Albie of the day.
We released 8 Albies between us by noon, watched quite a few other fish caught by several of our club members and then headed home to beat the heavy holiday boat traffic in the inlet. These fish are about 5 pounds average although I did catch an 8 pounder today, when you catch them on a 6 or 7 weight fly rod they put up an awesome battle. Well the weather looks good for tomorrow so I guess that I'll go Albie fishing again.
September 6, 2009:
This morning after seeing Chuck and Ken Eiler catching Bluefish and Spanish in the inlet, Albert and I left Beaufort inlet at 7:00 AM and headed south looking for Albies. The wind was from the NE blowing about 15 under cloudy skies when we left, however by noon when we headed in it was ripping at 20-25 knots with rain. We found the Albies between the rock Jetty and the cape from 1/2 to several miles to the west.
Albert brought a floating fly line and some very small white baitfish flies , like "Albie Candy" only much smaller (matched the food that they were eating). Well this combo worked, when combined with tons of Albies up and down and mixed in with some good sized Spanish, rough seas, and strong wind, we got a bite every time that the fly got in front of a fish. Albert caught 7 Albies and 4 or five Spanish while I released 4 Albies and 7 Spanish, many were double headers. Between the wind and rain everyone who was fishing out there had good fishing, we left at 11 to head into the beach for the ride home. Along Shakleford Bank we found a bunch more Albies in close to the beach eating the baitfish in less than 5 foot of water. We all had a great time, and I look forward to much more of this with bigger fish.
I am off to Denver on Wednesday to the Fly Fishing Retailer Show, I plan to return home on Sunday, and hopefully the wind will drop down, the crowd will be gone, and the fishing will be even better. This is an awesome time of the year for fly fishers. More reports to follow! I love this Job!
Happy Labor Day!
Jake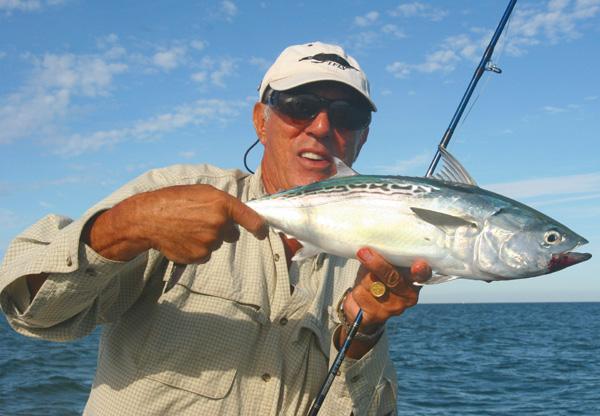 Albert Bruno, first Albie of the trip!
North Carolina Fly Fishing Report
August 26, 2009
Greetings from Coastal North Carolina:
Today I woke up to sunny skies with no wind and 70 degree air temperature at 6:00 AM, "guess I'll go fishing" I boarded "Fly Reel" at 7:00 AM and headed out of Beaufort inlet into calm seas. I headed down the beach looking for birds, bait balls, or fish busting on the surface, "Nothing", went all the way to Bogue inlet without finding any signs of fish. I then checked out several artificial reefs, where I marked some fish deep however could get no bites.
Next I ran all the way to Cape Lookout shoal, which was calm, crossed the shoal and headed off shore to check out some deep water wrecks. At 11:00 AM I finally found some good fishing on a wreck in around a hundred feet of water with a water temperature of 81.9 degrees. As I approached the structure my bottom machine showed lots of bait along with some real big fish marks. The water was crystal clear and as I looked down I cold see lots of fish swimming around.
I cast a 400 grain head with a 4 inch peanut bunker fly in light green over pearl tied on a 4/0 hook and let it sink for 40 seconds before beginning a fast, hand over hand retrieve. "BAM" hard bite 30 feet below the boat, line came tight, deep bend in my TFO LD rod, line peeled off of my Mako #9550 reel with 6 pounds of drag set, and then the twenty pound tippet got cut off in the wreck.
I re-tied with a 4 inch gray over white half & half fly and made my second cast, no wind so the boat stayed right over the fish for a long time (slow drift), "Fish On". This time I leadered a 20-25 pound AJ and pulled it into the boat to take a picture of my fish, and then released it un harmed. I hooked 7 more AJ's and landed five more along with a couple of Jack Cravelle before the wind began to put a ripple on the surface.
I decided to head in at 1:15 PM and then set a course for the shoal, 35 minutes later I crossed the calm Cape Lookout shoal and turned toward Beaufort Inlet. As I passed the rock jetty and Bards inlet I saw some birds diving on busting fish to my north. I headed over to take a look at what looked like Spanish Mackerel feeding on small bait fish.
My 6 weight with a intermediate tip fly line was ready with a tan and white small clouser #6 fly tied on to 12 pound tippet. I approached the birds, turned off the motor and made a cast into the feeding fish. "Got em on" , this fish pulled hard and got me into the backing, it turned out to be a 5 pound Albie. After catching a few more Albies and some Spanish Mackerel, I called my friend Chuck Laughridge, who then called several other CLFF club members to report on the Albies.
I caught a few more Albies and several Spanish when I saw Chuck come roaring out of Bards Inlet and right up to a school of feeding Albies. Right behind Chuck came Ken Eiler and Tommy Bennett who were in the fish shortly after. The fishing lasted until 4:30 when I headed to the dock. I was surprised to see the Albies this early although I found then during the first week in September last year, The water temperature was 82.9 where they were feeding on those small baits.
Looks like another pretty day tomorrow before tropical storm Danny arrives here on Friday night, "Guess I'll go fly fishing" wish you were here, more reports to follow!
Regards:
Jake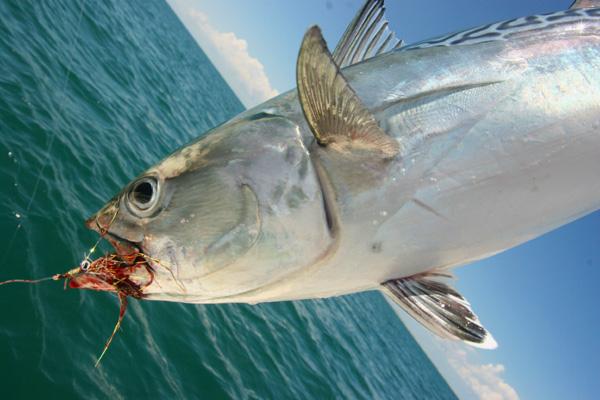 First Albie of 2009 season
North Carolina Fishing Report
August 8, 2009
Greetings from fly fishing Paradise:
Yesterday I was invited to join my friends Tommy Bennett and Chuck Laughridge aboard Tommy's 23 foot Parker, to fly fish for Amberjacks. We met at the dock at 5:30 AM and by 6:00 we were catching live bait for use as chum to bring the AJ's to the surface. Before sun up we headed out of Beaufort inlet and out to sea. We crossed the shoal and continued to the first wreck which we would explore for the elusive Amber Jack.
The sea conditions were relatively calm with 10 knot south east wind and bright sunshine, the water was crystal clear with a water temperature of 80.9 degrees. Tommy and chuck began to chum and tease the fish to the surface, after a few minutes we had dozens of AJ's hanging around the boat. Chuck advised me to use a floating line or a floating line with a clear intermediate tip and a surface fly.
We were all fishing with TFO Blue Water LD or Baby Blue fly rods with Mako 9500 or #9550 fly reels and the fly of choice was a 4/0 Crease Fly about 5 inches long. Well all of this help from my friends worked well, I hooked a nice 30 pounder which went directly to the bottom and broke my 15 pound tippet. Next I hooked a 30 pounder and fought it to the boat for my first AJ of he season.
I hooked and landed 2 more on the surface, a 35 pounder and a big 45-50 pound fish which we boated for a picture. Mean while Chuck had several bites but could not keep them hooked up, and then they went down and refused to bite on the surface. CLFF members Kary Via and Fred Slan were fishing right beside us in Kary's vessel "Natural Fly" and catching a few fish.
We only had one fast sinking line aboard which I used to deliver a small "peanut Bunker" fly deep on the wreck to see what happened. I landed 2 juvenile AJ's, a bluefish, and several Almico Jacks. We stopped on several other small wrecks on the way in where Chuck caught a Spanish and we got several small jacks. Back at the dock by 1:00 PM after a great day of fishing, I really enjoyed pulling on those hard pulling Jacks, Thank you Chuck and Tommy it was fun spending this awesome day on the water with good buddies. Stay tuned for more fishing reports to follow.
Regards:
Jake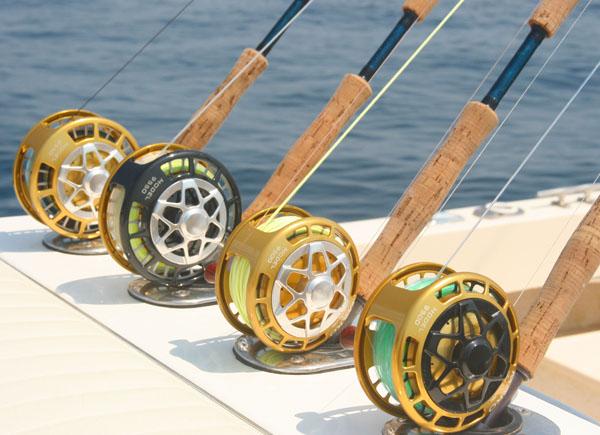 A School of Mako (Reels)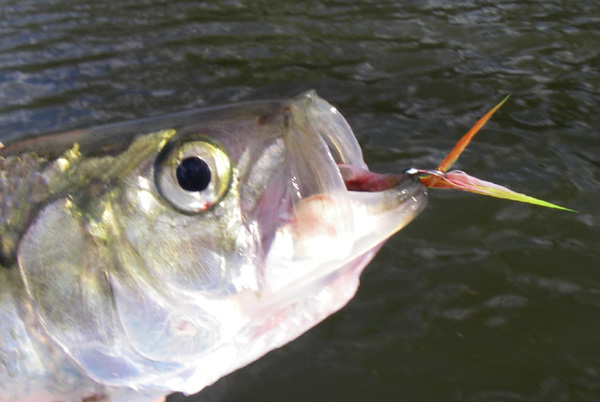 Hickory Shad on Fly
North Carolina Shad Fishing Report
April 2, 3, 4, 2009
Greetings from North Carolina:
This is my second year fly fishing on the Roanoke River in Weldon NC during the annual Hickory Shad migration. This weekend is the annual outing of the Cape Lookout Fly Fishers club and this year close to twenty club members were spotted catching these poor man's Tarpon.
April 2, 2009
I met my friend Chuck Laughridge at the launch ramp in Weldon at 1:30 PM in cloudy, windy weather. He and Jill had been fishing most of the morning with limited success, the cloudy skies and strong wind had the shad turned off (not eating well) and our fishing was slow. Jan and I fished hard for a few hours while Chuck drove the boat to lots of usually good spots, we each caught a couple of fish and then quit around 5:30 PM.
Chuck had invited me to fish with him here on the Roanoke for a couple of days so we met for dinner and planned our fishing for the next day. Chuck explained that these Hickory Shad eat good in sunny weather which we never saw this afternoon, and the report was for cloudy and windy weather with rain in the morning. Jerry Coats and I would be Chuck's anglers today and we launched about 9:00 AM when the sun began to peek through the clouds while the wind increased to over 25 knots. In the morning Jerry, Chuck and I caught at least 30 shad while Jerry also caught a nice Rock Fish on fly and then we took a lunch break.
After lunch Clark Hutchinson showed up towing his flats skiff, so we split up with Chuck and Jerry fishing in Chuck's boat while Clark and I fished in Clark's skiff. Of course Chuck and Jerry had incredible fly fishing releasing close to a hundred Shad in the afternoon. Mean while down the river in a spot where Chuck had steered us too Clark and I caught plenty of Shad 30+ each. The weather in the afternoon was sunny with very strong wind (close to 40 knots) but the fish ate well.
About a dozen CLFF members met at Ralph's Barbeque at 7:00 PM to discuss the days fishing and tomorrows sunny and beautiful weather forecast. The food was good and the company even better by 9:00 I was in bed asleep after a hard day on the river.
Today I met Chuck at 7:30 for a "cheese biscuit" and cup of coffee and then we launched at the crowded launch ramp. We rode down the river where we saw at least 7 boats of anglers from our club all catching shad. After saying good morning to all my buddy Chuck proceeded to take me to a spot where the shad were thick. While Chuck anchored the boat I caught a shad on each of my first 3 casts, and then after Chuck caught shad on his first two casts, we caught a couple of double headers.
We giggled and laughed like little kids as we racked up incredible catch ratio numbers. I was fishing with a 5 weight while Chuck used a 4 weight, 250 grain streamer express was the correct fly line, Pink or yellow # 6 flies worked well. After 3 hours of fly fishing and more than 150 Hickory Shad released in the warm sunny weather, we headed to the ramp and headed home by noon.Wow what a great couple of days of fly fishing, I enjoyed the comradery of fishing with all of the CLFF members and look forward to next year, thanks Chuck.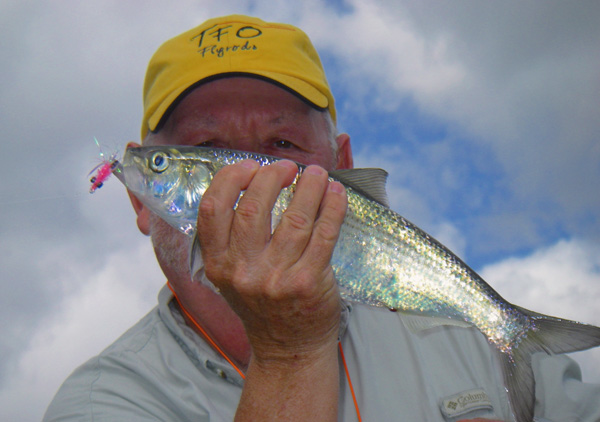 Hickory Shad on Fly
| | |
| --- | --- |
| Clark Hutchenson's first Roanoke Shad on Fly | Jan releasing Roanoke river fly caugth Hickory Shad |
Jerry Coates and Chuck Laughridge with Roanoke caugth Rock Fish
Contact: Captain Jake Jordan
Jake Jordan's Fishing Adventures
P O Box 309
Havelock, NC 28532
305-872-6060