2014 Alaska Fishing Reports
Jake and Dusty Byrd Coulliette inside of Troutfitters September 2014
I love my Job with Billy Coulliette Kenai River Rainbow Trout, September 2014
31 inchKenai River Rainbow Trout Nick Smith fly angler, Tony Weaver Photo
Alaska Fly Fishing Report
September 29, 2014
Greetings from Troutfitters, in Cooper Landing Alaska:
Today my old friend, Tony Weaver, invited me and my friend Nick Smith from Stuart Florida, to do a drift with him and his guide Dave Wilson, on the Kenai river.
Nick Smith, in my opinion is the best big game ( Billfish ) fly angler in the world, he has caught thousands of Sailfish and Marlin, during the last 11 or 12 years, I am good, he is the best.
Nick came to Alaska to share the last four days of my vacation, while learning how to catch freshwater fish on fly. Of course I told him that fishing where I fish, on the Kenai River, out of Cooper Landing, while staying with my friends at AK Troutfitters was the best place that I know of to possibly catch a 10 pound Rainbow Trout, or a 10 pound Dolly Varden, or maybe a 10 pound plus Silver Salmon, on fly during three days of fly fishing. Well during his first two days of fishing with Billy Coulliette, Nick Caught a Rainbow Trout over 10 pounds, a Dolly Varden close to 10 pounds, and a Silver Salmon of 15 pounds! Unbelievable, while all of this was going on he learned to fly cast, swing a silver fly, and saw some of the most beautiful scenery on this earth.
The story continues with Tony Weaver working with Nick on his casting, he is now casting really tight sixty foot loops with a 7 weight. We caught several Trout and Dollies, along with some 12 pound Silvers, then out of nowhere, Nick hooked a big Rainbow trout. He fought this big Rainbow Trout for a full 15 minutes until Tony finally slipped a net under this awesome fish. After I took some pictures, we measured this fat Rainbow Trout, it was 31 inches long, with a 19 inch girth, which means it was close to 17 pounds. WOW! In case I never told you, I love my Job, I really love sharing my fish with people who have the passion for the sport, Congratulations to Nick on a world class catch. Thanks Tony for inviting us to fish with you today.
Nick and I are heading home on September 30, and will arrive home mid day on October first. My Albie season begins on October 3, so I have lots of work to do, I will sit down and write a full report from my 18 day Alaska vacation as soon as I get some rest. Stay tuned fro more fly fishing reports, coming soon, I love my Job!
Angler Nick Smith Silver Salmon on fly Kenai River September 29 2015 Tony Weaver Photo
Alaska Fly Fishing Report
September 27, 2014
Greetings from Rainbow Trout World:
Last night my friend Nick Smith arrived here in Alaska, we rested up and decided to fish with Billy Coulliette, from his power boat on the middle Kenai River. There was an event taking place in the morning, so we didn't go fishing until it was over at 2:00 PM. Nick, Billy, and I left the ramp at 3:00 and at 3:12, nick caught his first ever Alaskan Rainbow trout, a five pound fatty. Fishing was very good, we were averaging catching 15 to 20 trout per hour, dozens of 3 to 6 pound Dolly Varden And Rainbow Trout. Shortly into our day Nick caught a 8 pound Rainbow Trout, and the fish just kept getting bigger. Then Nick caught this big 10 pound Dolly.
Shortly after that I caught a 25 by 16 inch Rainbow which was a solid nine pound trout. This proved to be my best fish of the day.
Then, Nick hooked, fought, and landed a true 10 pound Rainbow Trout. After while we had caught so many fat Rainbows that we would comment "it's just another five pound trout. Seemed like 7 pound trout were becoming common, in my opinion this is the best, big, fat, wild, rainbow trout fishing available anyplace where I fish. Nick's first day ever in Alaska may have spoiled him?
We are heading back out this morning, I love my job, wish you were here. More fly fishing reports to follow tomorrow.
Regards:
Jake
Nick Smith 10 pound Dolly Varden on fly Kenai River Alaska with Billy Coulliette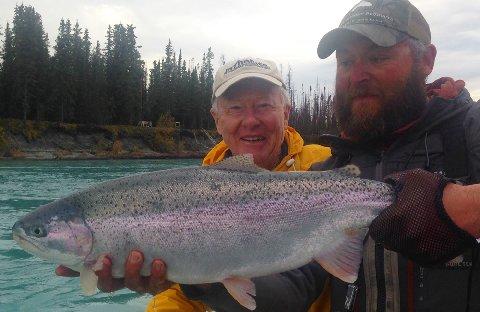 Nick Smith with Billy coulliette releasing 10 pound Alaska Rainbow Trout Kenai River September 2014
Kenai River Flyfishing Report
September 26, 2014
Greetings from AK Troutfitters in Cooper Landing Alaska:
Just received this fishing report from my friend Tony Weaver about he and His friend Joe fly fishing the Kenai River yesterday. Hope that you enjoy his report and pictures. My friend Nick Smith from Florida arrived here last evening, we are getting ready to go fishing now, stay tuned for my latest fly fishing report.
Regards:
Jake
Nice rendezvous this morning with you minus the stolen boat issue ....I have had my share of boat issues this week to so say the least! But on a good note we did finally get on the water this afternoon with a borrowed boat and fished till dark-caught a few nice trout, but the highlight of the evening was some great silver fishing. Joe and I put the beat-down on some magnum sized silvers (see photos below) we spent a few hours fishing the sloughs over some very grabby laid-up cohos. The Kenai really produces some real hog silvers! I Look foward to fishing together on Monday, we have got the boat issues sorted out and I'll be ready to roll with you and Nick.
Joe Seelig fat Kenai Silver on fly
Alaska Fly Fishing Report
September 24, 2014
Greetings from Alaska Troutfitters, Cooper Landing, AK:
Yesterday, September 24, I fished again with my friend Gerry Wendrovsky, we fished with guide JD Stanley out of Bings Landing, in the Kenai River. The weather was sunny, clear blue skies, with fog in the early morning, we had Ice on our windshield when we left Troutfitters at 8:00 AM. We began fishing at 9:00 and it really was looking good with the water dropping several feet since it crested several days ago. My first cast produced a 22 inch fat, jumping, happy, chrome, Rainbow Trout which JD released for me. This was the beginning of a very good day of Trout fly fishing.
Gerry was using his center pin rig, he is very proficient at catching fish with this 13 1/2 foot rod and reel. During this 8 hour of active fishing for trout, Gerry caught at least 40 trout with half of them being four to five pounds or bigger, while his biggest fish of the day was a fat 25 inch trout which weighted close to 9 pounds. Spending the day with JD Stanley as our guide made for a really fun day.
Gerry is leaving today, September 25, after a good 10 days of trout fishing here in Alaska, He fished out in western Alaska for a week before coming down to Cooper Landing to fish with me, below this report is some of Gerry's comments of the first half of his trip with a picture of his best trout.
Later today I plan to fish with my friend Tony weaver here on the Kenai River, I am really looking forward to that, I will send a report tomorrow morning. My friend Nick Smith, will arrive on September 26, we will fish here on September 27, 28, 29, at Troutfitters, then I head home for several months of Albie fly fishing in North Carolina. I love my job, wish you were here, stay tuned for more fly fishing reports from Alaska.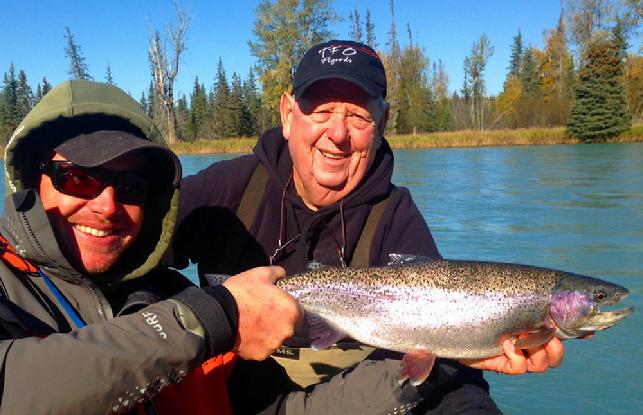 Another fat Kenai River Rainbow September 24, 2014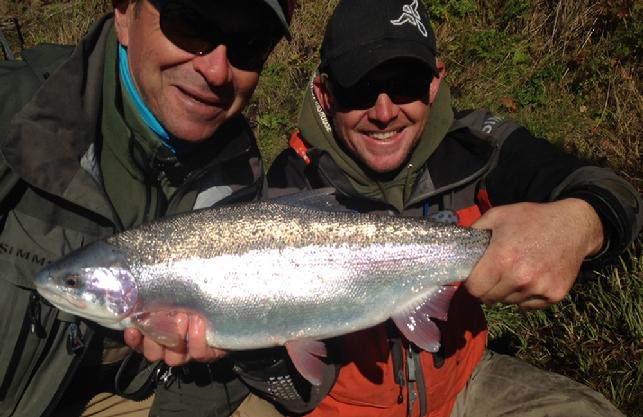 Gerry Wendrovsky releases 9 pound RAinbow trout, JD Stanley guide,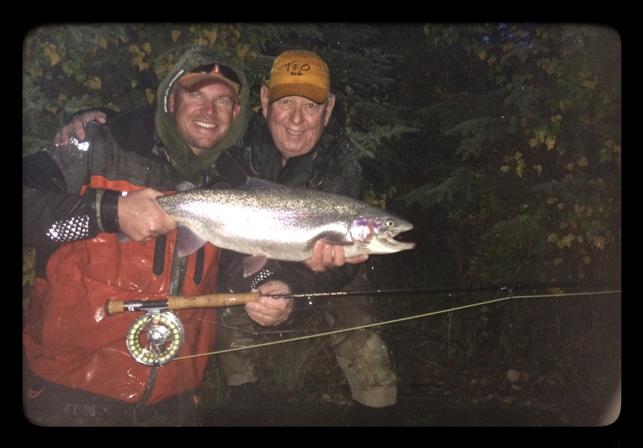 Jakes 10 + pound Kenai Rainbow
Alaska Fly Fishing Report
Greetings from Cooper Landing Alaska:
I have been here in Cooper Landing, on the Kenai peninsula, staying with my friends Billy Coulliette and Dusty Byrd Coulliette, since last week. The weather finally cleared up on Sunday September 20, so I decided to go fishing with my friends Josh Hayes, and another guide "JD Stanley". We left Bing's Landing launch ramp in Josh's power boat at 3:00 PM and fished until dark. The weather was pretty, the river had crested and began lowering, and the fat trout were biting. JD, Josh, and I all caught some nice fish, then at 6:00 PM it began to rain really hard.
During the pouring down rain, we caught several Trout in the five to eight pound class, then when it was getting dark, Josh took me to a spot where I had once caught my biggest trout. On our last drift, we were wet and cold, I hooked a good Rainbow, it put a good bend into my TFO 10 foot #6 pro ll fly rod, the smooth drag on my BVK applied the correct pressure, and a few minutes later Josh netted my 26 by 18 1/2 inch, 10 pound + Rainbow trout. These pictures were all taken with my I-phone so I hope they look OK? Thanks Josh, for the fun day.
My old friend Gerry Wendrovsky from New York arrived here at Troutfitters late on Sunday after spending a week out in western Alaska. We woke up early on Monday. September 21, loaded our gear into our Troutfitters guide, Jeff Heiskell, and headed down to the middle river for a day of trout fishing. Gerry is a center pin fisherman, and I was excited to see him use this different method of trout fishing. Partly cloudy skies, 55 degree temperature, and the river dropping by at least 3 inches made for a fun day, we launched at Skelak lake in the drift boat, ran down to the outlet and drifted the middle river down to Bing's.
Gerry is a really good center pin angler, he was very successful at catching lots of fish, I learned a lot from him. We had a really good day fishing together, for the first time since 2006, Jeff did a great job putting us on trout during this transition day.
For more than 40 years I have come to Alaska during the late summer and early fall to spend my vacations in this great state. Many of my fondest memories are of time spent with some of my best friends, it is really fun for me to be back here with friends like Tony Weaver, Billy and Dusty Coulliette, Josh Hayes. Thanks to All of my Alaskan friends!
Fun in Alaska, I love my job, stay tuned for more fly fishing reports, wish your were here. Back home in NC for Albie season on October first, only a few dates still available, contact me to reserve prime dates.
Regards
Jake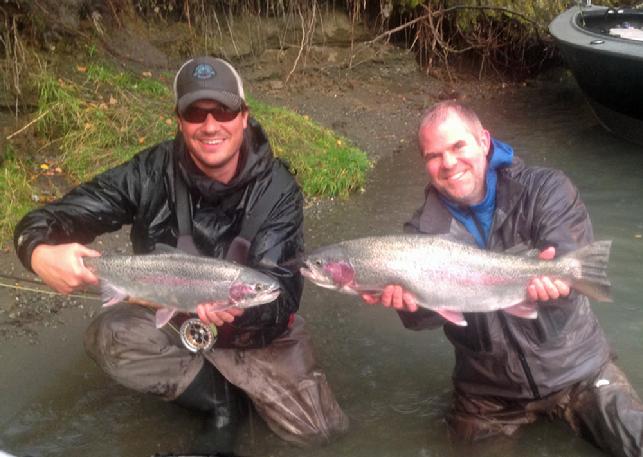 Josh and Dan Double Kenai Rainbows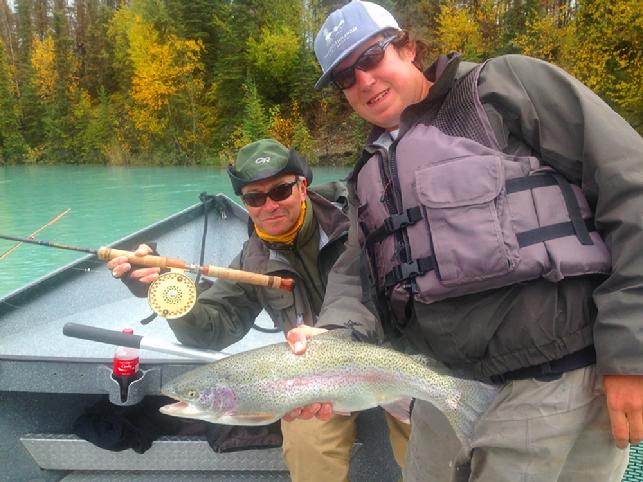 Gerry Wendrovsky centerpin Rainbow Jeff releasing fish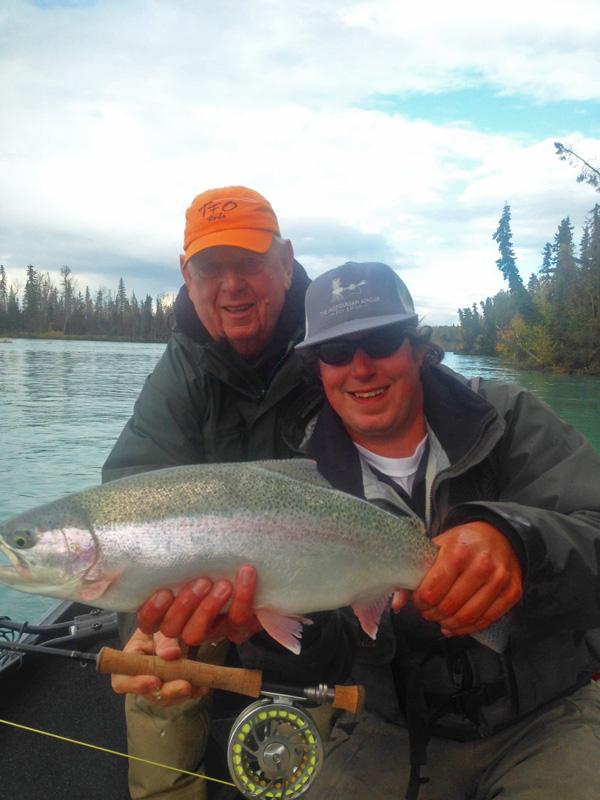 Jeff releasing fat Kenai River Rainbow Trout
Alaska Vacation Report
September 12 to 19, 2014
Greetings from Cooper Landing Alaska:
After my TFO sales meeting in Dallas Texas, I arrived here in Alaska on Friday evening, September 12, and then spent the next few days staying in Anchorage, with my long time good friend, Tony Weaver. Tony and Shelby always make me feel like part of the family, I really enjoy Anchorage, it is like a small town however the largest city in the state.
As many of you who follow my reports know, I was the last person to get a smart phone, (I-phone). Finally after years of fighting the change, this week I went to the Apple store and got a new Macbook Pro lap top computer. I spent several hours training on this new unit, trying to figure out how to use this (new to me), different technology, it is cool and I am finally beginning to understanding how to use it.
On Wednesday September 17, after being here in Alaska for five days, I headed down to Cooper Landing, and checked into my log cabin at Alaska Troutfitters. This little town is one of my favorite places on earth, about 300 residents, of which I know most people in town. After seeing many of my old friends, I went out to dinner at Kingfishers (Restaurant), with my friends Katy Borchers, (Alaska Heavenly Lodge) and Dusty Byrd, (Alaska Troutfitters), we had lots of fun and a great meal.
I finally went fly fishing yesterday (September 18), with mu pal, Billy Coulliette, (Alaska Troutfitters). The weather here on the Kenai peninsula has been raining for a while, the temperature now is 44 degrees, it is raining, the water is high and getting muddy, and the fishing was slow for us. We fished the middle river in Billy's power boat, during the day 8:00 AM to 3:00 PM we caught 20 to 30 fish, half were Dolly Varden and the other half were Rainbow Trout. There is an unbelievable amount of food in the river, the viability is low, that said these trout are stuffed full of food and were not on the bite. The fish which we did catch (up to 19 inches) were very fat, and shiny bright. I feel that during the next week or two when the rain stops, the river drops, and the food supply begins to go down, that the giant fat trout will begin to feed again. Last week before this rain, most anglers were catching really big trout, they will be back. Stay tuned as my fly fishing reports from here in Alaska will continue through the end of September.
Beginning in early October my Albie season will be in full swing, the reports from Cape Lookout reflect great Albie fishing has begun, I look forward to heading home to North Carolina after eleven more days here in Alaska, it is snowing up in the mountains today, won't be long now! I love my job, wish you were here, more reports and I-phone pictures to follow.
Regards:
Jake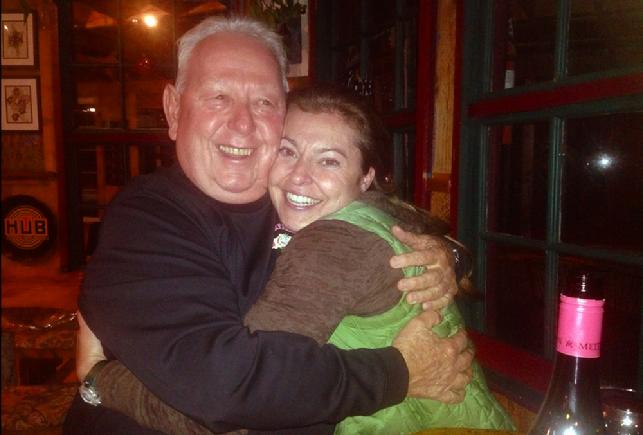 Katy Borchers Welcome to Alaska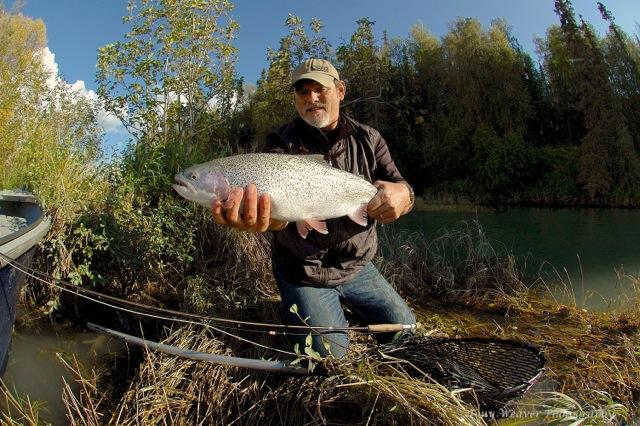 Tony Weaver nice Kenai Bow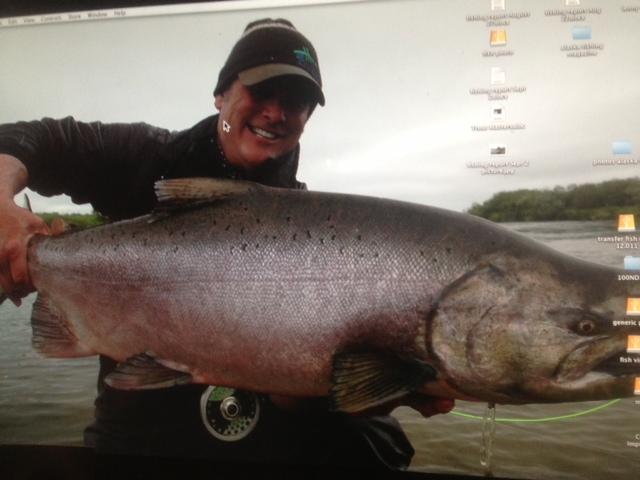 Tony Weaver Hoodoo Lodge King on fly
Josh Hayes releasing nice Bow
Contact: Captain Jake Jordan
Jake Jordan's Fishing Adventures
P O Box 309
Havelock, NC 28532
305-872-6060