Old Fishing Reports From Around The World
Harkers Island Albie on Fly
Very Good Fishing By Ron Hamlin
We've been fishing everyday is why there's been no reports, I' tired.
Dec 1st, 2nd and 3rd, 41 sails and 2 Blues. 5th thru 8th Fly Fishing 27 releases. 9 thru 12, 81 sails. 13 thru 16, 101 sails. 17th and 18th. 36 more.
I woke up early to get this out, so anybody that hasn't booked, early Jan or even late Dec can still have a chance on some great action. Capt. Chris Sheeder just got here with his new ride a beautiful 37 ft. Merritt, what a great fishing boat!!
I'm full but call South Fishing for the Man O War, Nanny, or Capt. Chris's new boat.
The reason I'm up so early is I'm closing in on 20,000 billfish in my career and also 2,000 for the yr. ( never been done ) anyplace but Guatemala. If they keep biting like the last 18 days, what can I say except I want to go fishing!!!!!
Call right now to get you dates for the upcoming season. Watch for the end of the yr. report, I think it'll excite you.
Good Fishin Ron
The Sailfish School Fishing Report
December 8, 2005
Greetings from Guatemala:
Today we awoke to another beautiful, warm, calm Guatemalan day, and after breakfast, headed to the Serena for day 3 of fishing. Captain Carlos guided Serena out of the marina at 7:00AM and we started fishing at exactly 9:00 Am. After releasing two fish in the first 20 minutes we raised three sailfish into the teasers, with Sharon hooking the first. I cast a fly and hooked the second fish, than Hugh Chatham hooked fish number 3 of the triple.
Hugh landed his fish after 5 minutes, Sharon caught and released her fish after another 7 minutes, than we concentrated on my sailfish which was still jumping 300 yards behind the boat. I landed the third fish of the triple 16 minutes after we hooked the first fish for the first fly caught triple aboard Serena.
By noon we had released 13 sailfish on fly and started thinking about breaking the Serena vessel record of 15 sailfish caught on fly in one day. George Maybe caught #14; Sharon tied the record with #15, than Hugh Chatham set the new record for Serena by catching the 16th sailfish in one day aboard the vessel Serena.
Hugh's record lasted 15 minutes when Craig Machado hooked, fought, landed, and released the 17th Sailfish of the day setting a new record. What a great day, we caught 17 sailfish on fly, from 25 bites, making the total score for the three days 35 sailfish caught and released on fly, out of 60 bites.
After fishing we cleaned up at the Billfish Inn, said our good by's to Cindy and her crew and headed to Guatemala City to the Marriot for our last night in Guatemala. We were joined for the trip to Guatemala City by Brad and Kennedy who flew to Costa Rica this morning to pick up Brads new vessel "Decisive" and run it to Guatemala.
I will return to Guatemala for 4 Sailfish Schools in January and look forward to spending more time with Brad, Cindy, and the great crew which they have assembled. I do still have a few spots still available for students who wish to attend The Sailfish School during 2006. I also am looking for several anglers to join me in the Galapagos Islands this year to fish for striped Marlin on fly. More Reports to follow.
Regards:
Jake
Captain Jake Jordan
Jake Jordan's Fishing Adventures
PO Box, 500937 (Mail)
1361 Overseas Highway #A-6 (Shipping)
Marathon FL. 33050
305-743-0501 Home/Office
305-872-6060 Cell Phone
www.jakejordan.com
Albies on Bait Ball Nov 2005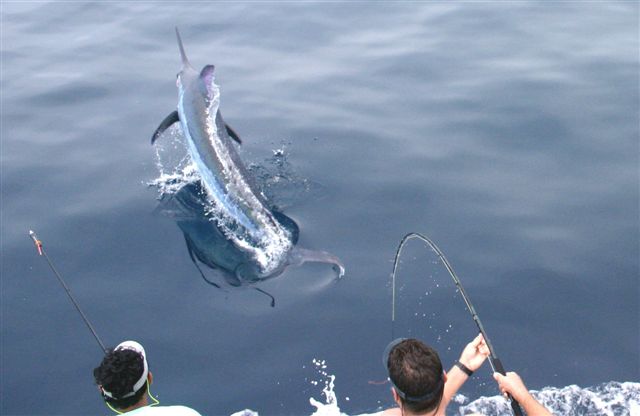 Blue Marlin on Fly, Brad Philipps angler
Blue Marlin on Fly Fishing Report
Captain Brad Philipps in Guatemala
May 10 2005

The sailfish bite has been great the past week, but it's not every day one gets to release a blue marlin on the fly. Capt. Randall Gaines, at the wheel of the Magic, did an awesome job on a hot 250 pounder off Guatemala. The team had the leader to the rod tip in ten minutes, after a perfect tease, great bite and a wild series of jumps. After another multitude of jumps and 2hrs of hard pulling the fish was released in perfect condition. What a rush to get off the bridge and into the cockpit for a change and have the thrill of pulling on a "real one" on a fly rod. Caught by Captain Brad Philipps
Galapagos Islands Fishing Report for March 6 through 12, 2005
Fishing done aboard the Striper.

March 6, 2005 waters remained dark blue and calm around the Horseshoe Drop and Braden´s Bank. Water temperature was 79.1F as we headed out with anglers Nassim Joaquin from Cozumel, Mexico and Joe Dowdell from Marathon, Florida. The fishing was very slow with only 3 stripes being raised and none teasing in. Bait was scarce although birds were seen feeding.
March 7, 2005 with the fishing down around Santa Cruz we decide to go for a longer range and head out about 85 miles to Rosa Blanca Bank east of San Cristobal Island. While trolling on the way for a potential blue or stripe, Nassim was able to catch and release on 20 lb tippet his first stripe ever of about 90 lb. The fish ripped a bridge teaser breaking it off and came back not once but twice and bit the fly. The hook did not set deep enough and the fish spit the hook. Teasers went back in the water as we trolled the area again and the same fish came back into the spread a third time to hook itself for good. After about and 8 minute fight the fish was released and our teaser was recovered!! We went 1 for 3 out of the same fish that day.
March 8, 2005 what a better way to spend my birthday than fishing with two of the best fly-fishing anglers I know. Nassim and Joe were about to get their hands full as we woke up to fish on the famous Rosa Blanca Bank. 44 Stripe marlin and one blue were raised in the spread. Many more fish were seen jumping and tailing. Water was 80.1F in the A.M and would warm up to 82 F in the afternoon. The fish were finicky and to Joe's amazement they would reject his fly numerous times. We managed to get 3 bites on fly out of which Joe released a nice stripe of about 170lb. Another stripe spit the hook several minutes into the fight and followed with two more stripes biting. We spent a calm night on the bank and mate Gustavo caught several bottom fish for dinner.
March 9, 2005 after spending a pleasant night on the bank we began to fish a little before 7:00 AM. It was again hectic as fish were everywhere. We raised 40 stripes and got 10-bites on the fly. Joe released a nice stripe of about 160lb and Nassim would release one of about 190lb. The fish cooperated but were very difficult to keep hooked for some reason. That night we headed back to port for refueling and Nassim needed to leave the next day.
March 11, 2005 Joe Dowdell decided he was going to fish a couple more days. So we went back to the Rosa Blanca Bank where this time we would have the company from a few boats out of Salinas who had stayed since the previous tournament. The first fish that teased in the middle of pouring rain took Joe's fly with a lot of anger. About 30 minutes later Joe got the released a stripe of about 220 lb, 9 lbs over the current 20 lb tippet world record held by Thomas Evans!! Joe was not interested in a world record so he popped the fish off and started eagerly for another great fight on fly. Joe was out for numbers, not records. Out of 25 raises, Joe totaled 3 bites and 3 releases on fly. The other two stripes averaged 150 and 180 lbs.
March 12, 2005
we fished with Joe on our way back to Santa Cruz going through Braden´s Bank and the Horseshoe Drop with the only fish caught on the dorado rod were a 24 lb dorado, a yellow fin tuna of about 10 lb and a couple of bonitos.

Santa Cruz Banks should soon be picking up. Historically, mid March the bait starts coming in around the horseshoe and Braden's Bank. But for the serious fisherman who come to the Galapagos, Rosa Blanca Bank has paid off and sleeping aboard the Striper wasn't so bad after all! More reports to follow sooon, with Michael Mach (a one day charter) and Robbie Browing and Chris Tasker from Florida.
Captain Ron Hamlin, Captain Hook Fishing Report
Great Numbers

Happy New Year to all my fellow fisherman. I've been having Computer problems so if any of you receive this more than once I'll apologize before it happens.
2004 was a great year fishing, although our business was down. I assume the reason for that was everybody knew the boat was for sale and didn't know what was going to happen. Anyway the new owners of the Captain Hook have put a lot of money bring the boat back to being in good shape. With new Curtains all around new electronics and a newly rebuilt motor, so we're ready to go.
For the yr we only fished 132 days 50 days below normal. In 98 days fishing with bait,, we released 1,645, that's a 16 a day release avg.While in 34 days of Fly fishing we released 243 a 7 fish a day avg. thats 1,888 for the yr. 790 tagged.
Highlights of the yr. was 81 releases in one day on bait and 27 in one day on Fly that tied the World Record.
Good Luck and Good Fishing in 2005 Hope to see you this yr.
Ron
Albie Fishing Report

November 11, 2004
Greetings from
Harkers Island
NC
:

November 11, 2004
: We left Harkers and headed offshore in calm seas.
The wind was blowing at 5 knots from the North with bright sunshine. After a thirty minute run offshore we found several giant bait balls which had hundreds of diving birds and thousands of Albies feeding on the bait.

Captain Brian Horsley put us right next to the bait ball where Danny Cline and I hooked up our first double header on our first cast.
By
10:30
we had caught nearly 2 dozen Albies while fishing with pink, chartreuse, and white Clouser minnows about 2 ½ inches in length. We where fishing in a fleet of between 50 and 100 boats. Run and gun is the technique used by the most successful anglers in this situation.

Fishing slowed down by
11:00 AM
so Brian headed Flat Out inshore into the Bight behind
Cape Lookout
. As we arrived we saw fish busting bait on the calm surface and Brian asked if we wanted to try "Top Water" flies. We tied on "crease flies" and hooked up on the first cast.

We had steady action sight casting Top Water flies to crashing Albies for the next 4 hours. Danny and I caught more than a dozen double headers with fish weighing up to 18 ½ pounds. These top water Albies in the bight where much larger than the offshore fish which we caught earlier.

Danny and I caught several dozen "Fat Alberts each today, this is a great fishery and we hit it on a very good day. Albies, particularly the 15 pound plus fish which we found in the afternoon when caught on surface flies are awesome game fish. We will be back next year.

Captain Brian Horsley and his wife Captain Sarah Gardner are great guides, they are both passionate regarding their fly fishing and make you feel at home when you fish with them. You can reach Brian and Sarah at: Captain Sarah Gardner E-mail: captainsarah@earthlink.net
Cell: 252,982,6330
Captain Brian Horsley
E-mail: bhorsley00@earthlink.net

Cell: 252.982.6330
More reports to follow!

Warmest Regards:

Jake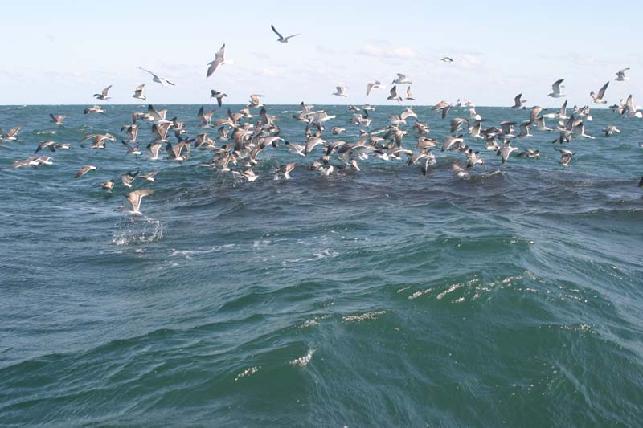 Albies under Bait Ball Cape Lookout NC Nov 11, 2004
Albie Fishing Report

November 10, 2004
Greetings from
Harkers Island
NC
:

November 10, 2004 Danny Cline and I
boarded Brian Horsley's 22 foot Jones Brothers skiff at
6:25 Am
and headed for Shackelford bank. I landed my first two Albies on fly before sunrise. The wind was from the North at 20-25 knots with air temperatures in the 50s and pure sunshine. By
10 Am
I had released 4 Albies and Danny had not yet scored. Fishing slowed so we headed out to sea to look for fish.

We found lots of scattered birds and many balls of bait near the surface. Danny finally caught his first fish at
11 Am
but we where having a hard time getting the Albies to eat our flies. By
noon
We had scored a few more but they where tough.

We found a huge ball of bait at
12:30
and caught steady fish for the next two hours. These balls of bait are awesome; the Albies drive them to the surface where the birds dive on the bait. Danny and I caught several double headers and for quite a while we hooked a fish on most casts.

We quit at
2:45 PM
after releasing 19 red hot, hard fighting Albies and headed for the dock. Brian is a great guide and his fishery is awesome, I cant wait until tomorrow!

Regards:

Jake
Albie Fishing Report

November 9, 2004
Greetings from
Harkers Island
,
NC
:

Today Danny Cline from
West Virginia
and I fished with Captain Brian Horsley for false Albacore on fly near
Cape Lookout
NC
.
Brian has a new 23 foot Jones Brothers center console skiff which is very impressive in choppy seas. This morning when we woke up the air temperature on
Harkers
Island
Was 34 degrees with a north wind blowing between 20 and 30 knots. We had clear skies with sunshine, strong wind, and water temperature at 59 – 61 degrees.

Before sunrise I hooked my first "Fat Albert" and had a heck of a battle with this 15 pound Tuna type of speedster on 12 pound tippet. Twenty minutes later Danny and I where fighting our first of 3 landed double headers. During the next 3 hours the fishing was red hot, we released at least 10 Albies and lost at least that many. When the wind reached its peak the fish went down and the catching stopped.

Late in the afternoon some fish started busting baits, but they where up and down and moving fast. I did manage to catch another 10 pounder just before we quit for the day. Tomorrow is supposed to be calmer and warmer, if so; we should have some great fishing. We have two more days here and I love every minute of it. More reports to follow!

Regards:

Jake
Captain Brian Horsley holds Danny Cline's 18 1/2 pound Albie
Sailfish School Report March, 25 to 30, 2003
Greetings from The Fabulous Florida Keys:

I arrived home from the 90 degree sunny calm weather at Fins and Feathers Lodge in Guatemala, to 60 degree cloudy weather with 25 knots north east wind, and small craft warnings.
Our Sailfish School trip to fly fish for sailfish aboard Fins & Feather's Sport fishing yachts, Intensity, with captain Eric Lorentzen and Mates Nico and Edwin, and Pelagian with captain Brad Phillips and mates Kennedy and Carlos, went great.
Jon Ziarnik from Denver Colorado and Cudjoe Key, along with Currie Harbour from Boulder Colorado joined me for 5 days of Fly Fishing for Sailfish. All together we raised 154 sailfish to the teasers, got 54 bites of which we caught and released 28 Sailfish on Fly. We also caught Several Dorado on fly between 30 and 40 pounds, several Yellow Fin Tuna, 3 Rooster fish.
The fish were finicky the weather was good and Fins & Feathers was great. Tarpon season has arrived in the Keys so my fishing reports will be coming on a regular basis. If for any reason you wish to not receive my reports please let me know and I will Remove you from My Fishing Report List.
Regards:

Captain Jake Jordan
Jake Jordan's Fishing Adventures
PO Box, 500937
Marathon FL. 33050
305-743-0501
www.jakejordan.com
Suzanne Schmidt Goldstein with 100 + pound Sailfish
The Students at The Sailfish School November 6-7-8-2001 Had never picked up a Fly Rod!
Suzanne Schmidt Goldstein and Husband Herb Goldstein of Winterpark FL fished aboard the vessel "CLASSIC" with Captain Eric Lorenzen. During the 3 days of Flyfishing the couple along with instructor Captain Jake Jordan Raised 55 Sailfish, got 40 Bites, and Released 22 Sailfish on Fly.




Contact: Captain Jake Jordan
Jake Jordan's Fishing Adventures
P O Box 309
Havelock, NC 28532
305-872-6060