Sailfish School Fishing Reports 2010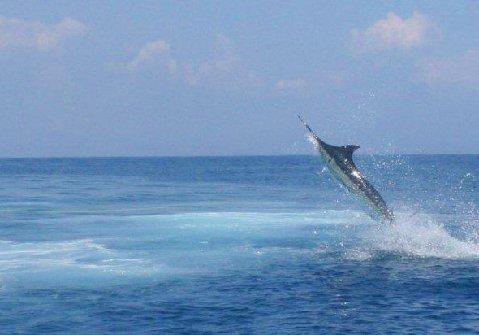 Craig Machado's Marlin
Sailfish School Report, December 20, 21, 22, 2010
Now for the hardest Guatemala fly fishing report that I have ever had to send out to my 8,000 plus readers. My friend Craig Machado who has fly fished with me for Billfish in Guatemala, and Australia, with pretty good success, contacted me in early December and suggested a fly fishing school before Christmas,for him to host his sons, Cliff Machado and Jason Miller, along with his friend Randy Genis and Randy's son Sam.
We planned to fly to Guatemala, and arrive at Casa Vieja Lodge on December 19, and then fly fish for Sailfish and Marlin aboard "Rum Line" with Captain Chris Sheeder on December 20, 21, and 22. Now the only rule was that the boys would catch all of the sailfish, while Craig, who has caught plenty of Sailfish, Striped Marlin, Black Marlin, etc. would only fish if we raised a Blue Marlin, (which he has been after without success for quite a while.
Now as most of you who have been receiving my reports and following my fishing adventures know, during the last 16 years, I have never spent a day aboard a boat in Guatemala, with any captain or crew, where we did not catch at least one sailfish or marlin on fly. I knew that someday I would have that day, and this report is about just that subject.
December 20, 2010: We boarded "Rum Line" at 7:00 AM and headed out into uncommonly choppy seas with 20 knot wind and 3 to 5 foot seas, at 2:00 PM we had not seen a Sailfish. We fished until 3:30 and raised two fish which faded off just after coming up on the long teaser, not only didn't we not catch a sailfish on fly, we never got a bite or even teased in a fish to cast to. We had fun but it was a very long day for all!
December 21: 2010: Today the seas were dead calm, the sun was shining, and conditions looked great as we left the Marina at 7:00 AM. Chris ran 45 miles off shore and put out the teasers, again a very slow day, at 2:00 PM we got a radio call from another boat who was 15 minutes further out than we were. We ran fast for 18 minutes and then put out the teasers, 5 minutes later we raised our first sailfish, it didn't eat the fly. Then while 15 year old Sam Genis was up to bat, in came a hot 90 pound sailfish, Sam made the cast, and the sailfish ate the fly while still heading toward the boat, as Sam set the hook, the sailfish jumped and spit out the fly, this was our only bite of the day. We did raise 7 more sailfish but they were spooky and would not eat the fly.
December 22, 2010: Today I had to catch a plane home, so Craig, Randy, and the boys fished without me aboard "Rum Line" Today was a repeat of the last two days with several sailfish raised, but none teasing in for a cast. The highlight of the trip was a 200 pound plus, Blue Marlin, which teased in, attacked Craig's fly, and proceeded to do what only a Blue Marlin can do. Craig fought this awesome fish for 20 minutes, both Craig and the fish were tired, and then that Marlin surged and broke the 20 pound tippet. Craig said it was awesome! Every one had some quality time, and all let me know that they will be back shortly.
I will be heading back down to Casa Vieja Lodge for more exciting Billfish action on January fifth, Hopefully the fishing will turn on and we catch lots of fish. By the way, my friend Nick Smith just sent me a fishing report from Guatemala, we had dinner together at Casa Vieja Lodge on December 13. Nick fished on December 14, 15, 16, 17, 18, aboard his boat "Old Reliable", He caught 35 sailfish and a Blue Marlin on fly during those 5 days. Luck of the draw, I hope that the world class fly fishing for Sailfish is back when I return next week. Stay tuned for more fishing reports, I love my job.
Happy New Year:
Jake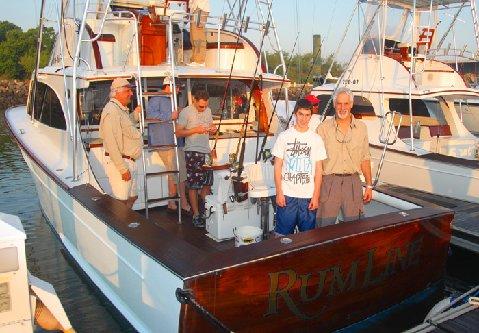 Randy and Sam
Craig and Sons Cliff and Jason
Sailfish School Report December 10, 11, 12, 2010
The first 8 days of December produced mixed results with quite a few Striped Marlin, Blue Marlin and Sailfish raised, hooked and caught as the season ramps up. My Sailfish School group of Jack and Judy Charlton, (designer and builder of Charlton and now the Mako fly reels, (
www.makoreels.com
), Jerry Jenkins (Phoenix, AZ), and Mark Vorobic (Bow WA), would fish aboard "Intensity" with Captain Mike Sheeder. While, Keefer Meranto, (Anacortes, WA), Tony Casad (Blue River, OR), and Richie Glonek (Scottsdale, AZ) fished aboard "Makaira" with Captain Jason Brice.
Jack did some damage to his thumb a week before the trip so he would be taking pictures of Judy and his other friends while enjoying seeing his wonderful reels do what he builds them to do. I am sure that Jack wound up with some really good Hi Def video footage.
December 10, 2010, I spent the day aboard Intensity on this day where one of the rare cold fronts to reach pacific Guatemala during the winter time came through, so we fished in 3 to 5 foot seas. These high seas are calm where I live in North Carolina however they are choppy to rough for Guatemala. The two boats raised 20 sailfish today, got 12 to bite the fly in hard rough conditions, and then my guys caught and released 4 sailfish on fly, (2) on each boat.
January 11, 2010: Today I rode along aboard the Makaira with Keefer, Tony, and Richie, the seas were calm but we had a hard time finding the fish, at 2 PM we heard on the radio that one of the other boats found some fish about 15 minutes from us. Jason put the boat on a plane and at 2:15 we put the teasers in the water, during the next hour and a half we raised 6 sailfish, got 5 bites, and each guy released one Sailfish on fly. While this was going on Intensity was having trouble finding fish which would eat the fly, however after 4 good bites the day before, Judy Charlton was ready, she cast to, hooked, and then caught and released a Sailfish of over 100 pounds on 16 pound tippet, (Her first ever)! A total of four fish were caught and released today on both boats.
January 12, 2010: Today I was back aboard "Intensity" with Jack and Judy, where the water was calm during the first 7 hours of the day and then the wind came up late in the afternoon. The fleet headed way to the west today, we never began to fish until 8:45 but at 8:47 Mark hooked the first sailfish of the day, 6 minutes later he had released his first Sailfish of the day. Shortly later Jerry caught a nice sailfish on fly, and for the next 6 hours we raised 5 sailfish per hour. We had located the beginning of the mother load of sailfish, some of the fish were red hot , would tease in and eat the fly right away, while many would not tease in and we never got a chance to cast to them. Five of the other boats from the Casa Vieja Lodge fleet caught a total of 80 sailfish today with most anglers using conventional tackle.
When the day was over, we had raised close to 30 sailfish, got 8 to bite, and released 4 on the fly. Aboard "Makaira", Keefer, Richie, and Tony got into them pretty good, Captain Jason Brice put them on the sailfish, they got 10 bites, and caught 7 sailfish on fly on there final day of fishing.
As usual Casa Vieja Lodge, the staff, the food, the boats, the crews, put on a world class trip for my friends to enjoy the awesome Sailfishing. During he same time that my Sailfish School was in progress, a group of anglers from Texas came to Casa Vieja Lodge to fish for two days aboard 5 boats, most were fishing conventional light tackle while a few were fly fishing, that group tagged and released 105 Sailfish during two days of fishing. It looks like Guatemala is getting ready for another red hot season of fly fishing for sailfish. The Carlton group caught a total of 19 sailfish on fly, every angler cast to, hooked, fought, and released sailfish on fly, only one angler in the Mako Reel group had ever done this before. We had fun they will be back for more next season! Stay tuned for more fishing reports, I love my job! Merry Christmas, and Happy New Year:
Jake Jordan
Jake Jordan's Fishing Adventure
PO Box 309
Havelock, NC 28532
Phone-252-444-3308
Cell-305-872-6060

www.jakejordan.com
Sailfish School Report, March 29, 2010

Greetings from Casa Vieja Lodge in Guatemala:
Again today my friends Mike Mazur and Gary Jennings from Fly Fishing in Saltwater Magazine joined me for our second day of "The Sailfish School" at Casa Vieja Lodge in Guatemala. We boarded " Rum Line " with Captain Chris Sheeder and mates Ricardo and Jeffery at 7:00 AM and headed offshore from Marina Pez Vela. At 8:05 Gary Jennings, fishing with his new Mako #9600 fly reel on one of my TFO Bluewater HD fly rods with a Rio Leviathan 550 grain billfish fly line and a pink and white Cam Sigler fly, hooked a nice 75 pound sailfish. As Gary began to fight his fish, I hooked the second sailfish and landed the first half of the double header and shortly after Gary caught and released the second half to put our daily score at two bites and 2 released Sailfish.
Less than an hour later Gary hooked another nice sailfish on fly, just as the "Rum Line" had a malfunction with the controls. Gary fought that big Sailfish for 15 minutes while Captain Chris tried to get the boat so it could back up. 20 minutes into the battle Gary landed, tagged, and released his second sailfish of the day, it was now 9:30 AM and we limped into the Marina to get Rum Line fixed. We are at the Casa Vieja Lodge eating lunch after going 3 for 3 this morning, hopefully we will get back out there this afternoon. I love my Job, wish you were here.
Jake
March 29, 2010

Greetings from Casa vieja Lodge in Guatemala:
Today my friends Mike Mazur and Gary Jennings from Fly Fishing in Saltwater Magazine joined me for our first day of "The Sailfish School" at Casa Vieja Lodge in Guatemala. We boardesd "Rum Line " with Captain Chris Sheeder and mates Ricardo and Jeffery at 7:00 Am and headed off shore. At 7:20 we stopped and put the teasers in the water near a floating log. At 7:21 I hooked up a 70 pound sailfish on fly, )(On an new experimental anti reverse "TFO" Terry Haden fly reel), on a new experimental 4 piece TFO Medium Duty Fly Rod , and at 7:35 we released that sailfish unharmed.
Next, Gary Jennings caught his first Guatemalan sailfish on fly, it was a nice fish which did some awesome jumping before Gary got his first Lap Dance.
Shortly After that Mike Mazur, caught his first Guatemalan sailfish on fly, in between we raised our first Blue Marlin which refused our fly presentation.
Today, was slow compared to normal Guatemalan fly fishing for sailfish, We raised 10 sailfish and a Blue Marlin, , got 8 bites,, and released 5 sailfish on fly.
Aboard Pelagian the Weaver family from Palm Beach Gardens FL,caught 9 sailfish and Andrew, 5 years of age, released 5 sailfish and a Blue Marlin of 100 pounds. While his sister Sierra , 7 years of age released several nice Sailfish Aboard Pelagian with Captain Chico!
Believe me , Casa Vieja Lodge is the best in the world, My friend Roy Cronacher asked me to keep an eye on his nephew, Ryan Needler who bought a trip to Casa Vieja Lodge at an IGFA event in Naples Florida. Ryan and his friend Glen Schwesinger fished aboard "Intensity " with Captain Mike Sheeder today, They raised 20 sailfish got 17 bites and released 14 and caught 2 big dorado of 35 pounds each.
This is the bestplace in the world for sailfish, I went 2 for 2 today and will probably catch a Blue Marlin on fly tomorrow, Stay tuned for more reports tomorrow.
Good Fishing:
Jake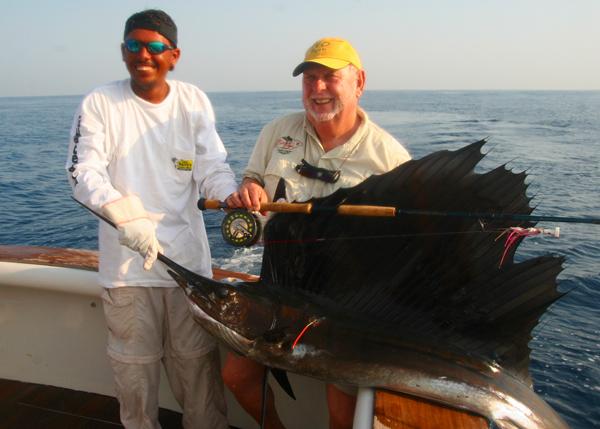 Sailfish on Anti Reverse TFO Haden Ree ANd 4 piece rodl
Gary Jennings first Guatemalan Sailfish on Fly on New Mako Reel
Mike Mazur Casa Vieja Sailfish on Fly
5 Year old, catches 100 pound Marlin
Nice Casa Vieja Lodge Marlin
Sierra's first sailfish, Casa Vieja Lodge, Guatemala
Contact: Captain Jake Jordan
Jake Jordan's Fishing Adventures
P O Box 309
Havelock, NC 28532
305-872-6060