Sailfish School Fishing Reports 2008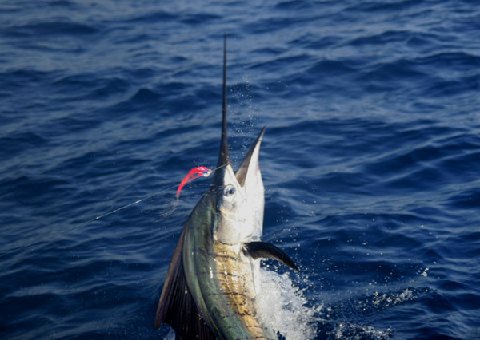 Welcome to Guatemala
Guatemala Sailfish School Reports
December 5 through 17, 2008
I left for Guatemala from Raleigh with a lay over in Miami on December 5th, when I arrived in Miami I met up with my friend Pat Ford who would travel with me and photograph some of my Sailfish Schools along with the newly completed Casa Vieja Lodge. I was feeling bad and told the AA agent who then called the EMT's to the concourse to check me out. They determined that I had elevated blood pressure and an irregular pulse and they decided to hold me over in the Metropolitan Hospital to make sure that I was OK. I was told that American Airlines would retrieve my baggage from the flight and lock it up until I came back to claim it.
I was then transferred to the hospital where I was admitted on Saturday and had extensive heard and blood tests done on me until Wednesday night (No one in this hospital spoke English). I was then told that I would be transported to the University of Miami hospital on Thursday morning for several invasive heart tests. They did a heart cauterization on Thursday morning which came back negative (no blockage) so I was admitted. The next day they went up through the arterie on the other side and did an EP study with wires inside of my heart (again negative). On Friday night they did a abdominal cat scan and discovered an infection in my colon which was treated and they released me on Monday afternoon.
When I finally got mu luggage I discovered that I had been robbed (American Airlines), two of my Mako fly reels were missing, one TFO fly rod, all of my rigging equipment, 18 fly lines, and a bunch of Marlin and Sailfish flies were missing from my baggage. American Airlines said "sorry for your loss but it is not our fault"! I am now home in North Carolina, and glad to be home.
I had a total of 4 groups of anglers (Students) each fishing 3 days out of Casa Vieja Lodge in Guatemala. All had a ball and loved the place along with the awesome boats, crews, and fly fishing for sailfish. The first group was made up of Chuck and Ben Furimsky, Frank Sujansky, and Jack Beals, who fished aboard the "Finest Kind" with captain Eric Lorentzen. Angler group number two included Norm and Brent Norlander, along with Doug Grenz, this group fished aboard the "Buddy Boy" with captain Chris Sheeder.
My next Group was made up of four Students including Tom and Roger Hoff, David Huffman, and Tom Dolan, who fished aboard "Intensity with captain Mike Sheeder. The final group of anglers who fished for 4 days were mu friends Danny Cline, Sarah Gardner, and Brian Horsley, they fished aboard the "Release" with Captain Nicho Menindez, on day one and then aboard "Intensity" with Captain Mike Sheeder for the next several days.
During the 13 days of fishing with relatively slow fishing (for Guatemala), while I was laying in the hospital, my friends released a total of more that 40 sailfish released on fly. Every one reported having a great time at Casa Vieja Lodge and all have agreed to a return trip when I can be aboard for the best fly fishing for sailfish in the world. I want to thank the management, staff, captains, and mates from Casa Vieja for taking such great care of my clients, I plan to be back in Guatemala on January 4th. I do still have space for several clients to join a Sailfish School with me during January and March of 2009, call me if you are interested.
Thank you one and all for your kind wished and the hundreds of phone calls and E-mails wishing me a quick recovery. I can't tell you how blessed that I feel to have so many good friends and clients who are the best. I wish you all a very Merry Christmas along with a healthy and Happy New Year. More reports to follow!
Regards:
Jake
Dusty byrd Jumper
Guatemala Sailfish School Fishing Report
January 18, 19, 2008

Greetings from the worlds best Sailfishing, Guatemala:
January 18, 2008,
Mark Toland from Hendersonville, NC, along with Billy Coulliette and Dusty Byrd Couillette, fished aboard Intensity today with Captain Mike Sheeder, and mates Flaco and Edwin. I took the day off to do some other stuff here in Guatemala. today Mike headed southeast for one hour and 10 minutes before putting the teasers in the water.
Fishing was good, they raised more tan 20 fish, got 13 bites, then caught 9 Sailfish on fly. Mid day a 500 pound plus Blue Marlin crashed the baits, ate a Mackerel then exploded and pulled the hook. Each angler caught 3 Sailfish on fly today, I will be along tomorrow to try and catch more fish. Stay tuned for more reports!

January 19, 2008,
Today my Sailfish School students and I fished aboard "Intensity with Captain Mike Sheeder and mates Flaco and Edwin. We left the dock at 7:00 Am and headed southeast for about an hour before putting out the teasers. Dusty hooked the first fish of the day and landed that sailfish in about 20 minutes. The fish went crazy and produced some great jumps before being released.
Billy got his first fish of the day shortly after and then it slowed down. We raised 10 fish however none would tease in to cast
he fly too. At 3 PM Mark Toland hooked his first Sailfish of the day, he did a great job and released the fish just as we headed to the dock.
Billy, Dusty and Mark had a great three day sailfish school, all three students wound up catching 5 sailfish on fly each during their 3 days of fishing. I will head home tomorrow afternoon, I should be in my office on Monday then I will be at the Somerset, NJ show next weekend. More Reports to follow. I would like to thank Antonio and his staff here at The Casa Vieja Lodge for providing a wonderful place to hold my Sailfish Schools.
Regards:
Jake
| | |
| --- | --- |
| Billy Coulliette Lapdance | Graduating Class at The Sailfish School, Casa Vieja Lodge, Guatemala |
Mark Toland's first ever Sailfish, on fly of course, at the Sailfish School
Guatemala Sailfish School Fishing Report
January 17, 2008
Greetings from Casa Vieja Lodge in Guatemala
January 17, 2008,
Mark Toland from Hendersonville, NC, along with Billy Coulliette and Dusty Byrd Couillette, joined me today for the first day of the Sailfish School aboard "Intensity" with Captain Mike Sheeder. We travailed from the Marina Pez Viela about 1 1/2 hours to the South west where we found some free jumping sailfish.
I caught the first Sailfish on fly while showing Mark how to use this equipment, his biggest fish to this point had been a Rainbow Trout. We saw quite a few fish however they were hard to get to bite this morning, at 10:15 Am on his first day ever fishing for sailfish, Mark Toland cast the fly to a 90 pounder, set the hook, and landed his first sailfish on fly, check out his smile.
Later in the day after pulling the hook on a sailfish Billy Coulliette (Owner of Troutfitters Guide Service in Coopers Landing Alaska) caught a wild jumping red hot Sailfish on fly, his first on this trip. Dusty had several weak bites but none that stuck so we ended the day with only three sailfish on fly today, where else in the world is 3 sailfish on fly in one day considered a slow day?
Today we will go to another location looking for that double digit day, Mark, Dusty, and Billy all showed up this morning with a big grin, More reports to follow!
Regards:
Jake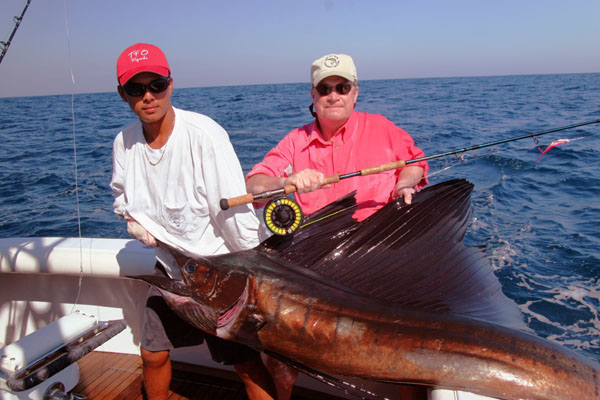 Tom Gilmore gets Sailfish School Lap Dance, Big Fish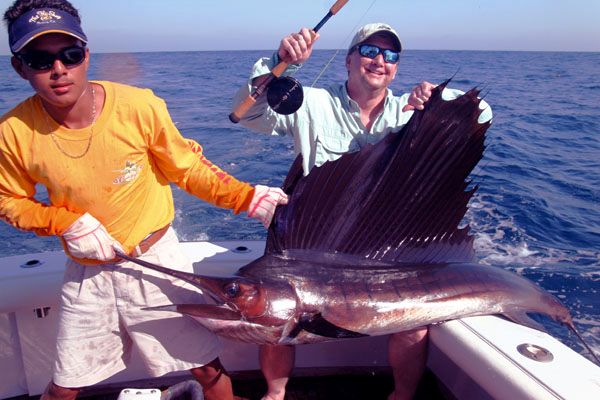 Peter McCarthy gets first Guatemalan Lap Dance
Guatemala Sailfish School Fishing Report
January 14, 15, 16 2008
Greetings from Casa Vieja Lodge in Guatemala
January 14, 2008,
Tom Gilmore, Joe Darcy, and Peter McCarthy are my students for this Sailfish School, all are excellent fly anglers who have caught lots of Tuna on fly. Tom upon arrival presented me with his wonderful coffee table book titled "Tuna on fly". We are fishing aboard the vessel Intensity this time with Captain Mike Sheeder. After a good breakfast at Casa Vieja Lodge we boarded "Intensity and headed south west fro about 22 miles.
After 5 minutes with the teasers in the water we raised our first Sailfish which teased in quickly, Peter McCarthy made a good cast placing the fly in the zone. The sailfish pounced on the fly and the battle was on. That sailfish just stayed there and shook his head, while we backed up to him and Peter got a quick release. Joe Darcy hooked the second fish which jumped several times, then spot the fly and swam away. The next two sailfish which we saw would not tease in, then it was my turn to give it a try.
Five minutes after it was my turn we raised a fish which teased in pretty good, half way to the boat came the call from the bridge "BLUE MARLIN" captain Mike yelled, then he said cast. I made a cast with my sailfish rod and reel, (only 400 yards of backing on my Mako 9550, and TFO Blue Water Heavy rod and a small Cam Sigler fly with 6/0 Gamakatsu hooks). That 250 pound plus Blue marlin came out of the water going sideways to the transom and dove on my fly, "Battle On" and took off for parts unknown. Forty minutes later after more than a dozen jumps I reeled this magnificent fish up next to the boat for a leadered release. Peter, Tom, and Joe all said that they had never seen anything like it, a fish this size, with all of that power, being subdued on 20 pound test tippet on a fly rod
I did not get any pictures of this monster however a friend of Captain Mikes took Video of the whole battle, I tried to make a picture of the Bite from the Video, however when I get home we will make a dvd! The Sailfishing was slow for the rest of the day, tomorrow we will head to the West to look for a new batch of fish, more reports to follow.
Regards:
Blue Marlin Jake
January 15, 2008,
Tom Gilmore, Joe Darcy, Peter McCarthy, and I had a great breakfast at Casa Vieja Lodge before heading over to Marina Pez Veila to board "Intensity" for the second day of this Sailfish School. Captain Mike Sheeder headed south west when we left the marina at seven am, we ran for an hour and fifteen minutes before stopping to put out our teasers. Five minutes later Tom Gilmore cast to, fought, and Landed his first Guatemalan Sailfish on fly.
Fifteen minutes later Peter McCarthy released his second sailfish of this Sailfish School trip. This was a pretty big sailfish and one of four which Peter would catch today.
I caught the next Sailfish then Joe Darcy hooked a Monster 120 pound Sailfish which fought like a Marlin. after a 20 minute battle with some great jumps, Joe finally boated this awesome sailfish.
We had steady action with 14 sailfish eating our flies, by the end of the day we, had caught and released 10 Sailfish from 14 bites all on Cam Sigler Flies. My new Mako fly reels performed flawlessly as did my students. fishing is picking up, look for another Sailfish School report tomorrow. I love this job.
Regards:
Jake


Greetings from Casa Vieja Lodge in Guatemala

January 16, 2008,

Tom Gilmore, Joe Darcy, Peter McCarthy, from New Jersey and New York joined me today for the last day of this three day Sailfish School aboard the vessel "Intensity" with captain Mike Sheeder. After a good breakfast at Casa Vieja Lodge we boarded the boat and headed southwest for over an hour before placing the first teaser in the water.

This morning the sailfish were a little spooky, they would tease into the boat hot, but when they ate the fly it was not a hot bite. Each of the three students missed their first bite with the fly coming loose before the catch was made, I hooked a sailfish on my first turn which jumped twice then spit the fly back at me, ( My first miss in 27 hook ups).

After about an hour and a half the students and the fish settled down and we as a group caught and released the next six sailfish that we cast too! This group of 3 students and myself (Instructor) managed to catch and release 17 sailfish on fly and a 250 pound Blue Marlin on Fly during this three day Sailfish School here at the "Casa Vieja Lodge" in Guatemala. Tom Gilmore, Peter McCarthy, and Joe Darcy had done a lot of Tuna on fly fishing however they had never seen a Billfish caught on fly, all three of my new friends have a big smile after this trip.

Mark Toland, from North Carolina, along with Dusty Byrd and Billy Coulliette from Troutfitters in Coopers Landing in Alaska arrived today for a Sailfish School which will last three more days, stay tuned for more fishing reports! I love my Job!

Regards:

Jake
Joe Darcy releasing first Sailfish on fly, at The Sailfish School in Guatemala
| | |
| --- | --- |
| Jerry Coates Sailfish School success | Chuck Laughridge Guatemalan Lap Dance |
| | |
| --- | --- |
| Rick Kendrick First Sailfish on Fly | Dr. Steve Hoffman Sailfish on Fly |
Guatemala Sailfish School Fishing Report
January 11, & 12, 13, 2008
Greetings from Casa Vieja Lodge in Guatemala
January 10, 2008,
This first Sailfish School of 2008 here at Casa Vieja Lodge includes a group of friends from North Carolina. Chuck and Michelle Laughridge, Jerry and Val Coates, Ann Maxwell, Doctor Steve Hoffman, all from NC, along with Rick Kendrick from Georgia, joined me for 3 days of learning how to catch Sailfish on fly here in Guatemala.
Today the guys went out aboard Affinity with Captain Chris Sheeder, while I went out with Val, Michelle and Ann aboard Canaso With Captain Jason Brice. Val caught a 175 pound Blue Marlin while Michelle and Ann each caught their first Sailfish. The fishing was slow today, the guys only got four bites, Steve Hoffman released his first two sailfish on fly today, while Jerry released a nice Guatemalan Sailfish. The weather was beautiful and I am sure the fishing will pick up Tomorrow.
January 12, 2008,
Today Chuck went with the Girls aboard the Canaso with Captain Jason while I went along to coach the rest of the guys aboard Affinity. Each of the girls aboard the Canaso landed 2 sailfish, with Ann Maxwell releasing a 130 pounder. Chuck Laughridge got 3 bites on the fly and released two Guatemalan Sailfish while using my new Mako Fly Reel and a TFO Bluewater Heavy fly rod. Chuck also pulled the hooks on a 175 pound Blue Marlin.
Aboard Affinity with the birthday boy, Captain Chris Sheeder we were rewarded when Rick Kendrick released a 300 pound Blue Marlin on 50 pound conventional tackle. Jerry Coates released one for 2 sailfish on fly, Kendrick released his first Sailfish on fly, Steve Hoffman slammed the only sailfish which ate his fly, and I went 3 for 3 fly releases. For the day we caught 6 sailfish on fly from 7 bites and released a 300 pound Blue Marlin. This was a slow day by Guatemalan standards however tomorrow the numbers will increase.
Stay tuned for more fishing reports from here at the Casa Vieja Lodge in Guatemala, I still have room for a few more students later this year, check out my website. I love my job!
January 13, 2008,
Today Val, Ann, Michelle, and Jerry fished aboard Canaso with Captain Jason Brice, Jerry managed to catch and release a sailfish on fly while the girls each caught two sailfish on conventional tackle. The seas were calm with 85 degree water and air temperatures fishing is picking up.
Aboard Affinity Captain Chris Sheeder took Steve Hoffman, Rick Kendrick, Chuck Laughridge, and I fly fishing about 22 miles off shore from the marina. By 10:30 Am we had each released a sailfish on fly then by noon Chuck and I had each caught one more for a 6 fish released from six bites score. We did raise 6 more Sailfish however they were spooky and would not tease in for a cast.
All in all my fly fishers caught 18 sailfish on fly, the girls caught about the same on bait and we released 2 Blue Marlin all in 3 days of fishing. My friends from Carolina are leaving tomorrow and my new Sailfish School group will begin fishing tomorrow. we had lots of fun, more reports to follow.
Regards:
Jake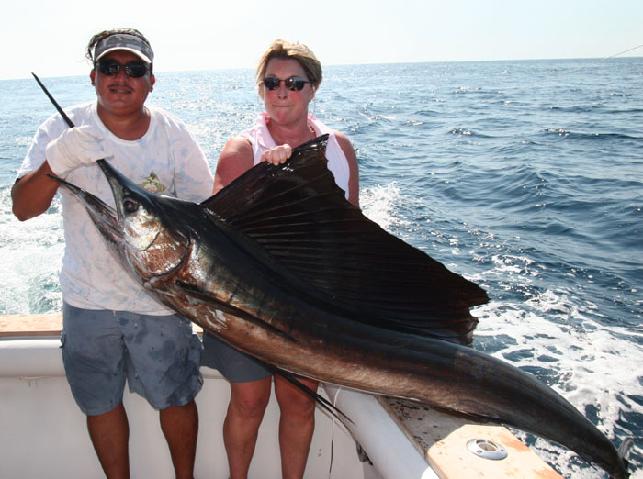 Ann Maxwell First Sailfish
Contact: Captain Jake Jordan
Jake Jordan's Fishing Adventures
P O Box 309
Havelock, NC 28532
305-872-6060