2007 Alaska Fishing Reports
Jodh Hayes Guides Jake to 26 inch Kenai Rainbow
Alaska Fishing Report
September 21, 2007
Greetings from Coopers Landing Alaska:
September 21, 2007,
Today I was invited to fish the middle Kenai and the lower end of the Kenai Canyon with my friend Josh Hayes and his clients Dick Senn, from California, and Dan Russner from Anchorage, AK. Josh who owns and operates a 21 foot power boat on the middle Kenai for trout fishing is one of the most experienced fly fishing guides on the river and he is a pleasure to fish with.
We launched at "Bings Landing" at 7 AM and then headed up to one of Josh's favorite spots where I hooked and landed a 26 inch Rainbow on my first cast. We fished for about 2 hours in this area with Dick, Dan, and I all catching at least half a dozen Rainbows and a few Dolly Varden before heading up the river and across Skelak Lake to the lower end of the Kenai Canyon.
During the next 5 hours Josh put us on lots of big Rainbows and Dollies with many doubles and triples caught and released. Dick hooked a monster 30 inch plus Rainbow which stayed hooked fro almost 3 seconds before ripping off and pulling the hook. Dan who is not an experienced fly angler, caught and released close to 20 trout today while Dick landed a few more and I released more than two dozen Trout up to 26 inches and close to 7 pounds.
The weather was partly cloudy with 50 degree water temp and 48 degree air temperature. We had a great day on the water with Josh Hayes, I would strongly recommend Josh as one of the best fly fishing guides in the area, You can reach Josh at 907-598-1899,
Joshhayes@hotmail.com
or
www.alaskatroutguides.com
.
I of course also want to thank all of my friends at Alaska Troutfitters,
www.aktroutfitters.com
907-595-1212, in Coopers Landing Alaska, Including Billy Couilette, Dusty Byrd Couilette, Jason Rand (J-Rock), Carl Couilette, and the rest of the Troutfitters Gang, who make my Alaska vacations such a wonderful experience. I have a few more days here in "The Great Land" then I head home to North Carolina for our Albie season. More Reports to follow, wish you were here with me!
Regards:
Jake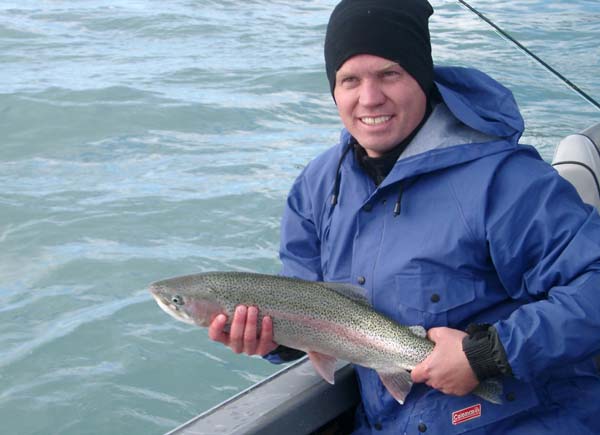 Dan's first Kenai fly caught Rainbow Trout
Jake & Dusty Releasing Dolly Varden
Alaska Fishing Report
September 19 & 20, 2007
Greetings from Coopers Landing Alaska:
September 19, 2007:
Today I fished with Troutfitters owner and Kenai River fly fishing guide Dusty Byrd, and my friend Gerry Wendrovsky, in the refuge on the upper Kenai River, in Coopers Landing Alaska. We fished from 9 am until 6 PM, with cloudy but nice weather, and a lot of fishermen on the river.
I caught my first Rainbow trout of the day, about 3 minutes after Dusty rowed us away from the launch ramp. This nice trout was 23 inches long and weighted about 4 pounds. Gerry was next with a 21 inch Dolly Varden then we continued to catch many Rainbow Trout, Dolly Varden, and some Sockeye Salmon.
Dusty and Gerry gave me some instruction and demonstration on how to fish with center pin rods and reels, I did catch one fish on the center pin and made a few good casts. When the day was over and we put the drift boat on the trailer we had each released over 25 trout, Rainbow and Dolly Varden, and a few red sockeye salmon.
Dusty is a great guide, we all had a great time, I love being back in Alaska especially with all of my old friends in Coopers Landing.
September 20, 2007:
Today Gerry Wendrovsky and I fished the Middle Kenai River with Troutfitters guide Jason (J-Rock) Rand. The temperature was in the high 40s, with cloudy skies and strong wind. We fished from 7 AM until 5 PM and both caught at least 20 Rainbows and Dollies mixed. The Biggest fish that we caught was a 24 inch Rainbow caught by Gerry, I hooked a big trout that stayed on fro about 3 seconds however it got my blood to boiling during the short hookup.
We did hook and release a few red Sockeyes but these Kenai Rainbow trout are the strongest trout that I have ever caught. I will fish a few more days and hopefully I plan to catch one of those giant 30 inch rainbows that these guys are so famous for. Gerry took off for home tonight while I am getting ready to fish tomorrow with my friend Josh Hayes down in the Middle River. Jason is a great guide and I really enjoy spending time with him, I look forward to fishing with Jason again.
This is the first time in many years that I am spending only a short time in Alaska during the summer and fall, I am really glad that I did come up here, it is a wonderful place. I love Alaska and all of my good friends up here. I wish you were here, More Reports to follow!
Regards:
Jake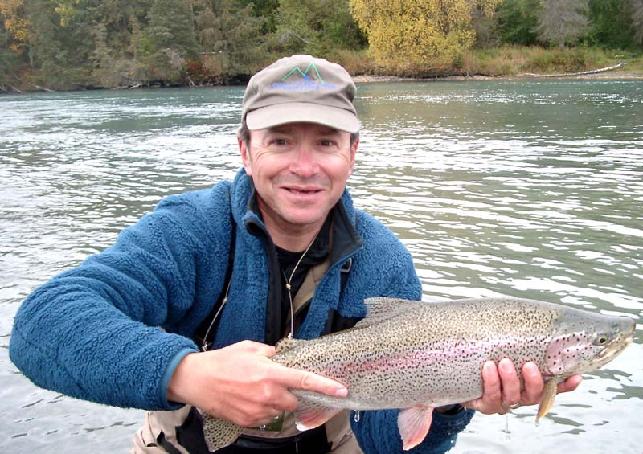 Gerry Wendrovsky releasing Kenai Rainbow
September Kenai Rainbow Trout
Contact: Captain Jake Jordan
Jake Jordan's Fishing Adventures
P O Box 309
Havelock, NC 28532
305-872-6060